Local Trio Cosmic Light Shapes Release New Album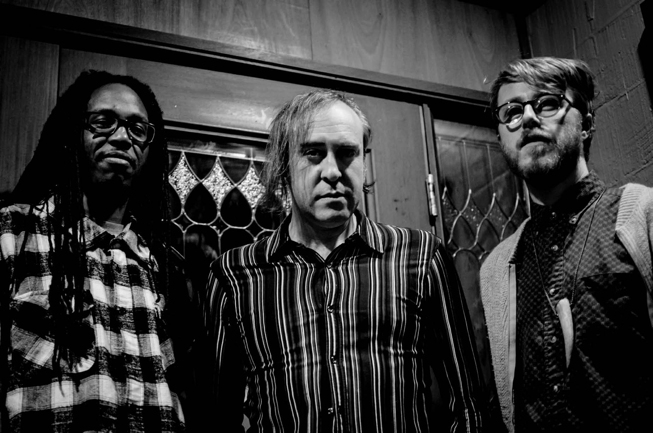 Story by Jeff Milo
Photos by David McNair
Singer/Guitarist Eugen Strobe became a frontman by necessity.  The leader of local trio Cosmic Light Shapes has never actively sought the spotlight, throughout three decades of playing music. While he did serve as a primary force for the founding of the annual Hamtramck Music Festival and then, most recently, captained the vinyl release of his band's debut album last December, you'll nevertheless have a tough time getting him to take any credit or adoration. He's not your typical rock star.
"When I started playing music, the goal was just to play…" said Strobe. "Being in bands, that was more of like the 'fantasy,' ya know, the idea of
'being up on a stage' and 'rocking out…' and all of that… no, I loved it just because of music. I loved making sounds."
The sounds that Strobe makes with his bandmates, drummer Zenas Jackson, and bassist Adam James, are a patchwork of psychedelic-pop, '60s rock, fluidly-structured prog, abstruse glam, and ambient/experimentalism. It spans the spectrum of bubblegum-pop and boogie-able ditties to psychedelicized intonations cast upon a darker, more ominous sea of jazz-like jamming. It's, as Strobe says it, a metamorphosis of many things, "the tangible and the imaginary."
Meanwhile, the other big musical component of Strobe's life involves event-planning, particularly the three-day-long Hamtramck Music Festival, kicking off March 2, spread across the Detroit neighborhood's venues and featuring close to 200 bands from around the region.
After more than a decade of being a side player for locally renowned groups like The Sights and The Witches,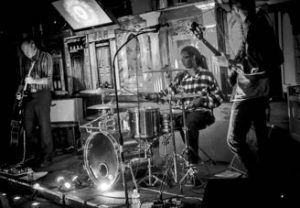 Strobe officially started showcasing his original works in late 2008, with Jackson as his main collaborator, to properly launch Cosmic Light Shapes.
"I had a workspace inside the Russell Industrial Center (in 2008); where my main goal was just to get out all the sounds that were inside my head. It had just been too long up to that point, and it was like a breaking point…"
Strobe and Jackson first performed as a drum/guitar/vocals duo, but eventually brought in the post-bop warble of an accompanying saxophonist during that first year. By 2010, they'd honed into a rock schema with bassist Jennifer Pearson augmenting the intricate rhythms. In 2013, they recorded their self-titled album with famed producer Jim Diamond in Detroit. But in the time it took to finally have those songs pressed to vinyl, the bass position shuffled, until 2014, when James joined as its permanent bassist.
"Just from playing sports, I learned about being a team player," said Strobe, looking back on a 10-year odyssey of being more of an accompanist or collaborator to several local rock outfits. "It never bothered me to be just playing drums or just playing guitar in a band; I never felt like I had to be in front. So, being in front kinda' happened by accident. It was my turn to put my stamp on something, so I wound up having to be out in front, for now."
Strobe, Jackson, and James performed an album release concert back in December; you can listen to the single, "Can You See In 3-D," online at: cosmiclightshapes.bandcamp.com
Meanwhile, Strobe revealed that he has enough sketched out song demos to fill two whole albums worth of material for Cosmic Light Shapes. BUT…, that's going to have to wait until after the Hamtramck Music Festival.
The Hamtramck Music Festival was, and continues to be, a grassroots effort; an exemplary coordination of local artists, local music fans, and business owners volunteering their time to put on a multi-dayevent hosted across 20 unique venues, clubs, bars, and performance spaces. Venues like Paychecks Lounge, Small's Bar, and even the Hamtramck Public Library, will have two nights of unique lineups featuring local bands performing both on Friday, March 3, and Saturday, March 4.
Initially organized in 2013 to fill the void left by the disruptive disbursement of the Metro Times Blowout, Strobe was integral in helping steer the efforts of the volunteer committee that booked, promoted, and monitored the first Hamtramck Music Festival. You can find HMF on Facebook, where there will be links and information about buying your weekend wristbands (as well as full schedules, lineups, maps and venue information). All proceeds from festival wristbands benefit Ben's Encore, a local nonprofit awarding scholarships to music students and grants to under-served school music programs.
A smaller iteration of SXSW in Austin, or CMJ in New York, the Hamtramck Music Festival is a joyfully noisy and fun celebration of the local music scene. "We're all giving each other a gift," said Strobe, who prefaces any chat about the music festival with emphasizing the importance of the city, its residents, and its independent business community. "The organizers give the city and this scene a gift by putting on (HMF), and making it the best it can be. Hamtramck residents give a gift by hosting it, the businesses are also giving back to the fans, and so everyone's sharing in this gift to where it builds a sense of community, a sense of togetherness, a celebration of local culture. That's what brings me back, doing this for each other."
And that brings the ostensible spotlight back to Cosmic Light Shapes. "Ideas for songs are always evolving. Any song I put together, I want it to happen as naturally as possible; I let the rhythm pave the way, at first, and then let the melodies color it in from there…" Sounds familiar, as he bangs the drum to start HMF, and he lets the melodies of each volunteer-organizer help him color it in from there.
Coming in to the Detroit music scene in the late '90s and early 2000's, Strobe was inspired that so much diversity of genre could be represented under one venue's roof. Thusly, he and the HMF committee strive for inclusivity that generates a refreshing smorgasbord of styles to heighten the experience of each music fan.
Keep it unpredictable, keep it organic, and keep it adventurous — that's Hamtramck Music Festival, that's Cosmic Light Shapes…and that's Eugene Strobe.