Local Music Spotlight: Chris Degnore & The Black Drops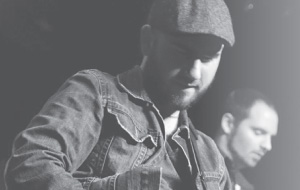 Just when he needed a shot in the arm, he got two shots of whiskey. Helped just the same, though. Chris Degnore can't think of any one moment, specifically; that moment he knew he'd be living his life for music. That "moment" could have been when he was just a child, learning guitar and jam- ming with his dad, hearing their instruments intermingling in a profound musical dialogue. It could have been the notable acclaim he'd received in his early 20s, attain- ing songwriting awards from the local ears down in Nashville, TN (nationally known as "Music City"). Or it could've been those two shots of whiskey that somehow turned into a fateful busking odyssey over in Ireland.
Degnore's got an interesting story to tell, but it wouldn't have wound its way to the release of Cinema, the debut LP by his power-pop trio The Black Drops (with bassist Joe Bagozzi and drummer John Porter), if this disarmingly generous Irish woman named Danielle O'Neal hadn't slid him some whiskey, down the bar, a few years ago, making it up to him that day for "…sitting in my seat," Degnore says, in what was momentarily a preferred watering hole for the 27-year-old. Because, at that point, he was almost ready to give up on music (though, much credit for getting his current musical engagements going goes to his girlfriend Delia Delise).
Anyhow, back in '04, the Ferndale-based songwrit- er found success down in Nashville and would eventually take his music overseas. But in '08, meeting O'Neal, he was starting to feel a bit drained, a bit disenchanted, ready for something else, something bigger. So this gregarious girl with the rich brogue accent, sensing that he wasn't happy here in Detroit, called him up one day after they'd gotten to know each other, post-whiskey-shots. O'Neal, somewhat bafflingly in an almost Guardian Angel-esque whim of knocking opportunity, offered him a round-trip plane ticket and hotel room to "come play some gigs around Dublin."
It turned out to be a motivationally rejuvenating experience for Degnore. He stayed over there for a while, spending a thrilling (and somewhat financially-suspenseful) span of months busking around pubs in Ireland, actually living off his music. He'd even rent the PAs himself, when he had to, despite having to rely entirely on Irish taxicabs for transportation. Now that's devotion.
It reminded him that he could actually make a living off his music; that music, really, was his life. "Looking back as a kid," Degnore said, "I've never been interested in sports or followed any other hobby, really. I might have lost some friends that way by maybe seeming boring, but all I've ever done or wanted to do was read books and write and play music." His dad gave him the guitar while his aunt gave him the piano; meanwhile his Russian music instructor kept vociferously scolding him with his stark accent: "…to stop playing all those Beatles songs" between lessons.
He never stopped that, really. Ask him about the Beatles and his eyes light up, ready to talk for hours. But there's also Big Star, Harry Nilsson, Cream and a many other masters of the '70s who redefined the traditional tropes of pop-rock. Degnore says that he, Bagozzi, and Porter each appreciate the old school styled power-pop bands who toyed-with and re-tweaked the guttural blues ballads, from dark Delta grooves to the twanging shuffles of Chicago styles; but they're out to give these jams the sweeter (and often daz-zlingly-produced) pop styles of, inevitably, those Beatles, but also the late '90s Southern-styled power-pop from bands like Superdrag, too.
"We're all each very different, musically," Degnore says, alighting Porter growing up on a "real metal-listening diet," while Bagozzi has a proclivity towards the shredding, punk-tinged indie-rock anti-he- roes of the early-to-mid-'90s. "But we all have this common link to the old-school power trios. I want to take that and put our stamp on it, to where every song has a great hook. How much straight-up blues can you play? We've all played in blues bands and it's fun. But if we can bring that in and then add a pop sensibility, right from the start of the song, where there's something hooky going on and in the middle there's some- thing else interesting happening and then at the end it's got you again — you never know…"
Tellingly, Degnore adores the dazzling in-studio feats of visionary producers like George Martin (truly "the 5th Beatle") and Brian Wilson (who notoriously set his sights almost too high while producing his work and the work of the Beach Boys). Cinema isn't your average pop record; it's got grit and swagger but it's still got a fine, fun glow to it. These are summertime jams, with rhythms as ready to shuffle as they are to start slamming, shouldered along by a soulful bass groove and crackling with the fuzzy fire of Degnore's surprisingly expressive guitar work; as declarative as blues ballads but as freewheeling as any pop/rock paradigm.
Though the group considered their recent set during Ferndale's leg of the Metro Times Blowout to be one of the most fun shows they've ever played, Degnore is always keeping his options open. A chance at Ireland may not come back, but he said if any opportunity to play music elsewhere came, he may just take it, if at all possible, (more incentive to hear and see the Black Drops while you can, we suppose). Keep your ears open, anyhow, as Degnore hopes to release an album of solo material no later than November. Expect more than your typical singer-songwritery-type fare, Degnore says. "This ain't gonna be like James Taylor stuff."
If something happened with our health, we believe there is a solution to any maladies in a preparation. What medicines do patients purchase online? Viagra which is used to treat impotency and other states coupled to erectile disfunction. Learn more about "sildenafil". What men talk about "viagra stories"? The most vital aspect you should look for is "sildenafil citrate". Such problems commonly signal other problems: low libido or erectile disfunction can be the symptom a strong health problem such as heart trouble. Causes of sexual dysfunction turn on injury to the penis. Chronic disease, several medicaments, and a condition called Peyronie's disease can also cause sexual disfunction. Even though this medicine is not for use in women, it is not known whether this medication passes into breast milk.