Ferndale's New Little Free Library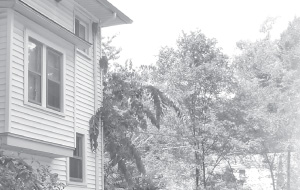 It's been just six weeks since a small box full of books appeared on the northwest corner of Albany and Farmdale, just south of Nine Mile. Standing in the yard, just next to the sidewalk, the wooden house-shaped box is painted green, mounted on a short leg; its only identifying features are a sticker reading, "Got books? Get some. Give some," and a Little Free Library placard marking it as an officially chartered Little Free Library.
According to the official Little Free Library website, the concept of the small community library began some time ago with Lutie Stearns. Between 1895 and 1914, she traveled in a horse drawn wagon to upwards of 1,300 locations in Wisconsin carrying small wooden libraries — small sets of shelves with glass and wood coverings over the front — and left them in post offices, stores, homes, schools, and other places for citizens who did not have access to books of their own.
Though inspired by Stearns, contemporary Little Free Libraries work on a slightly different system. Now, the Little Free Library is curated by a steward (a person who either builds or buys the library) and they place it on common or easily reachable property. After the library has been set out, community members are free to take and leave books as they like, shaping the library based on the tastes of the community. The Little Free Library is meant to be both a resource for books on a neighborhood level and a community art project of sorts — a view of what citizens are reading and enjoying and what information they feel is important to share with their neighbors.
Simone, the Ferndale resident who stewards this particular Little Free Library, says that she started the library as a gift for her five year wedding anniversary in January. "It was something I wanted and I just hadn't had the excuse to get it yet." She explained that the fifth anniversary is traditionally the wood anniversary and since both she, and her husband Max, are strong believers in the importance of literacy and are adamant in their love of the Ferndale community, they took up the project enthusiastically.
"The library cycles fairly regularly," Max explained. "We had the whole Hunger Games series, kids books, even a few VHS tapes. And people stop to talk to us about it all the time." Both Max and Simone have seen several dozen books go in and out of the library that they originally stocked from their own books. They've been interested to see the kind of books that appear and their two year old daughter checks every day to see what's changed. The only book no one seems interested in, Max, a lawyer, explains, is the book about the Supreme Court that he placed in the original stack of two dozen.
Simone declined to have her picture taken with the library, insisting that the project and the library are meant to belong to the community. Both she and Max pointed out that people have spent time decorating the library with their own touches — a small pinecone, and a long piece of poster board bearing the words, "It Only Gets Better," have been added to their paint and placement of the box. These little touches, on top of the books that have been trad- ed in and out of the library, have made for a vivid
portrait of the neighborhood that Simone and Max are so fond of. They are both transplants to Michigan and have been settled in their Ferndale home for five years after moving to the Metro Detroit area for Simone's work as an English professor.
Simone was adamant in her support of the Ferndale Public Library that is nearby but explained that it was something special to see people stopping all the time to kneel in their yard and look through the books in the Little Free Library. They're unconcerned about vandalism as all the books have been well taken care of and either replaced with another book or returned. The box itself has stood up to the torrential downpours of July and should stand up well to snow. And no matter the weather, their little wooden box will continue to provide joy to the entire community, one story at a time.
If some happened with our soundness, we believe there is a solution to any maladies in a cure. What medicines do patients purchase online? Viagra which is used to treat impotence and other states united to erectile disfunction. Learn more about "sildenafil". What people talk about "viagra stories"? The most essential aspect you should look for is "sildenafil citrate". Such problems commonly signal other problems: low libido or erectile disfunction can be the symptom a strong soundness problem such as heart trouble. Causes of sexual malfunction include injury to the penis. Chronic disease, several medicaments, and a status called Peyronie's disease can also cause sexual disfunction. Even though this medicine is not for use in women, it is not known whether this medication passes into breast milk.