Katching Up With the Kozy Lounge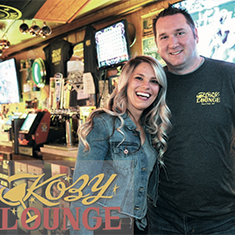 By David Ryals
THE KOZY LOUNGE HAS BEEN HAZEL PARK'S PREMIER NEIGHBORHOOD LOUNGE for over 50 years. It's located near the intersection of 10 Mile and I-696, and serves American comfort food and a great selection of drinks priced for value. Known for its late-night food service and creative daily specials, the Kozy Lounge is the perfect spot to belly up to the bar for a burger, shot and a beer, or catch up with friends over a cocktail.
It's been a family-owned business for over 30 years now and has been a consistently comfy place to hang out and play darts, pool, or shuffleboard for locals and visitors alike. The Kozy definitely lives up to its name. Its owners, Robert and Michele Haskell, spoke to Ferndale Friends to tell us their whole story of success and longevity.
Rob said, "We are so grateful for the opportunity to express our love for Hazel Park and the surrounding communities. A bar is four walls, a roof and a license. A neighborhood watering hole has all the finest furnishings that money can't buy: Its patrons. It's layered with characters, stories, advice, experiences and heart which give it charm and life. I could talk for days about all the great people that pull open the side door, letting sunshine and weather pierce into the warmth of Kozy Lounge. Without fail, there are always a few 'hellos' exchanged before you're done adjusting your stool."
LIKE EVERY LONG-STANDING BUSINESS there are countless stories to tell. Michelle spoke about how her parents first met there. "My parents met here for the first time over 30 ago, when my mom served dad Captain & Diet Coke over the same laminate counter that is there today. We all felt sadness when the racetrack closed and shared beers with the former employees when they lost their jobs. I still have pictures of the previous owner and their deep bonds within the city. The Kozy has lasted despite all the other changes in the city because it has its own soul. Every owner, employee and patron has been involved with this city in a communal way too."
Their business is an anchor inside Hazel Park's storied history. "The Kozy is a hub that helps bring culture to the city in the most humble ways. It's a place where neighbors meet after work. Neighbors stop in to find the best electrician, mechanic, babysitter, lawn service person or shuffleboard player. If you're a blue-collar worker, our place is for you. The Kozy is a place where people fall in love, get engaged, mourn the loss of a family member, celebrate a birthday, a ladies night out or a beer with friends after work. It has the same coolers that have been a short purgatory for millions of beer bottles in the last 57 years. Our hot griddle is where thousands of Kozy burgers have been devoured or loaded on roach coaches that once drove to all the tool-anddye shops around I-696. Our place is where dances are danced, tears cried, teams cheered, gossip whispered and glasses raised for a toast. You can't help but belong. Kozy patrons are family."
Rob closed by emphasizing the business owners in Hazel Park support each other no matter what. They participate in charity together, grow together and share ideas. He said he wouldn't want to be anywhere else.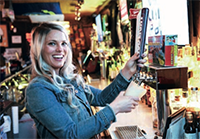 The Kozy Lounge is open daily:
Monday-Saturday 10:00 A.M. – 2:00 A.M.
Sunday 12:00 P.M.-12:00 A.M.
(248) 547-5017 | KOZYLOUNGE.COM