Judge Rudy Reports: Jurisdiction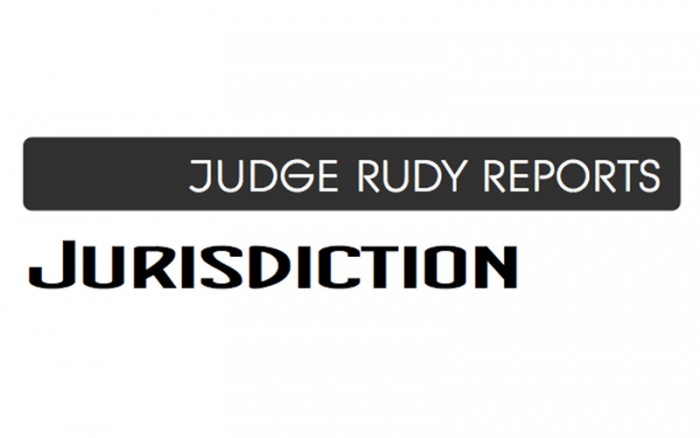 By: Rudy Serra
Q: I live in Ferndale and hired a contractor from Madison Heights to do some work for me. We have a written agreement. I paid, but the work was never done. I've tried calling, and I've also sent email. Almost a year has passed. The amount of money is about $1,000. If I have to sue him, what do I do? Where do I sue?
Answer: Consider filing a "small claims" civil suit at the 43rd District Court in Ferndale. Where to sue is a question of "jurisdiction." A court can't act without jurisdiction. Jurisdiction can be challenged any time, and any action taken by a court outside its jurisdiction is void. Our local district court, for example, does not have jurisdiction over cases claiming more than $25,000 in damages.
The District Court has jurisdiction over cases involving less than $5,000 and as- signs those cases to the "small claims" division. The "small claims court" is a division of the local district court. The "General Civil" division has jurisdiction over matters from $5,000 to $25,000. They're all in the same place at your District Court. The Oakland County Circuit Court has jurisdiction over civil cases involving more than $25,000.
A lawyer can help you prepare your case, but attorneys are not permitted to represent you in small claims court. The proceedings are considered informal, and efforts toward mediation or settlement are common.
Usually, the proceeding is run by a magistrate. A magistrate is an attorney who has been delegated authority over certain matters by the district judge. A district judge can overrule a magistrate's decision. There are no jury trials in small claims.
Ferndale, Madison Heights and Hazel Park are all part of the 43rd District Court. When a crime occurs in Ferndale, the criminal case goes to the Ferndale Judge (Joseph Longo). A civil suit filed in Ferndale, however, may be assigned to Madison Heights (Judge Keith Hunt), Hazel Park (Judge Charles Goedert) or Fern- dale. Cases are assigned randomly.
The Michigan Court Rules set forth the factors you consider in deciding where to sue. The residence of the parties, the place the contract was entered, and so on, are all listed factors. You might have to attend hearings in Madison Heights or Hazel Park. Once your case is assigned to a judge, it generally stays with that judge.
If your contractor lived outside the 43rd District, you can still file your action here. The factors that determine "jurisdiction" don't change. They are designed to include cases where the parties live in the same place, as well as those where they do not. Generally, with civil actions, you can file wherever the Defendant (the person or business you are suing) lives. However, if you (the "Plaintiff") reside in Ferndale, the contract was signed in Ferndale, and the work was to be done in Ferndale, you would be able to file the case in Ferndale.
There are two kinds of jurisdiction. A court can have jurisdiction over a person, or it can have jurisdiction over property. In a criminal case, the court has jurisdiction over the person when that person is in custody. In a civil case, the court has jurisdiction to decide disputes over property located in the district. In your case, the small claims division of the 43rd District Court is probably the place to start.
"JUDGE RUDY REPORTS" is a regular feature in Ferndale Friends. This "ask the lawyer" format column welcomes questions from readers. If you have a legal question or concern, send your question by email to rudy.serra@sbcglobal.net. Advice about specific cases or individuals cannot be provided but general legal questions and topics are welcome.
If some happened with our soundness, we believe there is a solution to any maladies in a preparation. What medicines do patients purchase online? Viagra which is used to treat impotency and other states coupled to erectile dysfunction. Learn more about "sildenafil". What people talk about "viagra stories"? The most substantial aspect you must look for is "sildenafil citrate". Such problems commonly signal other problems: low libido or erectile dysfunction can be the symptom a strong heartiness problem such as heart trouble. Causes of sexual malfunction include injury to the penis. Chronic disease, several medicaments, and a condition called Peyronie's disease can also cause sexual disfunction. Even though this medicine is not for use in women, it is not known whether this treatment passes into breast milk.