Hazel Park Author Hits the Big Time!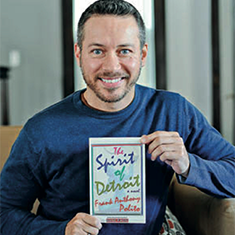 By Sara E. Teller
FRANK ANTHONY POLITO HAS HAD A PEN IN HIS HAND for as long as he can remember. "I've always been a writer," he said. "I was the kid in fourth grade who wrote ten pages when he was told to write five."
He is also a Hazel Park native, and there are many references to local hot spots in his writing. He said, "My novels are loosely based on my life, growing up gay in Hazel Park during the 1980s. They are all fiction, but there are lots of local references, like Country Boy restaurant, that make them fun to read for people who lived in Hazel Park during that particular time period."
Polito said of his published novels, "Writing them was like taking a trip down memory lane, getting to revisit a time that was difficult. Being a gay kid in 1980s Hazel Park wasn't easy. Even though there were a lot of us, we just didn't know it at the time…the support I received when they were published, from old friends and teachers who came to my book signings, made me finally feel popular after so many years of feeling quite the opposite."
His favorite novelist is Michael Chabon, and Polito's third novel, The Spirit of Detroit, was inspired by his book, The Mysteries of Pittsburgh. He also has a favorite screenwriter – the legendary filmmaker John Hughes.
"I've been called 'the gay John Hughes,'" Polito said fondly, adding, "which is an honor since he's my favorite screenwriter."
An award-winning author himself, Polito also has a passion for the stage. He received a Bachelor of Fine Arts (BFA) degree in Theatre from Wayne State in 1993, where he got involved in many productions and even met his life partner, Craig Bentley.
At 24, Polito moved to New York City to pursue a career in acting.
"When that didn't work out as I'd hoped, I started writing," he said. "In 2001, I wrote my first play John R, which was later adapted into my first novel Band Fags!. It was published in 2008. John R tells the story of two gay teenage boys living in Hazel Park in the mid-1980s and what happens when one of them decides he's ready to be 'out and proud' while the other is too ashamed to step out of the closet. The play is based on my relationship with my best friend of almost 37 years. It received its Detroit premiere in 2015 by Slipstream Theatre Initiative of Ferndale at its former home in Hazel Park. The play has also been produced in New York City, San Francisco, and in Omaha, Nebraska."
FOLLOWING HIS BFA IN THEATRE, IN 2006 Polito also received a Master of Fine Arts degree in Dramatic
Writing from Carnegie Mellon.
"While there, I wrote two plays. The first is called Ferndale: 1955 about a gay World War II veteran who returns home from the war, marries a young widow, and tries to live a 'normal' life. My second play is called Another Day on Willow St, and tells the stories of two couples – one gay, one straight – living in New York City in the weeks leading up to 9/11. The original production at Carnegie Mellon featured Anthony Carrigan, now seen on HBO's Barry."
The author-playwright has received a few notable awards along the way. In 2008, his novel Band Fags! was named Best Fiction by the LGBTQ book-of-themonth club, InsightOut. Then, in 2009, his novel Drama Queers! was named Best Gay Romance by the Lambda Literary Association.
In 2013, Polito and Bentley moved from New York City back to Michigan. "We were featured on the HGTV show 'House Hunters.' We now live in Pleasant Ridge with our two dogs, Clyde and Jack."
"My parents and my sister's family still live in Hazel Park, so I'm there often. Polito said, "I love that more young people are moving to Hazel Park, which is exactly what my parents did when I was a small child. It's a great place to raise a family. When one Hazel Parker does something great, everyone in the city takes pride in it."
Polito spent the past four years directing mobile video games for the Episode app, including Pitch Perfect, Mean Girls, Pretty Little Liars, and Demi Lovato's World Tour, but said he recently gave that venture up to focus his energy on a new one.
"The big news is that I'm finally in the process of pursuing my dream to produce my first feature film. This past year I wrote and developed a modern-day adaptation of John Hughes' Pretty in Pink. Unfortunately, Paramount passed when we pitched the script to them, even after Molly Ringwald herself had read it, and was being considered to direct."
But that only made Polito more determined to see his project make it onto the big screen.
"We are now in the process of revising the screenplay to make it more of an original story, keeping the same characters and premise," he said. "The (working) title is Peasant Ridge and it tells the story of a transgender girl from Hazel Park who moves to Pleasant Ridge in order to live life as her true self. We will begin production within the coming year!"
On Saturday June 1, 2019, at 10 A.M., the City of Hazel Park raised a rainbow flag in honor of June being declared Pride Month. "I've been asked to give a reading from my books immediately following that at the Hazel Park Library, and to speak a little bit about my life. It's an honor to be recognized by my hometown. Thirty-five years ago, I would've never imagined the day I'd see a Pride flag flying high over the Hazel Park City Hall."