"Fuel for Hardworking Humans" A.J. O'Neil of Detroit Bold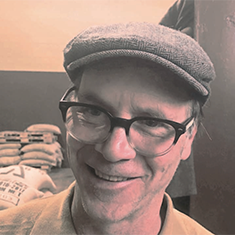 By Maggie Boleyn
COFFEE. YOU PROBABLY START YOUR DAY with this beverage. You might grab another cupful at midmorning. Or, perhaps you drink it constantly throughout the day before downing another cup after dinner. You drink it with co-workers, and maybe you drank it on a first date. Whenever and however you choose to enjoy it, coffee is very likely a big part of your life.
"Coffee is a great conduit to bring people together," says A.J. O'Neil, the self-described "Chief Bean Officer" of Detroit Bold Coffee Company. "We're not too serious about titles," he added.
What Detroit Bold is serious about is providing good coffee geared towards "hardworking humans." From its beginnings as AJ's Music Café in Ferndale to the present, O'Neil takes his coffee seriously, while providing a little shot of fun along the way.
Organizing a musical marathon featuring 50 hours of "Danny Boy" beginning on St. Patrick's Day and setting a Guinness Book of World Records for holding the longest "Assembly Line Concert" are just two examples. O'Neil said the Assembly Line Concert was created to "bring awareness to the little café that bailed out Detroit, one cup at a time." The event logged an impressive 288 hours of live music running for 12 days with more than 300 performers participating.
"Our vision is to promote great things about the hardworking people of the community," O'Neil said. He said that coffee provides the backbone for hard work done by people in this region. One of the things he loves about Hazel Park is the industriousness of the residents. "There are hardy souls in Hazel Park," he said.
After a roofing accident ended his days working in construction work, O'Neil says he found himself in a coffee shop and thus began a new career. "Coffee found me," he says. He decided to use coffee as a vehicle to showcase and "promote the Detroit area and the great things we do here." Detroit Bold's beans are roasted in Highland Park, the city which launched auto giant Henry Ford. "Between Hazel Park and Highland Park is where this all happens," O'Neil said.
O'NEIL SAID THAT HE DOESN'T REALLY SEE HIMSELF AS COMPETING with larger coffee chains like Starbucks. With millions of coffee drinkers in the US alone, O'Neil says, "There's plenty for everyone."
According to Espresso Business Solutions (EBS), approximately 50 percent of the population, roughly 150 million Americans, drink espresso, cappuccino, latte, or iced/cold coffees on a daily basis. EBS pegs the average U.S. consumption at 3.1 cups per day, and notes that specialty coffee sales are increasing by 20 percent per year and account for nearly eight percent of the 18 billiondollar U.S. coffee market.
By promoting the local aspects of his products, O'Neil says any competitive aspect is downplayed. "We complement, we don't compete," he said.
Unlike the former Starbucks CEO, who is toying with a 2020 presidential run, another area where O'Neil will not be competing in soon is politics.
Although he was a 2010 Congressional candidate, he says, "I have no future plans to run for office." Instead,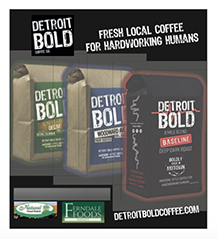 he said he will be concentrating on his product line and marketing new coffee offerings like "Baseline" – the "8 Mile" deep, dark roast blend which is served every Saturday at Eastern Market.
O'Neil sees Hazel Park as populated by hardworking people that care about the community. "We don't kick our wounded, and we don't leave anyone behind," is how he characterized the community. "If I were rich, I would still want to live in Hazel Park," he concluded.
For more information about Detroit Bold Coffee, visit www.detroitboldcoffee.com.