Color & Ink: Always Open for Creative Inspiration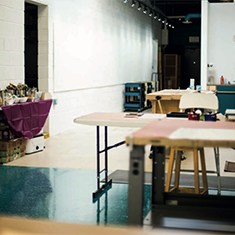 By Sara E. Teller
COLOR & INK STUDIO WAS STARTED BY PROFESSIONAL PHOTOGRAPHER ERIC LAW AND HIS WIFE AND VISUAL ARTIST CANDACE LAW. The couple opened a studio first in Berkley and, since September 2018 have been showcasing and supporting creativity in the arts from a new studio established in Hazel Park. For more than a decade, the Laws have been promoting creativity in Southeast Michigan.
"The building the studio now occupies was completely re-designed and renovated last year by Five/Eighths Architecture in Ferndale," Eric Law said. "We wanted a place with a modern, industrial feel that would be welcoming and inspire creativity. The move to larger quarters provides us with an exciting opportunity to expand our programs and services for artists in Detroit and the metropolitan area."
Law added, "We're really excited to join the emerging art scene in Hazel Park and become part of the community with this wonderful new space. Hazel Park has an active Arts Council, and the residents are interested in and engaged with the arts. There's been a lot of curiosity about what we're about and everyone has been very welcoming."
Color & Ink offers a space for creating photographs and other visuals that connect with viewers in different ways, providing learning resources and media services for the visual arts, teaching artists to expand their expression with new and non-traditional mediums, publishing and exhibiting work, and assisting artists in making their projects available online. There is a working photography studio where Eric photographs artwork for artists and galleries, creates websites, and publishes books. In her studio, Candace creates fine art primarily in encaustic and mixed media.
"We have dedicated space for teaching workshops in encaustic, mixed media, and photography, as well as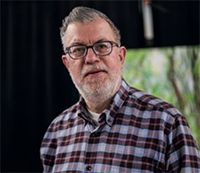 hosting workshops by guest instructors in new and nontraditional mediums," Law said. "Artists also can book individual studio time to work on their own projects, an affordable alternative to renting a studio full-time."
He added, "We have a gallery for exhibiting the work of local artists, as well as a multipurpose space for artrelated meetings and educational events. For example, we host the monthly meeting of the Hazel Park Arts Council and hold a bi-monthly gathering of Detroit-area artists called Art:Dialog."
Anyone interested in collaborating with Color & Ink can check out www.ColorInkStudio.com, visit their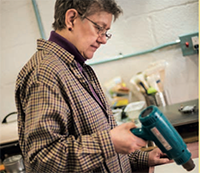 Facebook page @ColorInkStudio or call 248-398-6119. Program inquiries can also be sent to info@ColorInkStudio.com. Members of the community can check out the gallery, which is open weekdays from 10:00 A.M. to 4:00 P.M. or by appointment.
"Exhibitions are usually up for six to eight weeks," Law explained, adding, "Workshops in the second half of the year are still being planned. We'd love the opportunity to meet folks with an interest in the arts who live in Hazel Park. Our doors are always open for creative inspiration!"