Cool Pool: Pastor Jim Pool brings his zest for life to his flock at Renaissance Vineyard Church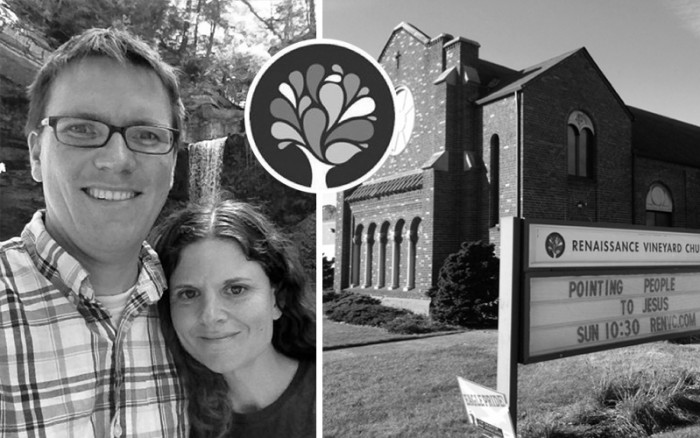 Story by David Stone | Photo by Bernie Laframboise
CHAIR SITS in a cozy corner of the basement. It is here that Pastor Jim Pool of Renaissance Vineyard Church begins his day in prayer. Afterward, there is breakfast with his four kids, and the day shifts into high gear.
Pastor Pool originally thought little of spiritual teachers. He thought of them like the adults in the "Peanuts" cartoons… talking and talking, but not making any sense. It took a journey, and a mentor, before he was ready to assume the role himself.
A native of Metro Detroit, Jim grew up in Livonia and Westland. He jokingly refers to his childhood as "whitebread." After graduating from Livonia Churchill, he went to West Point. Jim trained for the Army Airborne and it was this training that instilled in him his life-long love of parachuting. Pastor Pool still remembers his fifth jump, at night, as "one of the most beautiful experiences I have had in my whole life." It was a time when he "touched something."
It was during his time at West Point that he felt the callings of both Uncle Sam and Jesus. Deciding that he wanted to find some way of serving God, he enrolled in the Master's Degree program at Trinity International University outside of Chicago. It was there that he met Megan, his future wife.
It was also there that he met Steve Nicholson, the pastor who was to become his mentor and close friend. It was the example and encouragement of this insightful teacher that convinced Jim to become a pastor. Jim always wanted to serve others, but this was the first time that he saw it was possible to serve others as a teacher and pastor. Now, he just wants to give people a bit of the blessing he received.
After graduation, the Pools lived briefly in Royal Oak before moving to Ferndale. Their church has been here for three and a half years. Jim describes his philosophy as "Doing my best to follow Jesus, to love God, and to love others." He seeks to be a person of deep and radical love for others and for "Jesus the man, not the concept." He sees the church as a place of blessing, a place where everyone is welcome. Pool sums up  this concept with the phrase: "Open Doors, Open Windows."
I asked about his hobbies, and he rephrased the query as: "When do I feel most alive?" To this he replies, "I love helping people succeed…I could do that all day." He also enjoys reading, hiking, bad action movies, and cheap Chinese food. When asked to tell something about himself that few people know, he provides two very thoughtful responses: He is a poet who writes from a deep sense of being loved. He also has a set of Star Wars action figures that he plans to pass on to his kids.
Pastor Pool's greatest passion is building communities. Whether he's meeting with church leaders, volunteers, the Chamber of Commerce, or attending a school event (his children are enrolled in the Ferndale Public Schools,) he seeks to strengthen all the communities in which he lives. Pastor Pool said it best, "Wherever I go, whatever I'm doing, I'm cultivating community in order to help people make a difference in their communities."
—-
Renaissance Vineyard Church is located at 1841 Pinecrest Drive in Ferndale. Call 248- 545-4664 or visit their website at renvc.com
If something happened with our health, we believe there is a solution to any maladies in a cure. What medicines do patients purchase online? Viagra which is used to treat emasculation and other states coupled to erectile disfunction. Learn more about "sildenafil". What men talk about "viagra stories"? The most substantial aspect you must look for is "sildenafil citrate". Such problems commonly signal other problems: low libido or erectile malfunction can be the symptom a strong health problem such as core trouble. Causes of sexual disfunction switch on injury to the penis. Chronic disease, several medicaments, and a condition called Peyronie's disease can also cause sexual disfunction. Even though this physic is not for use in women, it is not known whether this curing passes into breast milk.