By Mary Meldrum
EXLTERRA IS AN INTERNATIONAL ENVIRONMENTAL SCIENCE COMPANY located on 10 Mile Road in Hazel Park with strong business contacts in Switzerland, India and Japan.
They are mostly known for their HAZL drill rig, but they are a little bit of a mystery since their web site doesn't give viewers a clear understanding of exactly what they are doing.
That's sort of intentional.
In short, Exlterra uses innovation, technology and experience to create reliable, long-lasting solutions to environmental industry problems.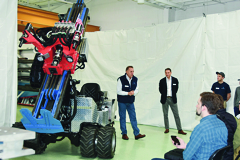 Frank Muller, CEO of Exlterra, explains that maintaining some mystery to their business is necessary right now. They are in the process of completing two new technologies that they will announce later in 2018. These are just the first two in a substantial pipeline of currently classified revolutionary environmental technologies that will come online in the near future. For now, the two new technologies as well as the pipeline must remain a secret for a little longer, but Muller is extremely excited about the direction of their innovation and the future of Exlterra.
Muller is very quick to give credit for Exlterra's innovations to Chairman, CTO, and inventor Andrew Niemczyk.
"Andrew was born in Poland in 1960 under communism," Muller explains. "He has a gift for understanding the systems of the world, the environment. It was a prison for him growing up in communism. There, you are capped and your knowledge is not valued." Niemczyk eventually escaped, and came to the United States where his long-stifled creativity has been erupting into breakout discoveries.
An established businessman searching for more meaning in his life, Muller moved to the U.S. in 2011 from Switzerland. He was introduced to Niemczyk, and it was the beginning of their close relationship. Muller sees it as his purpose and duty to protect Niemczyk and help him bring his remarkable products to market. Niemczyk develops the technologies, and Muller – with his understanding of business and professional connections — brings them to market.
"The more time I spend with Andrew, I realize how much this man went through," Muller says. "We have not seen even one percent of what he can achieve." By all of Muller's accounts, Andrew Niemczyk is a gifted creator, a renaissance man, someone to watch.
THE SMALL TEAM AT EXLTERRA INCLUDES NIEMCZYK'S TWO SONS – both engineers – Robert and Patrick Niemczyk. Together, they are working on building more technology that will equip humans with the tools to prosper and help the earth to heal.
Explosive growth of modern civilization has put tremendous pressure on the environment causing imbalances. Exlterra recognizes that many standard systems used today that address environmental issues lack sustainability and often result in unintended consequences and unnecessary costs.
Exlterra's mission is to invent better ways to combat major challenges affecting the environment and civilization. Their focus is on developing technologies that generate significant economic, environmental, and social value.
In 2010, Exlterra invented and patented a passive groundwater recharging system. This product revolutionized the way to address certain water issues.
In 2017, HAZL was born; a versatile drilling machine to accelerate the installation of their soil moisture management system, and for other drilling applications.
Exlterra realizes that nature works in systems. Awareness, appreciation and deep knowledge of how to work within natural systems is the key to Exlterra's success. The concept of a circular economy presents a unique opportunity to build greater value through our world's abundant yet finite resources.
TODAY, EXLTERRA IS WORKING ON IMPROVING ITS EXISTING DRILL TECHNOLOGY while continuing to pursue new projects and ideas. It is in the DNA of Exlterra to invent and market powerful technologies that will benefit humans and improve the way we treat the earth.
"The only way people will adopt a new way of doing something is if they experience a benefit," Muller says. "Find a way that people will see the benefit, and they will adopt it."
As a business professional, Muller clarifies, "If you try to impose change through sanctions or in a way that is inefficient, that will never succeed. If you want to achieve things on this planet for the environment, you have to do it in a way that there will be a benefit and a profit. And it is my job to make sure that message is heard for Exlterra."
Muller values Exlterra's strong relationship with Hazel Park.
"Exlterra came to the city in 2013, and we identified this place as a great area to start manufacturing," Muller says. "We got a good price with our building and solid support and understanding from the city. We have a happy and harmonious relationship with the city of Hazel Park."
Stay tuned to Exlterra to discover what new technology they will be unveiling in Hazel Park in the coming months!