By Sara E. Teller
Photos by Bernie Laframboise & Others
FERNDALE OFFERS A HIP-AND-HAPPENING COMMUNITY, with both starter and forever homes nestled conveniently near many of Metro-Detroit's major highways. Homeowners choose Ferndale for its welcoming, tight-knit feel, diverse population and friendly residents, and wide array of available amenities.
This is why the area is also home to many skilled realtors, builders, contractors, property managers, and home improvement companies. It makes sense to follow the crowd and Ferndale is a natural fit.
WATERWORK PLUMBING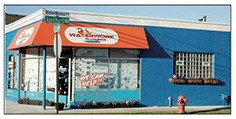 TAKE WATERWORK PLUMBING FOR EXAMPLE, ORIGINALLY STARTED by owner David Greylin back in 2006. Greylin launched the company with just one truck. Since then, WaterWork has grown to include a team of 14 people who serve the entire tri-county area, and owner Greylin says, "Business is booming!" For more information, call 248-542-8022 or visit waterworkplumbing.com.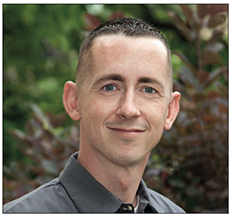 CREGGER PLUMBING
CREGGER PLUMBING & SEWER ALSO OFFERS DRAIN AND SEWER CLEANING, and boiler services in addition to plumbing solutions. The company loves to give back to Ferndale, too, by sponsoring Habitat for Humanity, the Hydrocephalus Association, and the Ferndale Ice Festival. Visit creggerplumbing.com or call 248-560-7780.
EMERGENCY DRAIN & PLUMBING
FOR SAME-DAY EMERGENCY PLUMBING SERVICES, TRI-COUNTY RESIDENTS can contact Emergency Drain and Plumbing. Skilled workers stand ready to keep the show running. Call 248-506-7634 or submit a service request at emergencydrainandplumbing.com.
HAVEN REAL ESTATE + DESIGN
TAMELA EKSTROM STARTED HAVEN REAL ESTATE + DESIGN IN 2015. "I'd lived in a number of different cities across the U.S. and had been involved in a number of different aspects on the real estate business, including construction, property management, and of course real estate sales. I wanted to create a space where people working for HAVEN could tailor their lives how they wanted," she explained.
One unique aspect of HAVEN is that agents work from their own homes, or from local co-working spaces. "I also encourage them to be their own unique individuals. Not everyone wants a flashy real estate agent in a suit! We empower our clients' by educating them so they can make an educated, informed decision," Ekstrom said.
HAVEN primarily serves the Ferndale community, as well as neighboring areas along the Woodward Corridor. Ekstrom explained, "The majority of our customers are people who are looking to buy or sell a home in or around Ferndale. Most of our customers want to buy or sell property along the Woodward Corridor from Detroit to Royal Oak, Berkley, Clawson, Detroit, Beverly Hills, and Bloomfield Hills, but we do reach as far as Grosse Pointe, Dearborn, Macomb, and Northville. Our clients are interested in investing their money wisely and utilizing technology to search for properties."
In addition to traditional real estate assistance, HAVEN also offers design services. Ekstrom said, "HAVEN real estate + design helps both sellers and buyers with design services. If people sell their homes with us, we offer a free consultation and home walk-through to tell them what to do to maximize profits. For our buyers, we can give rough estimates on renovations and refer contractors." The company can also assist with furniture selection and interior decorating. She added, "We're experts at pricing homes, and giving recommendations based on the current real estate market. We're experts at marketing properties to people looking to buy now."
The "unique, artistic, edgy, progressive, and inclusive" atmosphere in Ferndale makes working there fun and exciting for Ekstrom and she has been involved in many one-of-a-kind projects, explaining, "I designed and decorated our Northwest Ferndale rock home and it was recently featured in the pilot episode of HGTV's What You Get For The Money. HAVEN agent Stephanie Kort was the featured realtor in the segment, talking about Ferndale and all it has to offer."
For more information, 248-464-3304 or visit livehaven.com.
JUDY PALMER, REMAX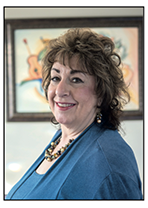 REAL ESTATE LEGEND JUDY PALMER HAS LIVED IN FERNDALE FOR OVER 36 YEARS. She grew up in Oak Park and eventually relocated to Ferndale after college, explaining, "Living in Ferndale was a natural transition once I moved back home from EMU. I knew I wanted to get out on my own. Ferndale was a very affordable city for renting and I worked at a local restaurant."
She originally started her real estate career at a small realty office on Woodward in Royal Oak, then RE/MAX in Royal Oak for 10 years and now at RE/MAX Showcase Homes since 1999 in Birmingham.
Judy's business has grown leaps and bounds over the years. She said, "For over 35 years, I have cultivated a wonderful client base. My business is 90 percent repeat clients and referrals, which includes generations in families. I am currently working with a young woman to find her first home. I first met her when I found her parents their first home and she was about sixyears-old."
With a background in interior design and staging as well as marketing, Judy helps sellers prepare their properties for showings plus virtual tours. She ensures that homes get the exposure they deserve. Her follow-up and personal attention to details makes for a smooth transaction with an easy closing.
Judy works closely with buyers to find the right space, manage inspections and appraisals, and facilitate the mortgage and title processes. She said, "My experience, education, certifications and negotiation techniques help my clients daily."
Palmer also volunteers for many Ferndale events including Pig & Whiskey and DYI StreetFair for the Friends of Ferndale Library. She serves as a board member for Ferndale Community Foundation and Ferndale Board of Zoning Appeals.
"Ferndale is a great place to live, shop and have fun," she said. "Our friendly neighborhoods, downtown area and amenities like the Library, community center, parks, and City services – plus the culture of music, theatre, comedy, wellness and diversity – make Ferndale the best place to be!"
For more information regarding all of the services Judy Palmer offers, call 833-577-3557 or visit judypalmer.com.
JIM SHAFFER & ASSOCIATES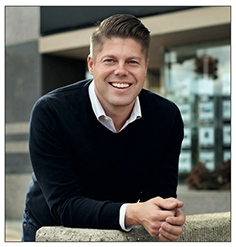 JIM SHAFFER HAS BEEN A LICENSED REALTOR SINCE 2000 BUT BEGAN HIS FULL-TIME REAL ESTATE CAREER IN 2010. His close connection to the Ferndale community and our schools, businesses and residents helped the business quickly grew.
"Over the years, the team has grown to 42 fulltime members in order to serve our clients at the same high standard of 'wow' client experience," Shaffer said. "We are part of Good Company Realty, a real estate brokerage in Royal Oak."
Jim Shaffer and Associates serves homeowners along the Woodward Corridor, including those who have lived in the area for just a few years and many that have lived there for more than 40.
"We also help many buyers who wish to live in these communities, either buying their first homes or buying a larger home to suit their growing lives," Shaffer explained. "Because we are a team of specialists, our clients enjoy the high level of service and communication that a team can provide. From the first call, we walk our clients through every step of the process with staging and updating advice, if needed, to pricing, and ultimately, masterful negotiation."
THE COMPANY SPONSORS MANY OF THE EVENTS IN FERNDALE, including Pride, DIY, Pig & Whiskey, and others. "We often serve for local charities, work booths and volunteer our time within the community," Shaffer said, adding, "When describing our city to potential relocation buyers, I always say we are a small town with a big community. I love the entrepreneurial spirit here – our businesses and residents choose to support one another, and this certainly fuels us here at Jim Shaffer and Associates."
Shaffer enjoys the sense of belonging, contribution, and connection in Ferndale. He said, "We love Ferndale and we love what we do! Every day, we are honored to help buyers and sellers move through the emotional highs and lows of real estate. We are there when folks buy their first homes and when families are faced with the difficult task of selling their parents' homes. It's an honor and responsibility that we take seriously, and we will always put the client first."
To work with Jim Shaffer, call 248-834-3030. more information, visit soldcalljim.com.