Ferndale is Dedicated to Community Health & Wellness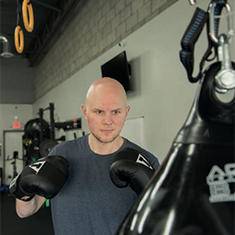 By Sara E. Teller
Photos by Bernie Laframboise & Others
FERNDALE IS A HEALTH AND WELLNESS EPICENTER, with a wide range of fitness, physician and pharmaceutical, physical therapy and alternative healing options, as well as beauty service providers and many others. Residents can easily walk to a number of these businesses, and the variety of services available make a comprehensive care plan simple and affordable.
HILTON VETERINARY CLINIC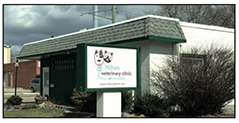 HILTON VETERINARY CLINIC WAS STARTED IN APRIL 2016 BY DR. BETSY SCHNUR, who currently lives in Ferndale and enjoys serving the community in which she works. "Our customers are mainly local dogs and cats living in the Ferndale area," Dr. Schnur explained. "We focus specifically on one-on-one individualized patient care for each pet."
Full-service veterinary services are available onsite, including fear-free preventative care, minor soft tissue surgical procedures such as spay and neuter services, and mass removals, as well as canine or feline dental radiographs and surgical tooth extraction. Hilton also offers micro-chipping, vaccinations, and parasite screening and removal.
Hilton Veterinary Clinic supports the Ferndale Cat Shelter and participates annually in Fido Does Ferndale.
The business is also currently planning to expand its involvement in other local pet-related events.
Dr. Schnur said, "I love the people in our community, especially dedicated pet owners who make our jobs worthwhile and bring smiles into our lives! Hilton Veterinary Clinic is proud to serve this community and surrounding areas with future plans to expand the business while also staying in Ferndale. Stay tuned!"
For more information on all of the services Hilton Veterinary Clinic offers, visit hiltonpetvet.com or call 248-955-3253.
BRAIN MEETS BRAWN
MICHAEL GORNEY HAS DEDICATED HIS ADULT LIFE TO HELPING PEOPLE of all ability levels, from high school and collegiate athletes to senior citizens and individuals with spinal cord and traumatic brain injuries. His versatile, all-inclusive approach to client relationships proves he takes each individual's goals and abilities into consideration, and this is the philosophy that led to the development of the Brain Meets Brawn brand.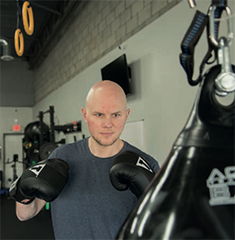 Founded in 2014, Brain Meets Brawn was created as a solution to the exponentially expanding fitness industry and its overall "lack of professionalism and oversight," Gorney said. "Our mission was to introduce the science of movement, through corrective exercising and bio-mechanics, to an aging baby- boomer and emerging millennial generation."
The company began in a small gym at the 1300 E Lafayette building in Detroit, and in August 2019 the first brick-and-mortar location was officially established at 3029 Hilton Road in Ferndale. "I was out of work following extensive ACL and meniscus surgery, and happened to drive by a 'for lease' sign down the street from our house," Gorney explained. "After a quick peek inside, I knew this was the opportunity to take Brain Meets Brawn to the next level."
Brain Meets Brawn currently focuses on orthopedic injuries with an emphasis on individuals of an older age or nearing or currently retired. "We are a medical rehabilitation and fitness facility that strives to provide a comprehensive rehabilitation and fitness program to our clients," Gorney explained. "How-ever, our doors are open to anyone who wants to learn more about the art and science of biomech-anics, movement systems, injury prevention, and pain management."
Brain Meets Brawn hosts a monthly class with Drifter Coffee called Recovery Day. "We also planned a charity event for the Purple Polka Dot Race in late March or April. Purple Polka Dot is a charity group that spreads awareness on vascular birthmarks," he added.
For more information, call 586-808-8282 or visit bmbfitnesssolutions.com.
EVOLVE ACUPUNCTURE/WELLNESS
IN MAY 2015, MIKE TOCCO, REGISTERED ACUPUNCTURIST, OPENED EVOLVE ACUPUNCTURE & WELLNESS in Birmingham and, as the business expanded, it moved to Ferndale December 2017.
"Since our move to Ferndale, we have added two additional healthcare providers," explained Tocco. "Kat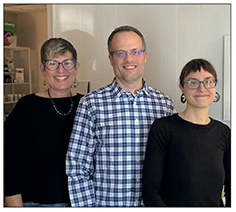 Barber, Registered Acupuncturist, and Candace Belinc, Licensed Massage Therapist. We offer acupuncture five days per week and massage therapy two days per week. All of our practitioners are licensed by the State of Michi- gan and are nationally board certified in their professions."
Other services EVOLVE offers include Chinese herbal medicine and cupping therapy, as well as an exclusive three-step facial protocol that includes acupuncture, red light LED therapy, and a micro-current facial mask designed to improve tone and appearance.
"Our goal is to help our patients feel, move, and look better," Tocco said. "We help people of all ages that are looking for natural and safe methods to relieve pain and improve their overall health and wellness. We treat patients who are recently injured or patients who have complex and/or chronic conditions. Chinese herbal medicine and acupuncture can help with many conditions besides pain such as headaches, neuropathy, sports performance, digestion, allergies, immune support, sleep, stress management, fertility support, women's health, and smoking cessation."
He added, "We also help patients with complex medical conditions such as fibromyalgia and auto-immune conditions regain their health."
The staff has extensive training in orthopedic style acupuncture that includes motor point muscle activation, trigger point acupuncture, also known as 'dry needling,' and electro-acupuncture. Massage therapy services focus primarily on pain management with optional kinesio-taping.
EVOLVE also offers a line of quality Chinese herbal products as well as a topical line of Chinese herbs that contain CBD oil for pain relief.
"We love helping the diverse community of Ferndale feel better and appreciate how inclusive it is here," Tocco explained. "The FerndaleChamber, along with local Ferndale residents, are so supportive of their local businesses. We have an annual fundraiser at our clinic every December where we offer acupuncture and massage services for a donation, with all proceeds going to Affirmations. It's one way we try to give back to the Ferndale community."
For more information or to schedule an appointment call 248-955-1215 or visit acu-evolve.com.
HILTON PROGRESSIVE DENTAL
SEARCHING FOR SPECIALIZED DENTISTRY? ALWAYS MAINTAINING a position at the forefront of advances in dental care, Hilton Progressive Dental offers the most effective and comfortable treatment methods utilizing the latest technology. Visit hiltonprogressivedental.com or call 248-209- 3702 for more information.
Tuesday 9:00 A.M.–6:00 P.M.; Thursday 8:00
A.M.–7:00 P.M.; Friday 8:00 A.M.–3:00 P.M.;
Saturday 9:00 A.M.–2:00 P.M. Sunday/Monday closed.
US REHABILITATION & HEALTH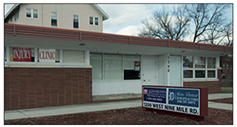 FERNDALE ALSO OFFERS STATE-OF-THE-ART THERAPY OPTIONS FOR INJURY RECOVERY AND PAIN
MANAGEMENT. US Rehabilitation & Health Services has a highly experienced team of physical therapists, occupational therapists, massage therapists, and speech therapists who have been dedicated to providing the highest quality of care since 2001. Visit usptrehab.com or call 844-369-9955.
CRANE OPTICAL
DR. HOWARD CRANE'S FATHER, LEONARD, STARTED CRANE OPTICAL IN 1949, choosing Ferndale for its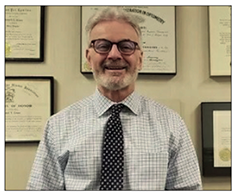 thriving business district and prime location. Dr. Crane Jr. later joined the practice in 1972.
In addition to thorough vision and eye health examinations, Crane Optical offers a wide range of brand nameframes and contact lenses, cases and cleaners, as well as minor medical treatment including pre- and post-op services for laser and cataract surgery. Customers also receive free eyewear repairs, including adjustments, screws, and nose pad replacement.
Dr. Crane prides himself on providing high quality care and affordable products. During an exam, he will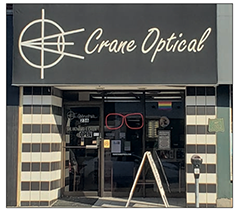 perform multiple tests, screening for retina and corneal disorders. Afterwards, he takes the time to carefully explain the results and discuss the optimal prescription. He can evaluate the effectiveness of a current prescription as well and make adjustments when necessary.
"I treat patients like family," Dr. Crane said. "I offer a very comprehensive exam while being considerate of my patients' time. And I love the small town, yet diverse feel of Ferndale."
For more information on all of the services Crane Optical has to offer, call 248-545-5600 or visit
craneoptical.com.
THE FERNDALE FAMILY PHARMACY
THE FERNDALE FAMILY PHARMACY, LOCATED ON 9 MILE BETWEEN PINECREST AND LIVERNOIS, FIRST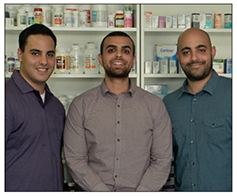 OPENED ITS DOORS ON OCTOBER 17, 2016. The pharmacy's over-the-counter product line is priced significantly lower than other stores in the area and the team offers a same-day free delivery service. The pharmacy team can access manufacturer coupons for patients to use on brand medications and actively communicates with prescribers on substitute medications to dispense when others are not covered by one's insurance carrier. For more information, visit ferndalefamilypharmacy.com or call 248.565.8031.
NOVA CHIROPRACTIC
NEARBY NOVA CHIROPRACTIC IS ANOTHER GREAT OPTION FOR RESIDENTS SEARCHING FOR A HOLISTIC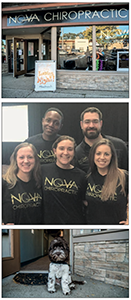 APPROACH to pain management. Located in Berkley, Dr. Nick Novakoski opened the center in November 2016. For information on Nova's services, visit novachiroclinic.com.