Entertainment and Night Life in Ferndale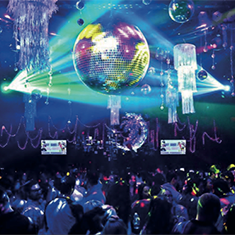 By Mary Meldrum
Photos by Bernie Laframboise and Others
B. NEKTAR MEADERY
B. NEKTAR IS A MEAD, CIDER AND BEER TAPROOM AT 1511 JARVIS IN FERNDALE. B.Nektar serves many other locations in Oakland County as well as other states. This is a cozy taproom famous for its honey-based alcoholic beverages.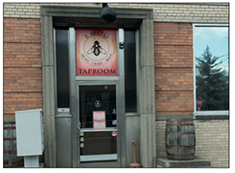 Influenced by sub-pop culture and never satisfied with the status quo, B.Nektar aims to bring a modern twist on mead as well as diversify craft mead, cider and beer.
B.Nektar Meadery was founded in 2006 by Brad and Kerri Dahlhofer, with the help of their good friend Paul Zimmerman. Brad has been an avid homebrewer since 1998, making beers, meads, ciders and wine for his own enjoyment. When Brad and Kerri got married in 2005, he made a mead to toast with at their wedding and received great reviews from the guests. He joked about someday opening a meadery. Paul, a longtime friend and fellow homebrewer, soon began making meads along with Brad in the Dahlhofers' basement. Their creations quickly began winning awards at homebrewing competitions.
B.Nektar's session meads and hard ciders are now shaping the craft revolution.
To say that it has been a long road from the home-brewing days would be an understatement. B.Nektar continues to increase their production capacity and is currently the largest meadery in the U.S.A. B.Nektar was the first meadery to join the ranks of the top 100 best breweries in the world by Ratebeer.com.
Proud of this story as they may be, they put a lot of effort into not taking themselves too seriously.
Since a mead can never be better than the quality of its ingredients, B.Nektar uses only the best honey they
can find. They source honey from as many local sources as they can find. They prefer that the honey has not been heated or pasteurized. This ensures that the volatile aromatics of the honey are preserved. A single bee will produce only about one twelfth of a teaspoon of honey in its lifetime, but in a mead, they need between three and four pounds of honey per gallon. That means they need a lot of hives to produce enough honey for a single 265-gallon batch.
BOOGIE FEVER
BOOGIE FEVER FEATURES A CONTEMPORARY DESIGN AND WALLS OF SLIDING GLASS WINDOWS that bring the breeze of the outdoors in to guests during the warmer months, and display the beauty of Woodward Avenue and downtown Ferndale all year round. Once you enter the dance club in back, you'll find a large disco-lighted dance floor for you and all of your friends to get your groove on all night long.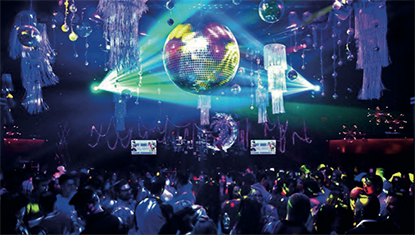 Boogie Fever's drink menu features a well-rounded wine list, seasonal cocktails, and draft beer. And Boogie Fever proudly proclaims themselves to be "Detroit's Birthday and Bachelorette Party Central!" Indeed, almost every weekend you can find a bachelorette party streaming into the place to whoop it up!
Everyone arrives at Boogie Fever looking to have fun. The dance club is a sacred space for people to feel free to express themselves. This is a space for everyone to feel welcome and loved.
The club offers special deals for a booth and cover for multiple people. The Boogie Fever staff does not reserve individual tables. Those joining you later will need to pay cover, which is $5, subject to special events or policy changes. The club opens at 8:00 P.M. and will hold your booth until 11:00 P.M. Credit cards are accepted for drink tabs etc., but not door charges.
DETROIT FLEAT FOOD TRUCK PARK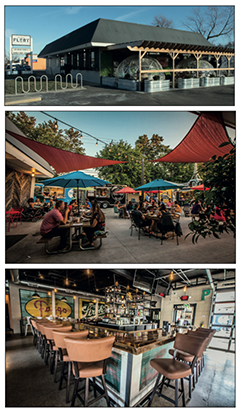 LOCATED ON NINE MILE ROAD IN FERNDALE, DETROIT FLEAT FOOD TRUCK PARK & BOOZERY is Metro Detroit's first and only food truck park. In the "Park," they spotlight two stationary food trucks as well as additional rotating trucks on select days of the week. In addition to the wonderful lineup of food trucks, the "Boozery" features a full bar featuring 16 rotating taps, seasonal cocktails and wine. Detroit Fleat also offers a street-food-inspired house menu. The park is the perfect place for the whole family, including your furry friends!
Detroit Fleat is home to some of Metro Detroit's most popular food trucks. Permanent food trucks featured at Detroit Fleat include The Pita Post (Mediterranean street food) and Impasto (Italianinspired street food). Rotating food trucks include 4Kings Café (coffee), Bavarian Inn Cluck Truck, Brass Kitchen, Brother Truckers, Buffy's Mexicasian, Cheese Steak Institute of America, Crepe Day Twa, Delectabowl, Detroit BBQ Company, Mac Shack, Motor City Pasty Company, Motor City Road Wings, Nosh Pit, New Deli, Press, Regina's Food Truck, Ruckus Taco Company, Senors Food Truck, and Shredderz.
Detroit Fleat is proud to debut their newest patio addition, The Slooshie Bar. The newest standalone trailer on the patio, the Slooshie Bar will feature rotating Slooshies flavors, ice cream and frozen treats.
GO COMEDY IMPROV THEATER
IMPROV (SHORT FOR IMPROVISATION) IS A FORM OF THEATER CREATED BEFORE A LIVE AUDIENCE. Improv is similar to sketch comedy, except that there are no scripts. Nothing exists before the lights come up. The audience offers suggestions for scenes or songs and the cast makes them up on the spot. This means every show is very, very original. Every scene is done for the first and last time. So, every night GO Comedy! is open, there's something new on stage. And if you miss it, it's gone forever.
On Friday and Saturday, the 8:00 P.M. and 10:00 P.M. shows run for approximately 90 minutes.
The Wednesday, Thursday and Sunday shows run 30 or 60 minutes. On Wednesday and Sunday one ticket is good for the entire night of shows, unless otherwise noted.
Alcohol? Yes, please! With drinks ranging from an ice-cold Pabst to a Napa Valley Chardonna, the GO! bar has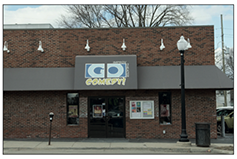 something to please everyone from your hipster cousin to your great aunt Betty. Not to mention, they have a whole slew of their own drink concoctions. Each season brings a new line-up of timely palate-pleasers born from the mind of the man Metro Times named Detroit's Best Bartender 2011, Andy French. The GO! bar proudly serves local favorites such as Valentine Distillery, Detroit Brewing Co., Atwater Brewery, B. Nektar Meadery, Short's Brewery and more!
LUXURY LANES & LOUNGE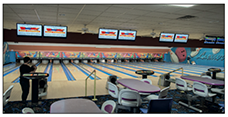 AT LUXURY LANES, YOU CAN ENJOY A GREAT EXPERIENCE BOWLING IN A LEAGUE OR CELEBRATING AN EVENT such as a birthday, family or company party. Luxury Lanes features a full lounge that also offers food choices to satisfy anyone's appetite. With 16 lanes, they offer a newly-remodeled, smoke-free environment for you to enjoy.
Bowling is not the only entertainment at the Lanes. Guests can book parties, enjoy "cosmic bowling" and sign up for leagues, along with relaxing in the full bar with tables for pizza and other casual dining.
There is also an arcade, bumper bowling on all lanes, birthday parties, Perky's pizza and Sully's subs snack bar, corporate parties, adult parties and a youth program.
Come and enjoy the venue! Bring your family, friends, and/or co-workers!