Shopping Treasures in Ferndale
By Jill Hurst
Photos by Bernie Laframboise & Others
9 MILE ROAD IS STILL THE CENTER OF SHOPPING IN FERNDALE, BUT THERE ARE LOTS OF FUN PLACES TO FIND WHAT YOU NEED – OR JUST WANT – ALL OVER TOWN. Go south on Livernois to OLIVE'S BLOOMBOX for flowers and yard decor. Heading north? WHIMSICAL WIT on Hilton and IRON RIDGE on Ten Mile are must-visits. Back on 9 Mile, grab some delicious dog treats and a cool new collar for your dog at MAESTRO'S DOG HAUS. Need to do some practical shopping? Head west to SCHEER'S ACE HARDWARE. There are many more places to peruse and enjoy. Just start "on the 9" and take it from there.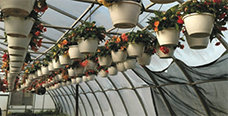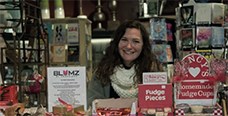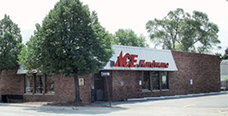 ELAINE B'S JEWELRY
THOSE EARRINGS. THE ONES ELAINE WAS WEARING WHEN WE MET AT ELAINE B'S, a lovely jewelry haven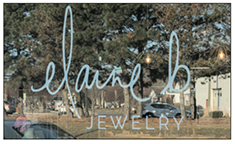 on Woodward just north of 9 Mile. Simple, remarkable hoops. I want them! Elaine and her team, Caitlin, Heather, Natasha, Alaina and Holly design, create and sell beautiful pieces at the Ferndale space they've occupied since November of 2018. In front, a jewelry store. The "Custom Bar" displays stones and metals you can choose to make your piece. The workshop/studio is in the middle. In the back, shipping.
The six women see the process through from beginning to end. We're here to "learn how to make a living making jewelry", Elaine says, smiling. They also display the work of other makers, including Detroit Rose, Hunt and Noyer and Corbe, but their jewelry is the quiet star. They also create new settings for your old gems. Elaine showed me a diamond in a setting she designed. A work in progress. The setting was beautiful, supporting the diamond perfectly.
The day I visited, Caitlin and Heather were preparing to lead a workshop in ring making, which takes you through the steps of working with silver. You leave with a ring you've made yourself. Couples have attended the class to make their wedding bands. One man made a ring for his girlfriend. Workshops happen twice a month. They also offer private parties. These makers are eager to share their work and their knowledge.
"Jewelry is a very personal thing…it should tell a story about the person who's wearing it." Garance Dore, French photographer/author. Add to your story with jewelry from elaine b's.
Elaine b's is located at 22961 Woodward, north of 9 Mile. They are open Tuesday through Fridays 11:00 A.M.-6:00 P.M. Saturdays and Sundays 12:00 P.M.-4:00 P.M. Find them online at elainebjewelry.com, Facebook and Instagram.
BENJAMIN MOORE'S PAINT STOP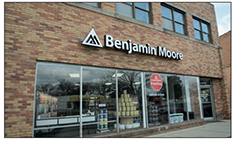 BENJAMIN MOORE'S PAINT STOP IS A WELCOME ADDITION TO THIS HOME LOVING, COLORFUL COMMUNITY. Owner Hassan Nasser did his research before opening his paint supply business on Woodward in January 2019. After 31 years in New York, Nasser wanted to continue serving a diverse community and he found that right here. He calls our town "Friendly Ferndale," and he is enjoying his new business venture.
The store's customer base extends from the city of Detroit out to the Birmingham area. He serves both residential and commercial customers. Besides a wide array of colors and paint supplies, Nasser and his staff also work as color consultants who can help you find the right shade and finish for whatever you're looking to apply your fresh coat of paint to. He knows the local contractors and is happy to refer you to painters who can do the job for you.
And they deliver! Minimum order required for delivery? Nasser: "No minimum. Call me if you need a gallon of paint and I'll get it to you."
Nasser understands the importance of a good staff and good service. He owned a number of businesses in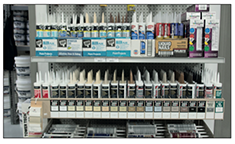 New York, including a gas station and a Papa John's pizza franchise. The more stable schedule of the paint store allows him to spend more time with his wife and four children, three sons aged 18, 17 and ten and a daughter, three. The Paint Stop is a great addition to "Friendly Ferndale." Hassan Nasser and staff are here to help keep Ferndale colorful.
Benjamin Moore Paint Stop is located at 23245 Woodward Ave, north of 9 Mile. You can also check their website: www.paintstopstore.com.
DETROIT GROOMING CO.
"COMPASSIONATE. COLLABORATIVE. INNOVATIVE. PASSIONATE. DEDICATED." These words are part of the mural that lives next to Mike Haddad's desk at Detroit Grooming Co. Mike, DGC's co-creator and CEO, gives credit to local artist Kevin Burdik for the work. Giving credit is something Haddad does frequently, with genuine gratitude. To the rest of the team – Mike Spiewak, Brad Schmelzer and Liz Campbell – and to Krista Johnston of DIY StreetFair who started them on the road to retail success.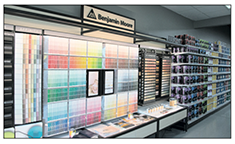 And, of course, the customers. "We listen to our customers and they help us push forward." DGC works with local farmers and manufacturers as much as possible to create consistently highquality products. And they smell so good. Haddad smiles. "Scent is tied to 73 percent of our memories."
Their airy warehouse base is a little bigger than the 100 square-foot converted janitor's closet in Royal Oak where it all started. At the beginning, they could make 12 beard butters at a time on their double burner. Today, they make a variety of men's grooming products that include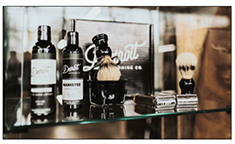 beard butter, oil, shampoo and conditioner filling hundreds of jars and bottles every day. They label and box all of the orders that go out, then send them to a fulfillment center in Warren to be shipped across the country and around the world. There is a retail counter in the warehouse.
The butters and oils have Michigan names like Traverse City and Harbor Springs. A vintage barber chair sitting in front is used when they bring in master barbers to conduct workshops for local barbers and stylists. They also do onsite classes at salons and barbershops. They shoot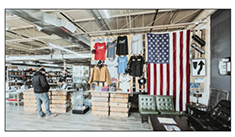 their youtube videos onsite and sell great t-shirts and other items. The folks at Detroit Grooming Co. are loving their home base in Ferndale. There are plans to host some barbeques and events this summer to celebrate their ongoing success with us! In the meantime, check out the beard nourishing, great smelling products at Detroit Grooming Co.
Detroit Grooming Co. is located at 2615 Wolcott, just off Woodward Heights. They are open 9:00 A.M. – 5:00 P.M. Monday through Friday. You can find them at www.detroitgrooming.com.
BLUMZ BY JR DESIGNS

BLUMZ BY JRDESIGNS IS A PERENNIAL FAVORITE IN OUR TOWN, AN AWARDWINNING FLORAL AND EVENT PLANNING COMPANY with locations in Detroit and Holly as well as Ferndale. You can call or go online to order flowers, but visiting the store on East 9 Mile is a wonderful experience. Just inside the door you'll be surrounded by a spectacular choice of plants and a creative variety of planters and yard decorations. Then there are the glass cases full of beautiful cut flowers, racks of greeting cards and shelves full of unique gift items. Finally, there are the chocolates. A case full of beautiful chocolates at the center of it all. Flowers and chocolate, what could be better than that?
Besides endless gift possibilities, owners Jerome Raska and Robbin Yelverton and their staff can help you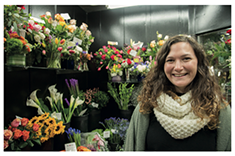 plan an event from start to finish and there is a lovely event space available right in the store! Blumz is the perfect place to help you commemorate an important event, or just pick up flowers on your way home to brighten up the day. Don't forget the chocolates.
Blumz is located at 522 E. 9 Mile Road in Ferndale. Hours are in flux during the crisis and the Detroit location is temporarily closed. No contact delivery and pickup at present. Call them at 248-398-5130 or reach them online at www.flowersbyblumz.com.
THE RUST BELT MARKET
IT'S BEEN NINE YEARS ON THE 9 FOR THE POPULAR, ALWAYS GROWING RUST BELT MARKET. A family and dog-friendly meeting place and shopping mecca, it's a whirl of activity during the holidays and a favorite meet-up place all-year-round. You can find a variety of Ferndale/Detroit/Michigan gift items, vintage jewelry, handmade clothing and soaps, one-of-a-kind gift cards, local photography, delicious cheese and chocolate, and beautiful plants.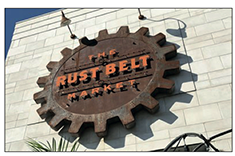 Several new vendors have joined RBM this year, including The Brave Wimp, David Vintage, The Vintage Wick and Supah Market. They also have two rotating pop-up spaces and welcome new vendors for shorter term stays each weekend. There is an event space in the middle, available for rental and host to semi-annual events. Ferndale Radio, 100.7 FM, is based at the Market as well. When you need a break from shopping, there's a nice little bar in the back. The Rust Belt is a perfect place to start or wrap up your tour of Ferndale.
The Rust Belt Market is located at 22801 Woodward in Ferndale. You can reach them at 248-238-8728 or online at hello@rustbeltmarket.com. They are open Fridays from 12:00 P.M. – 7:00 P.M., Saturdays from 11:00 A.M. – 7:00 P.M. and Sundays from 11:00 A.M. – 6:00 P.M. Look for extended hours during the December holiday shopping season.
MAESTRO'S DOG HAUS
MAESTRO'S IS THE PLACE TO GO WHEN YOU WANT SOMETHING SPECIAL FOR YOUR FURRY LOVED ONES.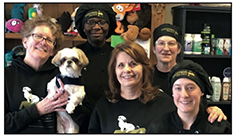 Located at 310 W 9 Mile Rd near Allen, Maestro's has the best prices on high-quality dog and cat foods; frozen, freeze-dried and kibble. Maestros' Deli's Culinary team produce the most unique grain-free, filler-free and man-made preservative free treats for dogs and cats. And Maestro's Signature Dried Necks are for perfect for cleaning teeth. 248-632-1199