A Sit-down with Teen Mogul Tyler Beltz: GONNA BE FAMOUS TB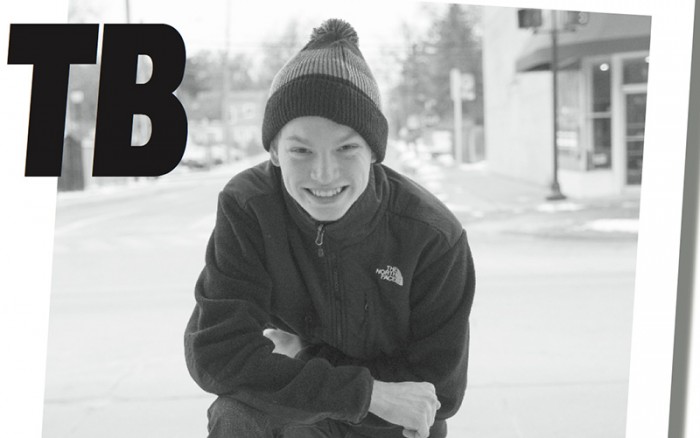 Story by Sherrad Glosson | Photo by Bernie LaFramboise
I'm sitting in a local café in downtown Ferndale, enjoying the ambiance. The vibe is nice and mellow, and it appears that this is a local spot where students come and relax to study before or after their next class. Others come and hold business meetings while eating a bagel, washing it down with a nice cup of cocoa, and some come to gather their thoughts accompanied by a book.
The door opens, and a kid enters. Another one for some quiet study? He looks like he's in his early teens, with a backpack and a smile that gives you the impression that he's completely harmless. It was at that moment when I realized that this is the kid whom people are raving about. None other than Tyler Beltz known around town as "Gonna' Be Famous TB."
Tyler is a self -motivated, driven kid who has been clear on his path to success since the age of 14. Now 18, has become one of the most elite individuals amongst his peers in the Ferndale area. At 14, Tyler started a web Show called the "Young Detroit Show," designed to assist charity events at various churches, and to also show off local talent around the area. His goal was to be an outlet
to local songwriters, authors, and actors when the big corporate stations shut them down.
When asked of the roots of his ingenuity, he mentioned, "When I was younger I would use a hand brush and stand in front of the mirror as if I was interviewing someone." That dream became a reality for him when he had the chance to interview big names such as Ryan Seacrest and Mike Posner. By the time he was 16, he landed an intern position at 98.7 AMP radio station, where he took calls. Not long after, people were calling just to talk to "that Kid Tyler." Since then, he has worked himself up to the position of Board Operator.
On weekends, Tyler spends most of his time at Affirmations, where he works, but he also volunteers to help out when needed. He also acts as Affirmations' social media guru. "Mr. Gonna Be Famous" also helps non-profit organizations and authors with consistent trafficking on their websites.
As far as his future goals are concerned, he has the dream of becoming a morning radio and television host.
Staying connected to the community and mentoring school kids about saying no to drugs is what he plans to do for the rest of his life.
If you haven't heard of this rising star before, you surely will soon because he's GONNA BE FAMOUS!
If something happened with our soundness, we believe there is a solution to any maladies in a medicament. What medicines do patients purchase online? Viagra which is used to treat impotency and other states coupled to erectile disfunction. Learn more about "sildenafil". What folk talk about "viagra stories"? The most essential aspect you have to look for is "sildenafil citrate". Such problems commonly signal other problems: low libido or erectile disfunction can be the symptom a strong soundness problem such as soul trouble. Causes of sexual malfunction include injury to the penis. Chronic disease, several medicaments, and a condition called Peyronie's disease can also cause sexual dysfunction. Even though this physic is not for use in women, it is not known whether this curing passes into breast milk.