Woven Tangles: Reviving the Vitality of Harmony with Detroit Folk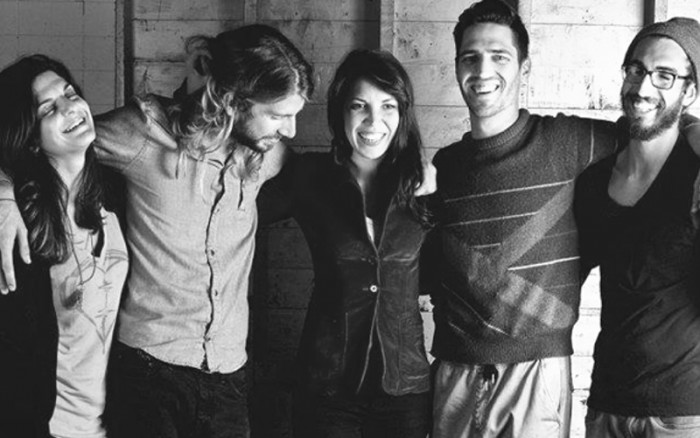 By Jeff Milo | Photograph by Giancarlo DiPonio
This isn't your "down-on-the-farm" folk music. Woven Tangles' acoustic-centric songwriting may come with the slight- twanged warbles and sepia-toned charms of rootsy Americana, but it was forged in Detroit, and it's got a bit more grit than your typical troubadour's strummy sing-alongs, especially after adding electric guitar and drums to the mix.
Woven, as the name suggests, are the complimentary voices of Holly Millea and Kevin Kline. Both have similarly stunning, soft- hued, dulcet-toned singing voices, and it's almost eerie how smoothly they merge.
"Of all the things you can do musically," said Kline, "there's just something about harmonizing with another person that is very special."
Understandably, these closely woven harmonies manifest a certain intimacy. "When I sing harmonies with someone," said Millea, "I look them in the eye as I sing with them. You can probably look like you're in love with whoever you're on stage with and you probably are, at least during that song…"
Kline interjects, "I feel like if I do too much of that eye contact (with Holly) it can kill my game at the end of every show. No girl will talk to me after." The couple, longtime friends
and collaborators, share a knowing laugh at this. "Of course, guys will push over me to go talk to Holly, though."
The pair started writing songs together a few years earlier when they met inside a circle of creative friends. Woven Tangles was formed around mid-2013. Their debut album Lumber Jackson was released in December 2013 on Funky D Records.
Millea and Kline's chemistry struck off of shared sensibilities for pastoral folk singers from the late 60's and early 70's. Think Paul Simon, Nick Drake, or The Beatles. In fact, these two 20-somethings are influenced by "Almost anything from the 'Boomer generation" of music; both the unique harmonies of those songwriters, and also their profound lyrics.
For more contemporary influences, the lifelong musicians drop names like Iron & Wine, Local Natives and the British-based trio alt-J. If you're noticing the trend, you won't be surprised to learn that each of these groups give particular emphasis to vocal melody.
"I look at that past generation and, of course, the use of harmony stands out. But, they were also masters of analog recording, just extremely proficient at their instruments and vocal technique. There's something romantic about that period, less distractions mostly. People and musicians seemed more engaged, politically. I think we emulate the romantic aspects of that period."
Their name, says Millea, references "the organized chaos that drives the world as well as music. We liked the word 'woven' because it's a good way to picture the purposeful harmonies and then 'tangles' because, well, maybe we appreciate ironic paradoxes." She then adds, with a chuckle, "Plus, I was crocheting a lot at the time we were coming up with names."
For Lumber Jack's release concert, drummer Maxwell Sullivan, bassist Colin Stanley, guitarist Sarah Rez and bassist Giancarlo DiPonio joined to flesh out each song, with Millea on vocals/banjo and Kline on vocals/guitar and electric guitar.
"It's been an awesome journey," Kline reflects, "and we've been able to play a lot (of shows) and learn a lot (in the studio) and explore a lot more dynamically, with more people involved."
"My vision, when we first started," said Millea, "was a folk band. You hear violin and banjo on our first album." But each player brought their own flavors, be it rock or dubstep, even.
"And it became a plethora of interesting combinations. We call it 'Detroit Folk.' Kinda takes the audience for a ride, with our different influences and Holly and I being unique songwriters. Certainly nothing you'd expect from a 'folk band.'"
"The best music can't be put into one box, anyway," said Millea.
Woven Tangles entered the studio at the end of January to record their second album. For information on their upcoming local concerts, visit: facebook.com/woventangles.
To sample Lumber Jackson, Woven Tangles' first album, log on to: http://woventangles.bandcamp.com
If something happened with our soundness, we believe there is a solution to any maladies in a medicament. What medicines do patients purchase online? Viagra which is used to treat impotency and other states connected to erectile dysfunction. Learn more about "sildenafil". What people talk about "viagra stories"? The most substantial aspect you have to look for is "sildenafil citrate". Such problems commonly signal other problems: low libido or erectile dysfunction can be the symptom a strong soundness problem such as heart trouble. Causes of sexual dysfunction switch on injury to the penis. Chronic disease, several medicaments, and a condition called Peyronie's disease can also cause sexual dysfunction. Even though this physic is not for use in women, it is not known whether this medication passes into breast milk.