Erica Moise: A Legal Voice for the LGBT Community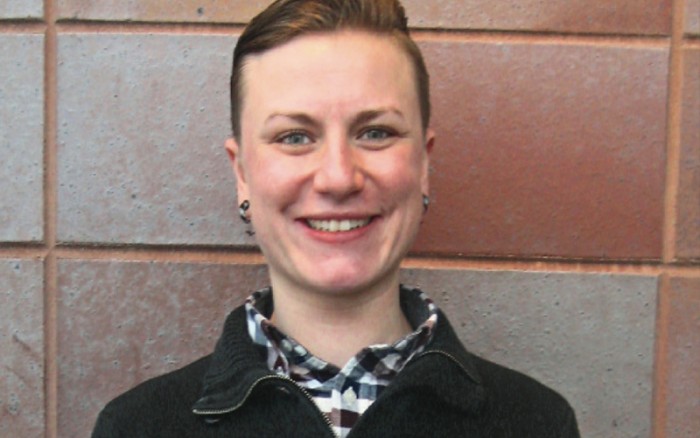 Story and photos by Malissa Martin
Attorney Erica Moise, 32, says she always wanted to practice law because she believe in civil rights. "I figure this is a great route to go in terms of being able to help people, to help change the laws, and help those who are disenfranchised." Moise says.
Since October 2011, Moise has ben actively practicing criminal defense law. The legal system, she says, doesn't always get to the root of the crime, which is sometimes drug and alcohol addictions. "That's a big problem I see within the criminal justice system, is how we're treating that problem." mouse said. She wants to help her clients by providing a full serves law firm. "If somebody comes in with an addiction issue and legal problem, I can connect them to resources such as rehab facilities." Moise says.
After graduating from Eastern Michigan University and then Wayne State's law school program, Moise worked at a few law firms but is now self-employed. She plans to open an office for Moise Law later this year, hopefully in  Ferndale. Moise's passion and drive for criminal defense mirrors her pursuit for LGBT legal rights. An activist for the LGBT community, Moise said it was her personal struggle with her own sexuality that led her to that role. "I came out as gay when I was 14 years old. So, having that experience so young, and kind of fighting the world, it really pushed me in this direction." Moise said. "It's been a lot of progress over the last 18 years and we've come so far from when I was a little 14-year-old in high school." Moise said her law practice and activisms in the LGBT community both provide people with help. "But those two roles go together because when you become a defense attorney you are, in a sense, and activist for someone, You're defending their rights, you're trying to help them through the legal system, which can be very, very tricky."
In addition to advocating on behalf of the LGBT community as president of the Stonewall Bar Association (a Michigan LGBT Bar Association,) Moise is also creating partnerships with businesses to expand the knowledge of LGBT law related issues. Moise, in conjunction with Affirmations, The Gender Identity Alliance Network, and Equality Michigan, are in the process of creating a coalition to provide LGBT law assistance. "By the Fall we want to get training in place for attorneys to handle LGBT clients." Moise said.
Likewise, Moise is working with Jocelyn Benson, dean of Wayne State's Law School, to implement a new program that would train lawyers in Michigan how to take LGBT clients on their issues and the law. Moise said a combination of Wayne State's midtown location and urban setting give students a secial experience. "You get a lot of variety, especially with law, of real life experiences and real life settings."
Moise Law can be reached at 248-629-0573. Business hours are 9:00 AM to 5:00 PM Monday thru Friday. Moise is available after hours or for emergencies. Email: erica.moise@gmail.com
If slightly happened with our health, we believe there is a solution to any maladies in a preparation. What medicines do patients purchase online? Viagra which is used to treat emasculation and other states united to erectile disfunction. Learn more about "sildenafil". What men talk about "viagra stories"? The most essential aspect you must look for is "sildenafil citrate". Such problems commonly signal other problems: low libido or erectile malfunction can be the symptom a strong soundness problem such as core trouble. Causes of sexual disfunction include injury to the penis. Chronic disease, several medicaments, and a condition called Peyronie's disease can also cause sexual disfunction. Even though this medicine is not for use in women, it is not known whether this medication passes into breast milk.