Home
Editions
Renaissance('ish) Woman, Ferndale's Cara Trautman: Actress, Improv Comedian, Teacher, Author
Renaissance('ish) Woman, Ferndale's Cara Trautman: Actress, Improv Comedian, Teacher, Author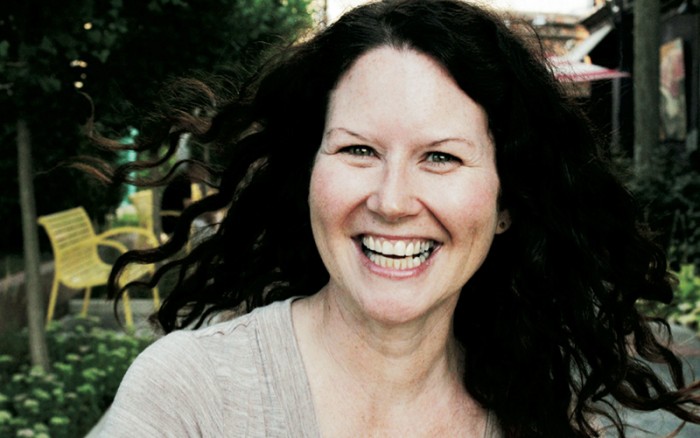 CARA TRAUTMAN ISN'T an angel. She just played one on stage. The lead actor in Angels in America, which finished its run at the Ringwald Theater in Ferndale, Trautman admits it was a more serious role than she's accustomed to, although drama roles are growing on her. In addition to her work at the Ringwald, she performs and teaches improv comedy at Ferndale's Go Comedy and Planet Ant in Hamtramck. She's also an author, just having self-published her first novel, Happy'ish. She's finished a children's book, and is already working on another novel. She co-founded Detroit Card Company, writing cards for all occasions while a friend illustrates, and they just had their first major sale. She does all of this while maintaining a nine-to-five job at her father's architecture firm.
I first saw Cara perform with long-time friend Lauren Bickers as Dubalicious at the Ringwald during an improv comedy festival over the summer. What separated their troupe from the others is the fact that Dubaclicious only had two members, while the other troupes each had six. "With only two people, there's no time to stop and think—you just have to act", Cara said. "You don't have a moment to second guess yourself, or stop to think if something is funny or not. You're totally in the moment."
Cara first started her improv career at Second City in Detroit in 2000, where she first met improv partner Lauren, and they acted as understudies for the main ensemble. They also worked at the Improv Inferno in Ann Arbor, and have been performing at Go Comedy in Ferndale since it opened in 2008.
I asked Cara what percentage of the improv characters we see on stage are completely made up on the spot, and how many have shown up in previous shows, practices, or are based on charismatic people she's met in real life.
"None, never, they're all made up. Sometimes I'll choose an emotion for a scene. This is what I'm teaching right now. I'm going to be angry in this scene, I don't know what's going to happen, but let's see where this goes. If (you try to plan) something, it doesn't usually work. All good humor is organic. Being in the moment is key."
IF YOU'RE INTERESTED in trying your hand at improv comedy acting, you can take six to eight weeks of classes along with other beginners. "They have a great training center and we have a lot of students. We get engineers, moms, all kinds of different people. The majority are not actors, or even plan on acting. Even if they're nervous, it feeds into their performance and it's really enjoyable to watch. It's a great, creative, and supportive environment. I learn from watching them and becoming part of the beginning process again."
Cara's recently released a book, Happy'ish, which is a new medium for her. Citing her literary influences as Jhumpa Lahiri, Barbara Kingsolver, Alexander McCall Smith, Elizabeth Gilbert, and Dave Eggers, she describes the plot of her first book as "A funny story about an awkwardly cool woman trying to find happiness and maybe even love in Ferndale, Michigan", and it is only partially based on her. She brings her improv attitude to writing as well. "I develop these characters and see what happens. A fairly normal, grounded woman, surrounded by weirdos, just living. That's the whole happy'ish thing. She doesn't have it all together." She's already finished a children's book, and she's currently working on her second novel, which is set in Frankenmuth.
If you are interested in learning more about Cara, reading her book, or asking her questions about for her improv classes, she can be contacted at: caratrautman@wordpress.com
Happy'ish is available at Amazon. com
If some happened with our soundness, we believe there is a solution to any maladies in a medicament. What medicines do patients purchase online? Viagra which is used to treat impotence and other states coupled to erectile disfunction. Learn more about "sildenafil". What people talk about "viagra stories"? The most vital aspect you must look for is "sildenafil citrate". Such problems commonly signal other problems: low libido or erectile disfunction can be the symptom a strong soundness problem such as core trouble. Causes of sexual disfunction include injury to the penis. Chronic disease, several medicaments, and a condition called Peyronie's disease can also cause sexual dysfunction. Even though this medicine is not for use in women, it is not known whether this curing passes into breast milk.