By Jennifer Goeddeke
RELAY FOR LIFE IS A NONPROFIT, WORLDWIDE ORGANIZATION set up to benefit the American Cancer Society (ACS). This event is a celebration of the lives of people battling cancer, and also a remembrance of lost loved ones. It began in 1985 with Dr. Gordy Klatt, a surgeon from WA who walked and ran around a track for 24 hours to raise money for the ACS.
Since that time, the event has grown into the world's largest movement to end this prevalent and relentless disease. The Relay for Life mission statement is to "Celebrate those who have won the battle against cancer, remember those we have lost, and fight back through research and early detection."
Every year, teams of people literally camp out at local schools, fairgrounds or parks, and the participants take turns in walking or running around a path/track. The atmosphere is family-friendly and upbeat. Be-cause "cancer does not sleep," these events always run overnight.
Founders of the Ferndale area event, in 2007, were Jackie Koivu, and Beth Collins from ACS. Then in 2008, Michele Sibula – a lifelong Ferndalian – was asked to help, and she accepted the challenge.
I recently took the opportunity to talk with Sibula, who has been successfully running the Relay for Life events in the Ferndale ar-ea for almost a decade. During that time-span, over $460,000 has been raised for the ACS! Sibula's personal mission is "to have a world where no one dies from cancer."
Sadly, Sibula explained, the total donations are down this year, so the main Relay for Life event is not running. (The organization will be changing its name soon to: "Ferndale Area Fights Cancer.") Sibula added, "it's important for us to evolve with the times and to stick with what works."
Meanwhile, the current team of volunteers is led by Sibula, and she is assisted primarily by Tammy Dengate and Sonia Ross. They continue to work hard on smaller fundraising events to benefit the ACS. They just raised $3,000 through a drag queen bingo event at the Royal Oak's Elk Club in March. Previous popular events have included a "Pizza Palooza" at Ferndale High School, and a bus trip to the Dark Horse Brewery & Firekeepers Casino.
Promotion is through social media/regular media, flyers, and general word of mouth. More volunteers are needed, because lots of work is always involved! Sibula mentioned that their team has a great Community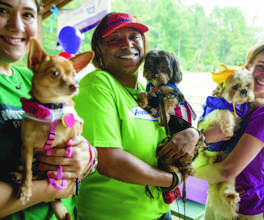 Support Manager from ACS: Chris Rettich. He is effectively guiding their team into the next chapter. Additionally, the Ferndale Upper Elementary School still does fundraisers for them, and the whole Ferndale community has been very supportive. Sibula wishes to express her total gratitude for everyone's amazing support over the years!
MANY PEOPLE ARE CURIOUS HOW THE ACS FUNDS ARE ALLOCATED. A good portion goes to research, both nationally and locally (as in Wayne State University; the ACS is second only to the U.S. government in providing money for cancer research.)
Resources through the ACS are plentiful too, for both patients and their families. For example the 1-800-227-345 line is staffed by specialists 24/7/365. Anyone can call with any questions , even if it is regarding a friend or loved one. Sibula mentioned that, "it is great someone is there all the time…even if it's just to talk!"
Patients can also receive a free 'personal manager' from the ACS, to stay organized during treatment. Lodging is provided for patients who must travel a distance to receive their treatment. Via the 'Road to Recovery' program, volunteers provide rides to much-needed treatment locales. Sibula emphasized that, "having a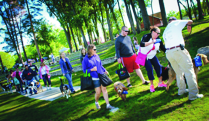 support network is crucial for patients, as it is a strong indicator of rate of success in recovery from cancer. It is frightening how many people cannot get to treatment without this volunteer service…they just do not have that kind of support in their lives."
Naturally, we hope the team keeps up their hard work to raise funds, as almost all of us have been affected by cancer, either directly or indirectly. It is inspiring to see what a huge difference just a small team can make in the battle against cancer. Sibula hopes more local individuals will get involved in the ACS volunteer work, after reading this article!
Visit the Ferndale Area's Relay for Life website at: www.relayforlife.org/ferndalemi.
Chris Rettich of the ACS can be emailed at: chris.rettich@cancer.org or called to answer any questions: 586.216.9471. The ACS 24/7 helpline# is: 1-800-227-2345.
For all updates and for more information, visit the Ferndale area Facebook page:
https://www.facebook.com/relayferndale/
The team office is located at: 22742 Woodward Ave, Ferndale 48220