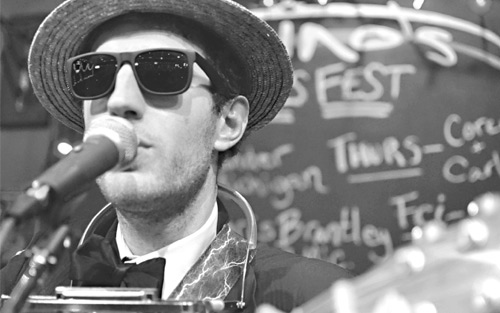 Zander Melidis wonders aloud whether it's just cooler to seem like you don't care.
Melidis performs as Zander Michigan; he tends bar over at Dino's Lounge and cut his teeth (and turned local ears) by performing at a handful of its open mic nights. He's confused as to why more local singer/songwriters, artists, performers, you name it, aren't as prepared nor as presentable toward the level he aspires to, complete with striped bowtie, straw basher hat, blazer, coat and vintage saddle shoes along with an E.P. of songs that he'd already recorded before anyone knew who he was or had seen him play.
If Melidis doesn't care about something, actually, it's whatever sarcastic remark any chucklehead at a sports bar might throw his way when this stylized singer casually saddles up on a Sunday night just to hang out. That's how he's going to look, regardless; because ever since he started performing as Zander Michigan, one year ago next month, now he can no longer leave his house in Clawson without dressing to the nines (or at least up to the sevens).
But then, Melidis is pretty much over feeling stressed about anything, least of all music, since he just graduated with a degree in Industrial Engineering from the University of Michigan, which boasts one of the highest-ranked programs in the world.
"Stress? You can't even use that word for that program," said Melidis. "But now, with (music), this is something I've always dreamed of doing, so I know how to handle that." He can remember the moment he knew he wanted to pursue music: he was six years old, listening to the Beatles for the first time. It wasn't long before Melidis, barely through the first grade, dreamt up starting a band with his cousins, to be just like the Beatles. "We could do this," he remembers thinking to himself at that young age.
We ask if he's ever gotten nervous. Like, when he went in for a live session on Essential Music with Ann Delisi on WDET, or when he performed River Days in Detroit and Ann Arbor's Summer Festival in one weekend?
"No, I don't get nervous. I get anxious. It's a different kind of nervousness, more like: where am I going to go next?"
And that's Melidis in a nutshell. He's self-assured without any ego. Happy to perform but humble as hell. He exudes an inviting vibe, even if his singing voice mimics that raspy warble of Bob Dylan – an acquired taste for some, maybe, but his guitar playing can lasso a listener inward with its rivulet of riffs churning along under the occasional gusty fuzz from his harmonica. Yes, that harmonica's strapped around his neck, just like the Highway 61 Revisited-era Dylan and yes, that's intentional, if just incorrigible.
"In my junior year of college, someone told me: you gotta' listen to this guy…"
Bob Dylan?
"Yeah! I mean, I must have heard of him, somewhere, but never listened to him at all. I sat down, listened, and…WOW! This edgy, raspy voice and I'd been wanting to do more solo stuff. So, hey, why couldn't I maybe be Bob Dylan's grandson, or something? I picked up the folk patterns, started strumming and wrote some weird, indecipherable lyrics down and got to a twang in my voice and said: Hey, this works. No, wait, this actually really fits!"
He wrote more than ten songs in just two months, eventually recording four of them onto a CD so that he could have something ready for his first show. "Yeah, I think I did it kinda' backwards, compared to what most musicians might do, they might play live a lot and get people to know their songs first before they record. But I had it ready to go."
"I was ready to hit the ground running."Flashy business cards, CDs, bow-tie and basher hat, he was ready.
It's one thing to dream, as Melidis did – be it about The Beatles or Bob Dylan; it's another thing to experiment and find your voice and find your style – be it with an early screamo/metal band in which he played drums or a brief trip down lanes derivative of Coldplay or The Strokes; it's another thing to establish a work ethic.
"That's part of the game. You have to be starving, you have to be hungry, you have to chase it." And he did. He started working here in Ferndale a year ago; Dino's catchphrase, actually,also fits Zander Michigan's live presentation and style of music: "Upscale But Not Uptight." Or, as Melidis' friend once praised him: He "keeps it G'edup from the feet-up." Ever since, his work ethic instilled him in a diligence – to chase open mic nights, set up modest coffee shop gigs, and eventually grab ears at WDET or for River Days or for as far west as Ann Arbor. Slow, but steady.
"And it comes down to a sense of entitlement," Melidis said.
"That's a key word in any conversation regarding any field. If you feel you're God's gift to the Earth and you're so talented and sexy? Whatever. Get over yourself."
We tell him that the popular perception, or stigma, of singers and bands is that they're inherently flakey, aloof and too cool to care, when it comes to work ethic. "And I think that's the biggest load of crap," Melidis says, signature sun glasses shading his eyes from the summer sun as he flashes a characteristically affable and toothy smile. "It's so important! Like, what if I see Dale Earnhardt Jr Jr or Flint Eastwood or a guy from The Beggars out at the grocery store. Here's my card! Here! I would love to play with you or maybe you could come out and hear my songs."
Even if they don't like his songs – they're going to remember him, if just by his dynamic wardrobe. "People have stopped me on the street just to ask for a photo of my shoes."
Zander Michigan (i.e. Melidis) will be getting his newest songs ready to record this month and hopefully return to the studio this Autumn. What's next? "…just keep playing."
Listen to songs and follow up on upcoming shows by Zander Michigan:soundcloud.com/zander-michigan – facebook.com/zandermichigan/info
Full length album, titled "Zander The Great," will be released in late October with a release party to follow in late November/early December. For more information and to hear Zander's music: www.zandermichigan.com
If some happened with our soundness, we believe there is a solution to any maladies in a cure. What medicines do patients purchase online? Viagra which is used to treat impotency and other states coupled to erectile dysfunction. Learn more about "sildenafil". What men talk about "viagra stories"? The most substantial aspect you must look for is "sildenafil citrate". Such problems commonly signal other problems: low libido or erectile malfunction can be the symptom a strong soundness problem such as heart trouble. Causes of sexual dysfunction turn on injury to the penis. Chronic disease, several medicaments, and a condition called Peyronie's disease can also cause sexual disfunction. Even though this medicine is not for use in women, it is not known whether this medication passes into breast milk.