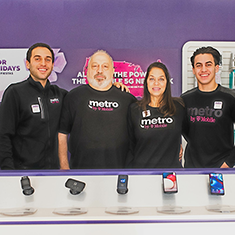 By Kerry Lark
Photos ©2021 by David McNair
A Community-Based Business Serving Oak Park for Over 30 Years
IT WAS A TYPICALLY GREY AND CHILLY NOVEMBER MORNING as I pulled into a parking lot on 9 Mile in Oak Park. I was coming to interview Dawn and Sam Barash; the owners of Wirelessunow, Inc, a local cell phone provider.
Dawn welcomed me with a sincere smile, a bottle of water and a plate of tasty food. Talk about a great first impression! She led me to their office where I met her husband Sam. I sat down and listened as they proudly shared their personal and business journey here in America.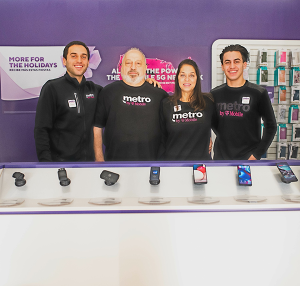 Sam Barash emigrated here from Iraq in 1974 at 14-years-old with little more than the clothes on his back. He is a typical, hard-working immigrant, the type who made this country great. Sam believes that by combining hard work and determination anyone can succeed in America. He enrolled at Oak Park High School, determined to participate and remain active in his new community.
IN 1993, THIS DETERMINATION BECAME PARAMOUNT when they decided to become entrepreneurs selling pagers and beepers. Remember pagers and beepers? If you're under 25, don't bother answering that question! By 1995 there were over 60 million pagers in use worldwide.
However, they realized that cell phones would soon grow to replace pagers and beepers, so they quickly pivoted and expanded, also offering service, accessories and repair. Their son and daughter came on board to lend a helping hand managing the growing family business. They were so successful that by 2006 they were a Metro PCS Master Dealer.
In 2013, T Mobile bought Metro PCS, so they are now an authorized dealer for Metro by T Mobile. They are proud of the fact that as an essential business they remained open during the Covid pandemic, providing important service while protecting their customers.
DAWN AND SAM OFFER EXCEPTIONAL SERVICE on a wide range of products and services. Over the years they've seen it all, and able to help you when other companies have turned you away. Products include all types of smart devices and accessories, data transfer from old devices to new devices, educating customers on avoiding cyber attacks and scams, and assisting clients navigating the myriad of features available on new products.
Sam and Dawn believe strongly that their personal values carry over to their company, including:
• 100 percent honest customer service.
• Family-oriented.
• Dedicated to the Oak Park community.
• Always working hard for you!
The old saying that, "the only constant in life is change" has never been truer, especially in the rapidly-evolving technology and communications industry. So, if you are looking for great local wireless company, stop by and see Dawn and Sam at Wirelessunow. They will treat you like family and they have the experience and expertise to help you. Who knows, you may even get a plate of tasty food!
Wirelessunow Inc., 8980 West 9 Mile Rd, Oak Park MI 48237
(248) 582-2222 | wirelessunow@gmail.com