Plumbing Techs of Michigan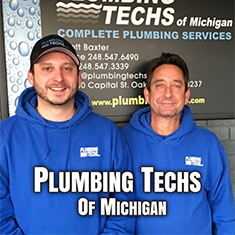 By Ryan R. Ennis
A Family-Friendly Business
NO MATTER HOW HANDY PROPERTY OWNERS MAY BE, plumbing problems will arise that require the skills of a professional.
Ready to tackle the challenges is Plumbing Techs of Michigan, a company owned and run by Scott Baxter. His Oak Park shop, located at 12700 Capital Street, services most of the Tri-County area. More recently, he has expanded his enterprise with the opening of a Wixom branch.
At Plumbing Techs, Baxter oversees daily operations, provides service estimates, and coordinates his employees' scheduling and training. On lighter days, his staff begin their mornings driving to locations where water heaters, sump pumps, and garbage disposals need to be installed. On other occasions, their destinations put their high-level of expertise to use as they set about laying drains, water pipes, and gas lines for new construction and remodeling projects.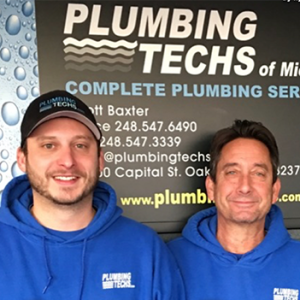 Baxter takes pride in being a second-generation tradesman. Following in his father's footsteps, he began as a plumber's apprentice until he received his journeyman license in 1982; two years later, he received his master plumber license. Following in Baxter's footsteps, his son Shawn joined him in the trade four years ago and received his journeyman license last year.
IN 1996, BAXTER STARTED HIS COMPANY with only a used truck and his personal tools, determined to build a name for himself as a plumber with customer satisfaction as his top priority. Although his days are now kept busy managing staff and inventory, he remains committed to his original vision. A Madison Heights customer, John H., offers this testimony about Plumbing Techs: "You could not get a better end result for the money spent. I would recommend this company to anyone requiring major or minor repairs."
As part of maintaining customer satisfaction, Baxter and his staff adhere to certain precautionary measures. During the onboarding process, Plumbing Techs employees participate in safety and MIOSHA (Michigan Occupational Safety and Health Administration) training. Whether arriving at a site to give an estimate or provide a service, they wear masks, booties, and gloves to protect themselves, their customers, and their customers' properties.
Additional protective steps include the laying of tarps and other coverings to prevent damage to floors, appliances, and furniture. When the jobs involve excavation, Baxter contacts Miss Dig 811, a free utility safety notification service, whose markings of underground utility lines help Baxter and his plumber avoid potential dangers.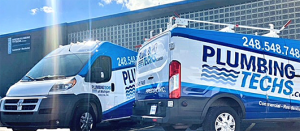 During a recent project, Baxter utilized safety checklists as his plumbers replaced a water piping system for a 16-unit condominium building dating back to the '60s. The complicated task involved swapping out old large diameter mainline piping for a new supply system inside the property's wall cavities.
What made the undertaking even more tricky was that the residents continued occupying their homes while the work was being done. Although they had to deal with some noise and inconvenience under the renovation, they couldn't have been happier about the results: "The owners had not seen water pressure this good in many years," says Baxter.
WHILE SOME MAJOR PLUMBING PROBLEMS SPRING UP UNEXPECTEDLY, others can be prevented with annual maintenance. To schedule the flushing of your hot water tank, the cleaning of your sewer lines, or other yearly procedures, call Plumbing Techs at 248-548-7488 or visit plumbingtechs.com. The website contains more information about the company's extensive menu of services, including a listing of frequently asked questions for regular and prospective clients to peruse.
"We are a proud company," says Baxter. "We give our customers fair pricing, timely scheduling, excellent workmanship, and a two-year guarantee on labor."