Shell Cleaners: Closing Their Doors After 40 Years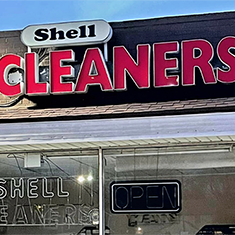 By Sara E. Teller
SHELL CLEANERS, ON COOLIDGE HIGHWAY, OPENED ITS DOORS ON MARCH 13, 1982. Narendra Patel, originally from India, had immigrated to the United States already with a college degree, but without speaking a word of English.
"My sister lived in Oak Park," said Patel, which is why he chose to settle in the area. "I was looking for something to do here and the people were very nice."
A laundromat seemed like a great option. Patel would be able to interact with many Oak Park residents and could learn English along the way. He also began to night school in Southfield after work. It wasn't the easiest start, but he found his way, learning the language of his customers and eventually feeling at home.
"I was able to clean clothes for many customers and serve the city," he said, which gave him great satisfaction.
Shell Cleaners served the city for 40 years and became an institution largely because Patel was known for doing great work at a reasonable price, which allowed his business to boom. He began to get to know many of his customers on a first-name basis and they would return to the the cleaners time-and-again for a quality job.
Patel was not only known for taking care of his customers' clothing but serving them "always with a kind smile." She added that he was such an integral part of the city that former U.S. Representative "Sander Levin wrote a letter to help bring [Patel's] wife from India north of Bombay." Eventually, the two were able to settle in the area together.
Patel enjoyed serving the people of Oak Park as much as they loved the work he did. They became more than just clients to him over the years. "They weren't just customers, they were extended family to me," he said.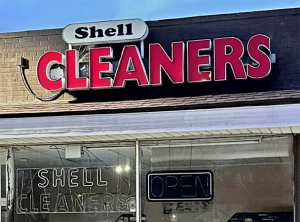 YET NOW, AFTER ALL OF THOSE YEARS IN BUSINESS, Shell Cleaners has officially closed its doors. The pandemic has brought about many unforeseen changes and has hit small businesses especially hard. Unfortunately, small cleaners like Shell have been unable to obtain the same quality soap customers have come to expect and the prices of essentials such as poly bags and hangers have tripled. Because many professionals are working from home, they've transitioned from wearing business suits that need to be dry cleaned to more casual clothes.
All of these things affected Patel's business. He tried to keep Shell afloat for as long as possible but there came a point that he had to make a very difficult decision. It was time to sell the building and close Shell's doors.
"The Coronavirus has affected the whole country," Patel said. "But it has very been hard on small businesses and their supply chains. I'm retired now but I wasn't ready to."
He said, "I miss the city. The city was my family." He added he especially misses former and current Mayors Jerry Naftaly and Marian McClellan, respectively.
When asked what the future holds, Patel said he would like to eventually do something else but hasn't decided what that is yet. Because of the pandemic and the continued difficulties small businesses face, "Right now, I'm just trying to take it easy," he replied. Patel added he is no longer in Oak Park but may like to return someday.
Even though Shell has closed its doors, it will never be forgotten by all of the customers served over the four decades it was in business. Flynn said, "We are delighted he settled in Oak Park and wish him joy in his retirement."