Tri-County Commerce Center : Hazel Park's Economic Catalyst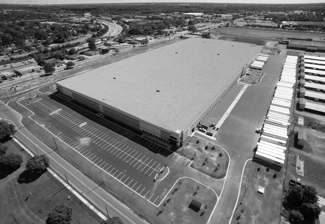 By Mary Meldrum
IT IS ONE OF THE LARGEST REDEVELOPMENT PROJECTS IN OAKLAND COUNTY," said City Manager Ed Klobucher, referring to the Tri-County Commerce Center. "This is the largest building in Hazel Park, and overnight became the biggest taxpayer in the city."
Ashley Capital partnered with the owners of the Hazel Park Raceway in 2015 to develop a 575,000 square foot building in the west parking lot of Hazel Park Raceway at 10 Mile and Dequindre. Ashley is one of the largest property holders that primarily markets to tier-one auto suppliers, and they planned and developed this property to be a light manufacturing center. The site is ideal for light industrial, manufacturing and distribution businesses.
The building is situated on the northwest corner of a 120-acre site located near the intersection of I-75 and I-696. The 36-acre site is surplus land for the thoroughbred horse race track that was in operation until April of 2018. This is a perfect location within the Detroit Metropolitan area, and is considered "ground zero" for any business needing to quickly access major expressways heading north, south, east, and west. The building was completed in the spring of 2017 and is roughly 80 percent leased.
The Tri-County Commerce Center currently houses three tenants: an Amazon distribution center, LG Electronics, and Bridgewater Interiors, which is a logistics company related to Adient, formerly Johnson Controls Automotive. There are two spaces left to lease out in the center; one is 55,000 square feet and the other space is 68,000 square feet.
THE CENTER SITS ON HAZEL PARK'S FORMER DISPOSAL SITE, which means the developer is cleaning the site to meet environmental standards and guaranteeing the $2.1 million loan through the Michigan Department of Environmental Quality (MDEQ). The Tri-County Commerce Center will help to add between 200 and 300 jobs and $300,000 to the city's tax revenue.
Ashley Capital has purchased the rest of the remain-ing raceway land, and will be breaking ground on their second building within the next year. The third development is undetermined at the time of this writ-ing. Both of these proposed sites are speculative as of right now and no tenants are in place. According to Kevin Hegg, VP of Acquisitions and Leasing for Ashley Capital, they are investigating and research-ing what types of commercial real estate is in demand for these sites.
The location is the primary factor that attracted Ashley to develop here. Hazel Park offers fantastic ac-cess to highways and all quadrants to Metro area markets.
"Hazel Park has been very supportive of our endeavors," Hegg explains. "The city is progressive, pro business, and easy to work with. I want to commend them for their efforts and recommend other companies to take a hard look at Hazel Park. They have the right people in place right now in City Hall, a great location and a great story."
Hegg emphasized that, "We are very confident in the location, and plan to continue to develop the area with a second 650,000 square foot building as well as additional building thereafter. We plan to be there for the next couple of years developing."
When asked about working with the MDEQ, Hegg added, "Michigan has been at the forefront of brown-field redevelopment as far as protecting new buyers from past polluters. [The racetrack property] is a brownfield site and a great example of how to take blighted areas, improve them, provide economic impact to an area and provide a protected environment that helps to separate any toxins from the area. It's a win-win for everyone."
While the Tri-County Commerce Center is growing and supporting Hazel Park's economic turnaround, the plans for further development on the site are steadily progressing, too. Evolution of the site from historical racetrack to economic catalyst for the city marks a very tangible and persuasive shift in Hazel Park's renaissance.