Hazel Park Growers & Makers Market : Brings Fresh Foods & Local Crafts to Residents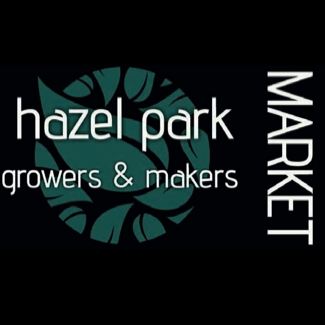 By Ingrid Sjostrand
IT'S NOT UNCOMMON FOR CITIES TO HAVE A FARMERS MARKET. EVEN SOME OF THE SMALLEST NEIGHBOR-HOODS MEET REGULARLY to exchange homegrown goods and handmade crafts. As of 2016, Hazel Park is no exception, thanks to Jennifer Jackson and a small team

of Hazel Park residents.
The Hazel Park Growers & Makers Market began their third season on Sunday, July 8th and will run every Sunday through October 14th. Jackson started the market, along with a governing board, when they noticed a lack of affordable, healthy foods for residents.
"Myself and other volunteers started the market to bring a family-friendly weekly event to our community," Jackson says. "We live here, and Hazel Park needs family-friendly places where we can gather and purchase locally-grown and made food."
Jackson and Leigh McLaughlin (another member of the market board) attended training through the Michigan Farmers Markets Association – thanks to assistance from the City of Hazel Park – to learn more about proper practices and how to run a successful farmers market.
The Growers and Makers Market has anywhere from six to ten vendors on a given weekend, and it has grown to be about more than just food. These merchants vary from artistic endeavors to fresh produce.
"We have two farmers, Jentzen Farms and Mulberry Hill Farm and Garden. Detroit Kombucha Company serves fresh Kombucha by the cup or growler, and Sinfully Sweet offers cake pops and various confections. And Pink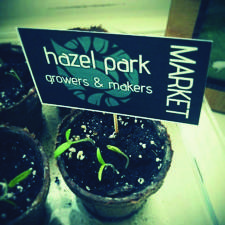 Robin Bake Shop has cookies and other baked goods," Jackson says. "A variety of crafts, jewelry, signs, yard games, pottery, home decor, purses, and children's clothing, have all been at the market throughout the season. We are looking to add coffee and personal care products as well."
THERE ARE ALSO KID-FRIENDLY ACTIVITIES at the Growers and Makers Market, thanks to the Hazel Park Arts Council. The organization hosts their Art in the Park program during the market to teach creative arts to kids.
"Art in the Park is a free event hosted during the Growers and Makers Market where kids can engage in arts and crafts," Amy Aubry, Treasurer of the Arts Council, says. "We use items that are easy to find around the home or in nature to show just how easy and accessible art is for the family."
Another important element of the Growers and Makers Market is that all residents are able to reap its benefits regardless of income, which is why they participate in Supplemental Nutrition Assistance Program (SNAP) and other food assistance programs.
"Our market is a SNAP-approved market, and we are able to accept Bridge Cards at the market manager

booth," Jackson says. "We are also participants in the Double Up Food Bucks Program, where Bridge Card holders may double their produce purchasing power up to $20."
ESSENTIALLY, THE GROWERS AND MAKERS MARKET is about bringing residents together and building up the City of Hazel Park and its residents.
"Hazel Park is our home. We are tightly-knit, and always jumping in to help one another," Jackson says. "We want to see Hazel Park grow and be-come a destination for people to visit, and a farmers market is a small piece of joy that invites our families to gather, and surrounding communities to visit."