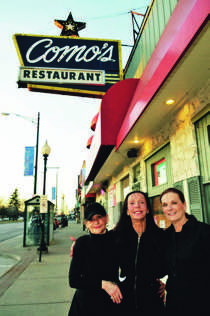 By Mary Meldrum
THE RED AWNINGS, THE ICONIC SIGN WITH THE STAR ON THE TOP. . . SIGH. It closed last year and left a void in the heart of Ferndale and the hearts of many patrons and families. We all miss Como's!
Opened in 1961 and family-owned for six decades, Como's had never been publically listed for sale before. Suddenly, the once-popular and always busy Ferndale restaurant and bar was listed on the market for $4 million by the Grego family, after being forced to close in late 2017.
Michigan Restaurant Liquidations and Auctions posted sales of Como's equipment online in early January 2018. Even the "Como's Restaurant" sign was up for grabs with booths, pizza ovens, lighting fixtures and other items and decorations.
Closed for good in December of 2017 following a series of closings and health code violations, Como's now has a new owner. The Peas & Carrots Hospitality group acquired the famed Como's location in Ferndale at the corner of Woodward and Nine Mile for an undisclosed amount.
Details are few, but good news – the new restaurant group, consisting of Chef Zack Sklar, Jim Bellinson and Josh Humphrey, plan to retain the formerly family-owned Italian restaurant's "Como's" name and well-known pizza-centric cuisine.
Como's will mark Peas & Carrots' 13th restaurant opening in six years. You might recognize some of their other restaurants, such as Social Kitchen & Bar in Birmingham and Grand Rapids, and Mex in Bloomfield Hills and Great Lakes Crossing. Peas & Carrots Regional Manager Michael Gray is a Ferndale resident, and is looking forward to taking the lead in the newest venture for the busy restaurant group.
With an eye on Ferndale's unique downtown profile, Peas & Carrots Hospitality is looking to create an upbeat restaurant with a lively bar crowd and thoughtful Italian comfort food. With the unrelenting crowds pulsing past the Woodward and Nine Mile corner, the new Como's has a lot to look forward to when it opens its doors, and Ferndale visitors and residents will fill the restaurant once again.
Owner and Chef, Zack Sklar, who graduated from the prestigious Culinary Institute of America, says "Ferndale is socially liberal, inviting, and aligns with our company's mission of acting as a melting pot for an eclectic group of people. We love that Ferndale wants to remain Ferndale and values those family-owned style restaurants. Even as we have grown, we've managed to retain that sense of belonging, and we know that Peas & Carrots Hospitality is a great fit for the Ferndale neighborhood."
Como's 8,000 square foot location is slated to undergo a full renovation before its big debut sometime in 2019. Known for their large covered outdoor patio, they plan to preserve the ample indoor and outdoor seating space for the restaurant. The upper level of the building will serve as the Peas & Carrots Hospitality home office.
The new owners promise that when Como's reopens, alongside the traditional Italian cuisine will be a generous offering of beers on tap. That sounds like a warm invitation to visit Como's!