Goodbye to the Matriarch of Ferndale : Nancy Mae Lennon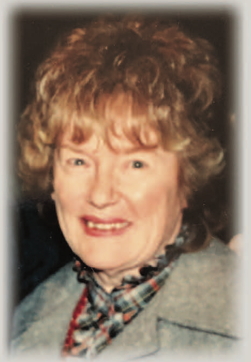 Nancy Mae Lennon,
September 15, 1936-May 24, 2018
STORY BY MARY MELDRUM
THERE IS NO TRIBUTE THAT CAN COMPLETELY CAPTURE THE LIFE OF Nancy Mae Lennon … who passed away on May 24, 2018 at the age of 81. She was the mother of seven children and grandmother to twelve. Nancy leaves behind a big family and many friends and Ferndale neighbors who feel fortunate to have had Mer in their lives.
She was the driving force behind her late husband, Bernard Lennon, who was mayor of Ferndale and then deputy director of the State Department of Labor under Governor Jim Blanchard. A master at running campaigns, she was also the quiet power behind two of her sons who were. on the Ferndale City Council.
Over the course of her professional life, Nancy worked at various positions, including judicial secretary,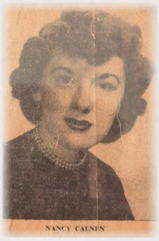 congressional staffer, secretary to a governor, and finally, the position from which she retired, Court Administrator at the 43rd District Court in Madison Heights. She also served as campaign treasurer for a number of political campaigns, and was a long-time member of the Ferndale Library Board.
"I have what I consider to be one of the best – if not the best – court staffs  in the state of Michigan. I think that is due in no small part to Nancy's supervision," said 43rd District Court Judge, Robert Turner Jr., of Nancy Lennon as she retired in 1998 after working nine years as his court administrator.
With two court officers and six clerks under her leadership, Nancy Lennon oversaw all operations outside the courtroom that handled an astounding 14,000 cases in 1997.
She was renowned for her ability to successfully multi-task- a skill honed while juggling the lives of her seven busy children, the logistical demands of a large household, and supporting the professional life of a husband who spent some years in political headlights.
With no formal education after high school, Nancy soon demonstrated her natural ability for a great grasp of numbers. This talent made her exceptionally good at being responsible for all the fines and costs collected by the 43rd District Court, which amounted to $1.5 million in 1997. Her mastery of account­ing also showed up every time Nancy would send her children to Farmer Jack's with exact change for the groceries she requested. She always knew the prices of her selections. She expertly managed the family finances, and even Bernie was not allowed to possess the check book.
ENDOWED WITH A STRONG WORK ETHIC AND APTITUDE, one could  see how it was a gift as well as a curse for Nancy. The downside of her driving work ethic and competence was her legendary impatience. Probably every one of her children suffered trauma induced by Nancy not so politely instructing a retail employee that there was a better way for him or her to do the task they were attempting to accomplish under Nancys critical glare.
"More than once, one of us came home and told the others, Mom took down a salesperson at Hudson's today,"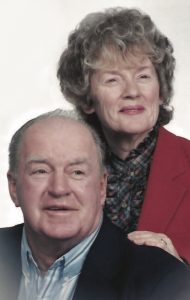 shares her son, Michael Lennon. As she aged, this impatience haunted her. Michael reports that if she called and asked you to do something that you couldn't do immediately, she would simply attempt to do it herself. "In the last few years and on two separate occasions, this impatience resulted in a TV and then a window air conditioner falling on this woman in her late '70s who didn't weigh 100 pounds."
Most who knew her well remember Nancy Lennon as a lively, spirited women who, despite her growing brood of small children, found time to join golf and bowling leagues; a person who rode her bike through the streets of Ferndale after dinner for many years; a mother who knew how to keep a box score and was honored several years by the Ferndale Little League for keeping score every Monday through Friday of the baseball season; a tireless advocate for children and schools; a person who enjoyed reading romance novels and trashy magazines; a mother who helped all of her children when they moved into new houses, often serving as the lead painter; a women who enjoyed bingo, lottery tickets and trips to the casinos; a person who actually liked yard work; and a tireless campaign worker who coveted tasks but not a title.
Nancy loved her grandchildren fiercely, and she enjoyed and deserved the privileges that came with being a grandmother. Her life was not without its struggles. When she was still very active and fully and happily employed with the court, she chose to retire to care for her once-strong and imposing husband
When she got older, you could still find Nancy all over the city of Ferndale. She took great interest in her daughters-in-law and grandchildren, attending sporting events and school activities. Her sons are pretty sure that she came to take the sides of each of her daughters-in-law in any disputes with her sons.
In the time of her generation, Nancy Lennon – like so many unsung women heroes of past generations – was a quiet feminist force without declaring herself one. She exercised strength but felt no need to proclaim it. She was the glue that held her family together and ushered in some amazing community endeavors. Ferndale is all the better for her lifelong efforts and legacy.