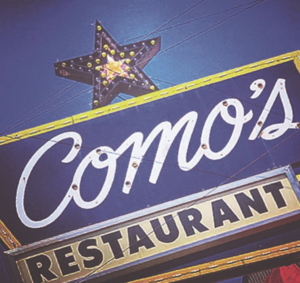 By: Jessica L. Misch, Former Como's Patron
FERNDALE, MICHIGAN COMPRISES PERHAPS THE LARGEST CONCENTRATION of gay, lesbian, bisexual and transgender community members in the state of Michigan. And yet, in 1961, it was a young, heterosexual single mother who had the gumption to scratch out a safe space in Ferndale for Michigan's social undesirables to dine over pizza, drink spirits and find love in the company of friends: Como's Restaurant.
In the early days of the gay right's movement, Como's stood in stark contrast to other gay spaces in Michigan. Como's wasn't a hole-in-the-wall bar that required a secret knock on an obscure door in shadow-filled alleys. Gay patrons brought an extra pair of shoes to those cryptic locations — running shoes — in the event of a police raid or a bomb thrown. No, Como's was different. The large, outdoor patio and spacious indoor setting exuded an ambiance of safety, even normality. GLBT patrons weren't considered sinners or diseased lepers at Como's. Patrons were out in the open on the corner of 9 Mile and Woodward, protected by a bright red canopy, while fresh air flowed through multiple entrances.
Beyond the inclusiveness, open layout and hot plates of Italian food, Como's was a family business. However, most people knew there was a strong matriarch orchestrating things. This strong and focused woman was the engine behind Como's life, growth and stability. She and her multi-service gay bar were the community saviors when there were few alternatives, when society wanted to erase people who didn't conform to heterosexual gender norms.
Being an entrepreneur is challenging. Being a young-single woman with a child, while building a gay bar in bigot Michigan during the 1960s can only be described as monumental. Como's stood the test of time in socially unfavorable environments. Decade after decade, Como's helped give birth to an LGBTQ service industry, carving out paths, streets and sidewalks with an overflowing traffic of patrons for the trendy bars and restaurants bustling in Ferndale today.
Time passed. The landscape changed. Music drummed out a new rhythm. Como's, like our very own grandmothers, aged; her energy slowed. And, still, the younger generation demanded more. Como's struggled to keep the pulse, much like our own frail and beloved grandmothers. When our grandparents lose their ability to remain independent and are unable to meet the demands of society, they become frustrated, perhaps even cantankerous. But we should never abandon or forget those who have cared for us for so long when they are unable to carry on.
COMO'S IS CLOSED. THERE ARE NO SIZZLING PIZZAS BEING PULLED from its once steaming ovens. But, regardless of its successor, the spirit of Como's will forever imbue Michigan's LGBTQ history. Walk by Como's, and ready your cameras to appreciate the six decades of rich history, a business that broke obstinate homophobic molds in the state of Michigan with a proverbial sledgehammer.
The closing of Como's presents a historic opportunity for the community of Ferndale to define its values. For me, as a child of Michigan who witnessed Como's thrive in its younger years, I contemplate my duty to this aged pillar in Michigan's LGBTQ history, an establishment that gave me reason to believe in my own value in the 1980s when society offered me few.
Thank you, Como's. Your spirit lives on, dear friend