Iron Ridge District is Building Business and Community
By Ingrid Sjostrand
NINE MILE AND WOODWARD MIGHT BE THE HOTSPOT IN THE FERNDALE AREA FOR SHOPPING, DINING AND SOCIALIZING, but there are other neighborhoods popping up and competing for attention. One is the newly developing Iron Ridge District, running along Bermuda Street between 10 Mile and 9 Mile Roads in Pleasant Ridge and the northeast corner of Ferndale.
At first glance, most of the space still resembles the industrial sector of its past. But it is quickly filling with tenants, and development company Iron Ridge Holdings LLC has plans to turn it into a more welcoming, community-centric space. Brooke Gieber, Iron Ridge Holdings Team Member, explains the goals for the area.
"We really are in the business of building community. It will truly be a mixed-use development, with plans for additional retail space, hospitality and residential," she says. "Still staying true to the industrial and manufacturing heritage of the community, but also bringing some modern amenities and neighborhood services."
Current businesses include Farm Field Table, a locally-sourced butcher, Provisions cheese shop and Urbanrest Brewery, all located off Woodward Heights and gaining popularity and acclaim among Ferndale and regional residents. Matt Romine, founder of Farm Field Table, says choosing the Iron Ridge District for his business made sense in a variety of ways.
"First of all, Iron Ridge is a great location logistically. Second, the lease rates were great which made the decision easy for a brand-new company," Romine says. "Thirdly, and most importantly, the attitude and vision of the other tenants of Iron Ridge was very attractive for us. It's a place for builders and entrepreneurs to operate independently, but as a tight knit group…there are several trusted professionals who are eager to help."
At the other end of Bermuda near 10 Mile Rd and I-696, the district crosses into Pleasant Ridge. This area is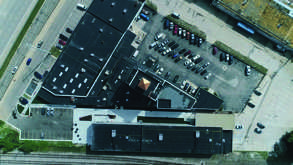 referred to as the Iron Ridge Marketplace. The main marketplace "tower" has some history; originally built as Voigt/Oakman brewery in the late 1930s, it acted as the E-Prize headquarters in the early-mid 2000s before the vacant space was purchased by Iron Ridge Holdings.
Businesses in the Marketplace include the Iron Ridge Holdings offices, Urban Ridge Realty, web development company Loudbaby, furniture designer Alex Drew & No One, 3D engineering services Fisher Unitech, business incubator Excelerate America, advertising agency Driven Creative Supply Co. and newly-opened gym Pulse Fitness.
Alex Rosenhaus, co-owner of Alex Drew & No One, has seen a benefit of the district's efforts to build relationships among businesses.
"Iron Ridge is building an excellent community for small businesses. Having relationships with fellow tenants like Provisions has even brought us work, like the cheese boards we make for their store," he says. "We are excited to be a part of the Iron Ridge community as it continues to grow."
AS THE SPACE IS RENOVATED, more tenants will move in, and plans for a beer garden, brewery and even residential space are in the works for the future.
"It's a unique situation with adaptive reuse, as we have tenants moving in all the time and there are different types of activation happening concurrently with pop-up community events," Gieber says.
While there won't be a hard completion date, many tenants have found unique ways to keep interest piqued during construction. Prior to opening on June 23rd, Pulse Fitness held open house and workout events at Iron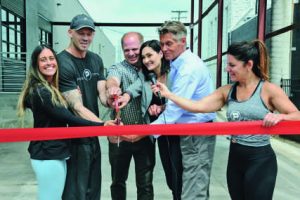 Ridge, and Drifter Coffee hosted pop ups and festivals throughout the spring and summer on the property as they wait for their permanent space to be constructed. Iron Ridge Holdings has held several of their own events too.
"We have a lot of things in the works that are really exciting in terms of community programming and how we want to help," Gieber says. "We aren't just real estate developers, we are place-makers and are able to help with adaptive reuse of space and find ways that actually enhance what's already going on in these amazing communities."
Some of these community programs included a tree lighting during the holiday season, Taco Tuesdays and Food Truck Fridays. Plans are also in the works for cinematic and live music events in the next few months. Current and future tenants all agree these events have helped their businesses.
"Food Truck Fridays brings a lot of foot traffic to our studio, and is an exciting event Iron Ridge has been organizing to bring more people to the area," Rosenhaus says.
Cathy Koch of K-Tec Systems adds, "This is a unique area where businesses collaborate to help with each other's success. The Iron Ridge area truly promotes a livable, walkable, working neighborhood."
Gieber says many more things are in the works for the district and the best place to follow Iron Ridge developments are through Facebook and Instagram – @ironridgemarketplace.
"As a resident of Ferndale, I'm excited to see different portions of the city highlighted and gaining neighborhood services that make it a more walk-able area," Gieber says. "As things get more activated and new tenants host their grand openings, we are excited to see how this space will play out –not only having these amenities for our building tenants but for the surrounding community too."