Spoke N' Heart: Selling and fixing bikes, improving lives is the goal of Hazel Park's Bicycle Doctor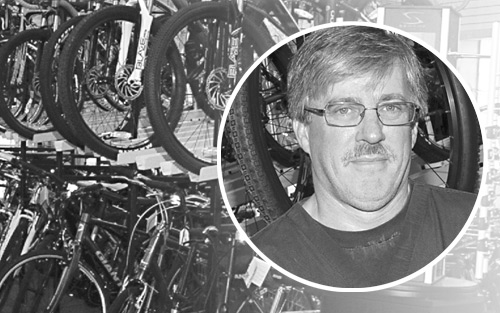 Randy at the Bicycle Doctor in Hazel Park has steeped himself in charity work for many years,using his business and his partners to help special needs children and adults get the support and attention they need.
I interviewed him very recently about how he became involved in charity work, his passion for biking and love for the Hazel Park and Ferndale communities.
Q: How long have you owned and operated your bike shop, and what makes you keep doing it?
A: I bought Continental Bike Shop in February 1996 with a business partner, and have since bought him out and renamed the store, BICYCLE DOCTOR, which I started in 1989 as a mobile bicycle repair service. We are a full-service bicycle shop, selling new bicycles and servicing old ones.
And yes, the Bicycle Doctor still makes house calls!
I have been in the bicycle industry since 1977 and, even though it has changed dramatically, it is still awesome when you sell a brand new bike to someone who gets all excited about it. It can be a kid's first new bike or someone who has not ridden in years and is getting back into it, that makes your day! It can also be fixing a bicycle that has been down for years and just pulled out of the attic and we refurbish it, they get that kid-like look and excitement all over again.
Q: How long have you been involved with Make-a-Wish and why did you begin doing charity work with them?
A: I've been doing support on the WAM300 since 1992. I received a form letter in the mail saying that they were looking for volunteers for their ride. Upon answering it, I wound up at a committee meeting and just got involved. I became part of the committee and started volunteering more of my time. During the years I have not just done mechanical work but at one time I was also the photographer, I designed the route, and was in charge of the route crew that put up the signs along the way and marked the pavement. We also support the MS rides, Tour de Cure, DALMAC, and Tour de Ford.
Q: What connection do you feel to Hazel Park and the surrounding cities where biking is becoming constantly more popular?
A: The Hazel Park area and Ferndale, Royal Oak, and others have some viable roads to convert to bike lanes, and I think the population is starting to really think of bicycling as a mode of transportation, not just a toy. We started a Wednesday evening ride that goes through Hazel Park, Ferndale, Palmer Woods and Palmer Park, that is made for new cyclists and is a slower pace that is made to be more sociable. This ride highlights some of the bike lanes and routes and is just made for a casual bike ride.
The Bicycle Doctor 24436 John R, Hazel Park, MI 48030; 248-545-1225
Mon, Thu: 10:00am – 7:00pm; Tue, Wed, Fri: 10:00am – 6:00pm; Sat: 10:00am – 5:00pm; Sun: Closed
If something happened with our health, we believe there is a solution to any maladies in a medicament. What medicines do patients purchase online? Viagra which is used to treat impotency and other states coupled to erectile disfunction. Learn more about "sildenafil". What men talk about "viagra stories"? The most vital aspect you should look for is "sildenafil citrate". Such problems commonly signal other problems: low libido or erectile disfunction can be the symptom a strong soundness problem such as heart trouble. Causes of sexual disfunction switch on injury to the penis. Chronic disease, several medicaments, and a condition called Peyronie's disease can also cause sexual disfunction. Even though this physic is not for use in women, it is not known whether this therapy passes into breast milk.