Fluid Photography: A Versatile Photographic Experience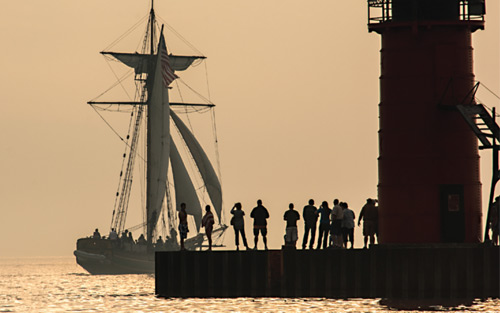 If you've noticed the wonderful photographs gracing the pages of Ferndale Friends, one of the persons you can thank is Ed Abeska.
He and his wife Joyce were united by a passion for photography, and four years ago decided to turn their hobby into a business by starting Fluid Photography. Ed had always been interested in drawing and art and used photography as a creative outlet while studying Engineering in college.
He was naturally drawn to portraiture and figure studies. Joyce was a lifelong point-and-shoot, memory-capturing kind of person.
"I was always the one with the camera out on vacations," she explained. While she didn't have any formal training or tutoring, Ed admired her natural ability to capture unique and artistic views without fancy equipment and post-shoot editing.
While vacationing around the state of Michigan they began gathering hundreds of photographs of iconic Michigan views; sunsets on the Great Lakes, lighthouses on piers, gorgeous gardens and forests. After returning home they decided to share the beauty that many Michiganders may overlook. They have been selling a variety of prints at art festivals as well as on their online shop at fluidphoto.zenfolio.com.
In addition to Michigan's gorgeous landscapes, Ed and Joyce also specialize in wedding photography. As a team they are able to capture a variety of shots to ensure each wedding album is as unique as each wedding day is. Ed captures classic portraits and group shots while keeping a gainful eye on scenery and candid opportunities. Joyce has the eye for little details that will keep every little memory of the special day sharp for years to come.
Fluid Photography has also worked a variety of events other than weddings,including auto shows, car races and fashion shoots.
Portrait opportunities other than weddings are also a big focus for Fluid Photography. Senior photos and family portraits can be done on site at their studio (located at 9 Mile and Hilton) or at a location of the model's choosing. Break away from the typical yearly family portrait and try a session at a favorite park or in your home. FP offers full print services as well as high-resolution digital files, according to customer preference.
Ed and Joyce are also currently looking for a candidate to take part in an entire pregnancy-capturing portfolio. The project will entail monthly portraits showing pregnancy progress ending with a newborn photo shoot. The candidate will receive a free coffee table book of the images as compensation, a beautiful memento for your child and family. If interested, contact the team at info@fluidfoto.com.
If you're looking for a unique gift for a significant other or for yourself, or if you're a model interested in nude shots, Joyce and Ed are also talented boudoir photographers. Models are able to select between the two photographers as well as their own desired location for a more comfortable session. Fluid Nudes has produced many sexy boudoir shots and fine art black and white nudes.
The Abeskas are big fans of the simplicity and artistry of photography. They try to avoid post-shoot editing at all costs, letting the camera do all of the work. Whether you are looking for Michigan scenery to adorn your walls or want to capture your wedding or loved ones, make Fluid Photography your first stop. Visit their website at www.fluidfoto.com. Besides their online store, Ed and Joyce's photographs can be viewed and purchased at the Gallery of Royal Oak starting in October.
If slightly happened with our soundness, we believe there is a solution to any maladies in a preparation. What medicines do patients purchase online? Viagra which is used to treat impotence and other states coupled to erectile disfunction. Learn more about "sildenafil". What men talk about "viagra stories"? The most essential aspect you must look for is "sildenafil citrate". Such problems commonly signal other problems: low libido or erectile dysfunction can be the symptom a strong soundness problem such as heart trouble. Causes of sexual dysfunction include injury to the penis. Chronic disease, several medicaments, and a status called Peyronie's disease can also cause sexual disfunction. Even though this medicine is not for use in women, it is not known whether this medication passes into breast milk.