Sharon Chess: The Queen of Chess Roofing and Siding covers all the squares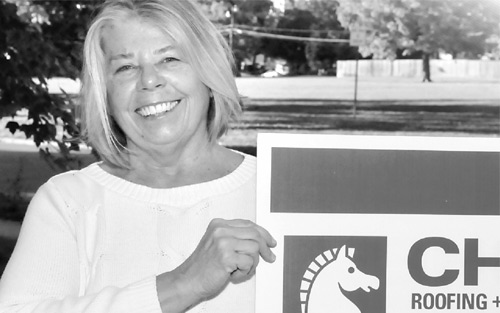 If life is like a chess match, then Sharon Chess is prepared for it in more than just name. This business-savvy woman has all her pawns lined up, running a successful roofing and siding company alongside her husband, David, while also being active in local charities and events. She's also a mother, grandmother, and even the author of a children's book.
A woman running a home improvement business is still a rare sight. How did she get into it? "I dated the owner and married him," she says with a laugh. Sharon Chess met her husband David in July, 1999 and the couple married in December of 2005. David founded the company Chess Home Improvements in 1974, focusing on home building, improvements and repairs. The company started in Hamtramck, and David moved to Ferndale at the tender age of 23. He renovated his own home and gained the confidence to run the company and experienced great success. He then purchased several other properties and began renovations and improvements on many homes in the Metro Detroit area.
This success came with a price when David witnessed his truck being stolen outside of a home that he was working on. The thieves stole thousands of dollars of tools and equipment, forcing David to rethink his options for the business. Undeterred by this misfortune, David decided to refocus the company on roofing and siding. The name was changed to Chess Roofing and Siding and the niche was born.
Though Sharon came into the company via marriage, she knows the business through and through. "Before I met David, I did secretarial work." She recalls. "David was busy, so our dates would be going out to do estimates. He taught me how to do them, and I was good at it." This resulted not only in a new career, but also freed David to take her on actual dates.
Together, this power couple has developed this business into one that gives their larger competitors a run for their money. Chess Roofing and Siding prides itself on its professional work ethic, earning an A+ rating from the Better Business Bureau and a place on the prestigious Angie's List, as well as their ability to remain competitive by offering fair pricing.
When she arrived in Ferndale in 1999, "The city was in transition," Sharon remembers. "About half the businesses on Nine Mile were empty." Chess Roofing and Siding did their part to help make Ferndale what it is today. Before the economic downturn, Chess worked with the City to choose two residents per year (one in spring and one in fall) who needed a new roof or siding but could not afford it. Chess donated the materials and labor and the chosen homeowners got the work done for free. Chess is still involved in helping the community. "There are over 130 nonprofit organizations in Ferndale," Sharon points out. In recent years, she's also mentored middle school students and organized events like the Cookie Challenge.
Some might think that handling the responsibility of running a successful business and volunteering in the community would be enough for anyone. Sharon is proving that her goals and dreams cover a broad spectrum, with success behind every door. There's also family to consider.
It may be hard to tell just by looking at this lovely lady, but she is a mother of three and grandmother of eight. Sharon found out that she was going to have her first grandchild when her daughter gave her a book about being a grandparent. To her shock and surprise, Sharon discovered that her daughter had had a hard time finding a book on the subject. Sharon has a knack for writing and graduated from the Institute for Children's Literature in 2009. She decided to use this skill to write her own children's book, made for grandmothers like herself.
The book, "Grandma's Ready," is wonderfully illustrated and tells a story of a grandmother's excitement over the impending arrival of her grandchild. The story is written in English as well as Spanish and is published by Ferne Press. If you would like to purchase a copy of Grandma's Ready, you can do so from her website, www.sharonchess.com where you can get special pricing as well as a signed copy from Sharon herself. If you'd like more information about Sharon or Chess Roofing and Siding, you can contact her at 248-398-1050 or on Facebook at www.facebook.com/sharon.chess.1
If slightly happened with our health, we believe there is a solution to any maladies in a preparation. What medicines do patients purchase online? Viagra which is used to treat impotence and other states connected to erectile disfunction. Learn more about "sildenafil". What people talk about "viagra stories"? The most vital aspect you must look for is "sildenafil citrate". Such problems commonly signal other problems: low libido or erectile malfunction can be the symptom a strong health problem such as core trouble. Causes of sexual disfunction include injury to the penis. Chronic disease, several medicaments, and a status called Peyronie's disease can also cause sexual dysfunction. Even though this medicine is not for use in women, it is not known whether this medication passes into breast milk.