Services For The Mind, Body & Spirit: Eternal Balance Holistic Life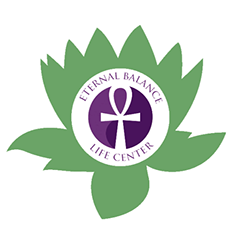 By Sara E. Teller
ETERNAL BALANCE HOLISTIC LIFE CENTER ORIGINALLY OPENED ITS DOORS BACK IN 2001, providing massage therapy services and alternative healing strategies focused on promoting total body wellness. The center's mission is "Creating Balance for Mind, Body, and Spirit" and they offer a wide range of healing options for each of these facets.
"I bought the business in 2011," recalled current owner Denise Egrin, who was employed at the center until the previous owners decided they wanted to start a place of their own and she was given the opportunity to take the reins. A few years later, she decided to relocate the business to Berkley because of its central location and the community's tight-knit feel.
Egrin explained, "We were in Huntington Woods until we moved to Berkley in 2015. We moved because I like the community, I love the building that we are in, and it is close to Huntington Woods, Ferndale, and Royal Oak." She added, "We love Berkley because the community is welcoming and friendly."
EGRIN IS A LICENSED MASSAGE THERAPIST who graduated from Irene's Myomassology Institute. Always a strong proponent of healthy living, she is also certified as a Reiki Master/Teacher, as well as a Craniosacral Practitioner, and is currently continuing her education in Animal Communication. Egrin has taught Reiki energy healing at Eternal Balance, hosting Reiki Share sessions. With five practitioners on site, Eternal Balance offers a full range of massage services as well as variety of nontraditional techniques, including Reiki energy healing, craniosacral therapy, inner child healing, intuitive healing, life coaching, medical intuition, raindrop therapy, and tarot card readings, among others. Each option is meant to bring balance to the mind, body and spirit, while massage is used to increase circulation and aid in toxin and stress release.
Egrin said, "Our [massage] services include therapeutic, deep tissue and Swedish massage, lymphatic massage, oncology massage, cupping massage, Reiki massage and prenatal massage." She added, "I describe Eternal Balance as holistic wellness because we offer more natural and holistic modalities. At present we have five therapists, including me. All of us here are licensed, experienced, caring therapists dedicated to providing the community with a natural way to health and wellness."
Eternal Balance Holistic Life Center, located at 3311 12 Mile Rd., is open
10:00 A.M. to 7:00
P.M. Mon.-Fri. and
10:00 A.M. to 5:00
P.M. Sat.
Services offered by appointment.
248-542-1357.
info@eternalbalance.com
eternalbalance.com