Something For Every Girl: Sum Girls Boutique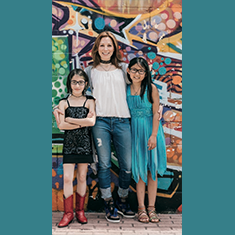 By Sara E. Teller
LOCATED IN THE HEART OF DOWNTOWN BERKLEY,Sum Girls Boutique is a sustainable-fashion, new apparel and accessories hot-spot for ladies of all ages. It features higher-end, trendy clothing and accessories from well-known brands, consignors and boutiques in the Metro-Detroit area.
"We also feature reasonably-priced, practical, fun gift items from local vendors," said owner Robyn Coden. "We have your back if you need a birthday present, teacher gift, or maybe just a treat for yourself or a friend."
A warm and whimsical place, and one of empowerment, sisterhood, good values, smiles and memories, Sum Girls is a spin- off of Coden's blog Dim Sum and Doughnuts.
"'Dim Sum and Doughnuts' is a blog named for my daughters – one who is from China and one who is biological – to have when they get older," she said. "I have been writing Dim Sum and Doughnuts since 2001. It's an honest, comedic girl empowerment blog about growing up, making mistakes, and having fun with a life lesson or takeaway in every post."
CODEN KNEW SHE WANTED TO EXPAND UPON THESE CONCEPTS in a real, physical way but wasn't quite sure how to, at least at first. "It took years to come up with a good business fit to go with our Dim Sum and Doughnuts brand, and in the end it was my younger daughter who brought the idea of a store to my attention," she explained. "After much research, a business plan, and several months of approvals and meetings and renovations, we opened as a start-up, family-owned business in October 2017."
In addition to offering a wide variety of fashion- able goodies, Sum Girls Boutique hosts its own Girls' Night Out events which usually take place once a month. "We like to pick a local charity and either donate a percentage of our proceeds to that charity or make the entire event a charity drive for a local at-risk, underprivileged or special needs organization or school," Coden said.
Sum Girls Boutique is located at the corner of 12 Mile and Robina Avenue. Store hours are
Tuesday through Friday 11:30 A.M.-6:00 P.M. and Saturdays 11:30 A.M.-5:00 P.M. For more information, stop in or visit www.SumGirlsBoutique.com