Providing State Of The Art Care Since 2016: Nova Chiropractic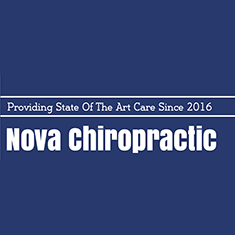 By Sara E. Teller
DR. NICK NOVAKOSKI GRADUATED FROM LOGAN UNIVERSITY IN ST. LOUIS,MISSOURI, in 2014 with a doctoral degree and a passion for physical therapy and helping athletes recover from sports injuries. He worked at Lifetime Fitness as a personal trainer while completing his education, and learned all about injury recovery and the importance of posture.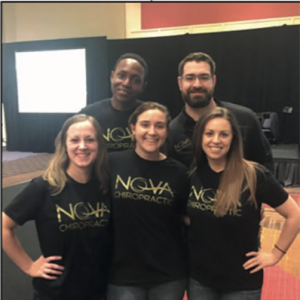 Eventually, he decided he wanted to open his own practice and, in his search for the perfect spot, Novakoski fell in love with Berkley's family- friendly feel, opening Nova Chiropractic on Coolidge in November 2016. The center's mission is "to eliminate pain, correct postural inefficiencies, and maximize human performance by improving and optimizing the function of the human body through the highest quality of chiropractic care."
FOR NEARLY THREE YEARS, Nova Chiropractic has cared for Berkley's residents, offering a wide variety of services to fit the needs of each individual patient. The center offers consultations, muscle scans, and posture assessment as well as manual manipulations and therapy. Nova also offers foam rolling, in which a roller is used to help with soft tissue injuries and sore muscles, as well as services for children and pregnant women. There are two massage therapists on staff to help further ease muscle tension holistically.
Mackenzie Powers has been the office manager at Nova for two years. She said, "The community is everything. People really care here. They're involved and they support small business. Patients love being here, and it's rewarding to be part of that. There's a lot of trust in the community, and people love Dr. Nick."
Nova Chiropractic is involved in many of the events and festivals, including Berkley Days, Ladies' Night Out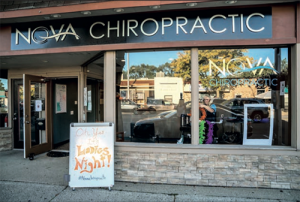 (LNO), and the Street Art Fest. "We have a bouncy house set up every year," Powers said of the art fair. For the LNOs, "We bring in vendors at the clinic and have chair massages," she added. "You can come in and have a five-minute massage while learning about our services." Best of all, the clinic has an official greeter, Milo, the
hypo-allergenic cocker spaniel and poodle mix!
Mon/Tues/Thur
8:00 A.M. 11:30 A.M. & 1:30 P.M. – 6:00 P.M., Weds 4:00 P.M. – 6:00 P.M.,
Sat 8:00 A.M. – 11:30 A.M.
Call (248) 398-1155 or visit novachiroclinic.com