Bringing Balance To Berkley: Balanced Health & Wellness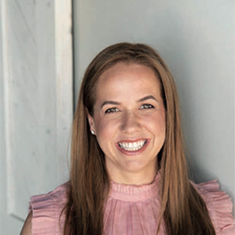 By Sara E. Teller
OWNER OF BALANCED HEALTH & WELLNESS, DR. SARAH KIRSCH HAS BEEN A CHIROPRACTOR FOR 13 YEARS. She holds a bachelor's degree in nutrition and a bachelor's in human biology, as well as a master's degree in human nutrition and a Doctor of Chiropractic degree.
"I started Balanced Health & Wellness with only myself and a portable adjusting table in a shared room in this building," she explained. "Over the years, we have grown to four chiropractors – three are also nutritionists – three massage therapists, a holistic health coach, and two full-time office staff." This growth demanded a larger space, too. Kirsch said, "We now occupy the whole building and recently expanded into the space next door to build a classroom to teach health and wellness classes." The clinic treats patients of all ages, including infants and seniors, and offers a variety of services, including "hands-on personalized chiropractic care, massage therapy, nutrition counseling, and holistic health coaching," according to Kirsch, who added, "Our classroom offers foam rolling classes, gut-brain connection workshops, physical therapy classes for pregnant and post-partum moms, healthy cooking classes, and so much more! We are thrilled to offer a wide range of services to help our patients live a healthier life."
Each member of the Balanced staff has a different advanced training background serving pediatrics, pregnant women, athletes, "weekend warriors" (those who need services after a particularly eventful weekend), nutrition, rehabilitation, exercise, and functional medicine, which addresses the underlying causes of chronic pain. "We do our best to match patients with the doctor or therapist best suited to their needs," Kirsch said.
She is happy to be part of such a warm and tight- knit community, too, saying, "I chose Berkley because it has such an incredible population of people who support local businesses. It has such a charming small-town feel which I love. People stop and wave as they pass by." Kirsch, who lives nearby in Huntington Woods, added, "I love the community effort to support local businesses, especially the Berkley Area Chamber and DDA events to help bring more business to Berkley. I love that citizens enjoy keeping their business local and ship small whenever possible."
Balanced Health and Wellness is currently taking course suggestions and would love to receive input from residents on what to offer next in The Classroom. For more information, call 248.397-8122, email balancedhaw@gmail.com, or check out Balance Health and Wellness online at www.bewellmi.com, and The Classroom at www.theclassroomberkley.com.