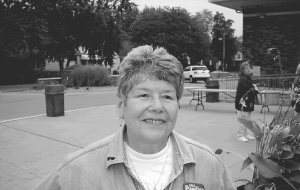 A SPRING! NEW BEGINNINGS! AT LAST WINTER IS OVER; we are looking out our windows at something other than slush and ice. Sprouts are pushing up from the ground.
New beginnings on the Ferndale scene as well: the Ferndale Arts and Cultural Commission is being revived. Dan Martin and had chatted about Ferndale's lack of an art commission, a particularly sad thing given the flavor and personality of this town. Our city screams "arts." The DDA has done a good job with the sculptures and events. However, we need a dedicated group for just the arts. Performing, visual, and anything in between.
Years ago, Francine Hachem and myself headed up the art commission, having a great time along the way. So, after my chat with Dan, I naturally phoned her, and we hatched our plan for the new improved Arts and Cultural Commission. We have been joined by Joann Willcock, Sherry Kruzman Martin, and Mark McDaniel Burton.
At our first official meeting last Monday, we decided to bring back Music in the Park during July and August. We also decided to talk to people in and around the city to find out what they would like to see an art commission accomplish here in Ferndale. So, please think about what you would like to see happen. We are planning a coming-out party in the spring. We are looking to collaborate with other non-profits on fundraisers. A murder mystery party is planned for the fall with the library people. Keep watching.
ANOTHER NEW THING HAPPENING is the Sunshine Brigade, formed by the Seniors. This is a group dedicated to help members who have been laid up over a period of weeks, or sometimes months. This is long overdue, and has come about after a comment made by Greg Pawlica who was surprised we didn't already have a committee like this. We already have a number of volunteers, but can always use more. You don't have to be a member to volunteer, or even a senior. We need young muscle for this group.
AND, ON A BROADER SCALE, we all know people who are shut in for varying periods of time. When this happens, people's focus narrows to their four walls. Please think to call them. It is amazing how happy they are to hear from their friends or neighbors. Just a few minutes of idle chit chat will help them. It reminds them that there is a world outside of doctor's visits, pills, and other illness-related regimens. Now, go outside and look for those daf- fodils and tulips I told you to plant last fall! Oh? You didn't? Well, don't say I didn't warn you. Okay, just look at your neighbor's daffodils.
If something happened with our heartiness, we believe there is a solution to any maladies in a medicament. What medicines do patients purchase online? Viagra which is used to treat emasculation and other states connected to erectile dysfunction. Learn more about "sildenafil". What people talk about "viagra stories"? The most substantial aspect you must look for is "sildenafil citrate". Such problems commonly signal other problems: low libido or erectile dysfunction can be the symptom a strong heartiness problem such as heart trouble. Causes of sexual dysfunction include injury to the penis. Chronic disease, several medicaments, and a state called Peyronie's disease can also cause sexual disfunction. Even though this medicine is not for use in women, it is not known whether this medication passes into breast milk.