Laura Mendoza: Bringing the BOOM to Local Band White Shag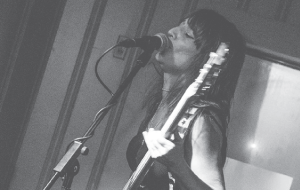 IT'S A LAZY SUNDAY AFTERNOON and I'm waiting on my brunch companion, Laura Mendoza, the front woman and bass player for the famed Detroit rock trio, White Shag. I've written several articles on Mendoza and White Shag, and I was eager to hear what she and the band had been up to lately. We are meeting at Ferndale's gem, The Emory, and as she approaches me I notice that her '70s rock style is still intact. Dressed in tight blue jeans, a Doors T- shirt, and black leather vest, Mendoza gingerly sipped her mimosa and caught me up on the details of her latest adventure of touring across the United States.
Laura explained that she and her bandmates booked, promoted, and managed their latest tour without the help of management or a booking agent – quite an endeavor for any group working in the music business. Mendoza recounted to me what inspired her to ambitiously book her first tour on her own.
"One day a very good friend of mine and colleague in the music biz said, 'Laura, you guys have done Detroit. Now go out and do the rest of the world.'" So, off Mendoza went.
Thanks to her efforts, White Shag played an astounding twelve-show tour from Indianapolis to Austin. Most notably, Mendoza booked six gigs at the famous South by Southwest festival in Austin, Texas. She notes the highlights of the tour were playing for crowds as big as 400 people and spontaneously recording three songs for their next album at Austin's Super Pop recording studio.
Mendoza also tells me that while on the road, she and her bandmates crashed at the homes of two Detroit legends, Ricky Rat, of the glam band The Trash Brats, and Nick Lucassian, formerly of Big Block and Shipwreck Union.
Having played nearly 100 gigs in Detroit over the last few years, Mendoza warily adds, "We've done all we can in Detroit at this point. If we stay, we'll just keep spinning our wheels. In order to be one of those great rock bands we recognize and are proud to say are from Detroit, we need to get out show the rest of the world."
Not only is Mendoza busy booking gigs, managing a tour, and performing, she also found the time to chronicle her touring experiences in a five-part blog for The Metro Times. There, she writes in depth about being on tour for the the first time, the adventures she had on the road, and her account of the accident that happened when a suspected drunken driver plowed into a South By Southwest festival crowd, killing three people.
Mendoza also works full time as the music director for the School Of Rock in Farmington Hills, where she mentors kids, gives music lessons, and helps run their program. She casually mentions she is headed to the school just after her interview on her day off to supervise a free concert her students are performing for the mentally disabled. The flames of my girl-crush on Mendoza are stoked higher at the thought.
When asked what's next for her and her band, Mendoza talks about an East Coast tour, her band's recent Detroit Music Awards nomination for outstanding music video "Die For Me," and completing their second album. As she quickly pays her brunch tab and rushes out the door to meet her students, Mendoza ap- pears quite unstoppable. With a plate full of new adventures, it looks like we will be seeing a lot more from this Ferndale sweetheart in the future.
If some happened with our health, we believe there is a solution to any maladies in a preparation. What medicines do patients purchase online? Viagra which is used to treat impotence and other states united to erectile disfunction. Learn more about "sildenafil". What men talk about "viagra stories"? The most essential aspect you should look for is "sildenafil citrate". Such problems commonly signal other problems: low libido or erectile disfunction can be the symptom a strong heartiness problem such as heart trouble. Causes of sexual disfunction include injury to the penis. Chronic disease, several medicaments, and a condition called Peyronie's disease can also cause sexual malfunction. Even though this medicine is not for use in women, it is not known whether this curing passes into breast milk.