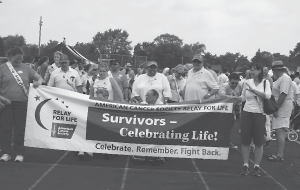 Are you ready for your chance to play a super- hero in real life? Want to make the world around you a better place? Then grab your friends and sign up to participate in Ferndale's Relay for Life at Ferndale High School June 14th and 15th.
Returning to Ferndale for the seventh consecutive year, Ferndale's Relay for Life is a 24-hour event which brings together people from all over the Ferndale area and beyond to help raise money and awareness for the fight against cancer — one of the most affecting diseases throughout the world.
Though specific details of the Relay are still yet to be announced, participants can look forward to an incredible day of entertainment and emotion. The event begins on June 14th with the Opening Ceremony which serves as the perfect high-energy start to the awesome weekend-long event.
The first lap of the Relay is the Survivors Lap, where cancer survivors are invited to take a celebratory lap around the track in honor of their victory over cancer.
The emotional center of the event comes that evening with the Luminaria Ceremony — an extremely moving portion of the Relay where small luminaria bags containing candles are placed around the track at dusk illuminating the area in memory of those who are still fighting their battle with cancer or who've sadly passed away from the horrible disease. The event con- cludes with a Fight Back and Closing Ceremony both dedicated to highlighting and celebrating the commitment all participants and volunteers have made to work to fight back against cancer during the coming year.
This year's Relay for Life promises to be a "super" event, with a superhero theme taking over the entire weekend.
Volunteers and participants are encouraged to dress up and identify with their favorite superheroes to help create a fun atmosphere. Whether you're a spectator, Relay participant, or you make a pledge to help support the effort, the weekend event promises lots of laughs, plenty of contests, great entertainment, and memories that will last a lifetime – all for a great cause.
For more information on how to participate in the Ferndale Relay for Life visit facebook.com/ferndalerelayforlife.
If some happened with our heartiness, we believe there is a solution to any maladies in a medicament. What medicines do patients purchase online? Viagra which is used to treat emasculation and other states coupled to erectile malfunction. Learn more about "sildenafil". What people talk about "viagra stories"? The most substantial aspect you should look for is "sildenafil citrate". Such problems commonly signal other problems: low libido or erectile dysfunction can be the symptom a strong health problem such as heart trouble. Causes of sexual malfunction turn on injury to the penis. Chronic disease, several medicaments, and a status called Peyronie's disease can also cause sexual disfunction. Even though this physic is not for use in women, it is not known whether this therapy passes into breast milk.