Home
Art & Music
Hilton Fall Festival Offers A Day of Affordable Family Fun!
Hilton Fall Festival Offers A Day of Affordable Family Fun!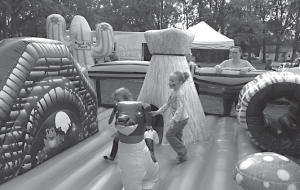 The Hilton Fall Festival, named for its former location along Hilton Road, will return to Martin Road Park in Ferndale on Saturday, October 11th from 11 am to 5 pm.
Once again presented by Garden Fresh Gourmet and spearheaded by Ferndale Recreation, the festival brings a full day of fun with amazing activities throughout the day.
Carnival games, concession sales, pony rides, hay rides, pumpkin painting, face painting, crafts, a costume contest, trick-or-treating and more are offered for one low price per person.
The festival was moved from Hilton Road to Martin Road Park in 2013 because Martin Road Park offers a perfect autumn backdrop with its beautiful trees. In addition, the large Activity Center located there provides plenty of indoor space to host most of the games and crafts so that potential rainy weather doesn't hamper the event.
Tickets to the event will remain affordable at $5 per child ages three through 15, $2 per adult, and free for children two and under. Parents will enjoy an all inclu- sive price structure because it allows their child to participate in all the activities.
Ferndale Recreation is able to offer this all- inclusive price structure because of the generosity of many local businesses.
Major sponsors in the past have included: Garden Fresh Gourmet, Hodges Subaru, Gage Products Company, Oakland County Parks, Grand Central Self Storage, DTE Energy, Credit Union ONE and Ferndale Public Schools. In addition, nearly 100 supporters volunteer throughout the day to ensure families have a great time.
Many details are still in the works. You can learn more and get updates by visiting www.hiltonfallfest.com.
If you are interested in sponsoring one of the many fun activities or in volunteering, please contact Jill Manchik at Ferndale Recreation at 248-544-6767.
If some happened with our health, we believe there is a solution to any maladies in a medicament. What medicines do patients purchase online? Viagra which is used to treat impotency and other states connected to erectile disfunction. Learn more about "sildenafil". What men talk about "viagra stories"? The most substantial aspect you must look for is "sildenafil citrate". Such problems commonly signal other problems: low libido or erectile disfunction can be the symptom a strong health problem such as soul trouble. Causes of sexual dysfunction include injury to the penis. Chronic disease, several medicaments, and a state called Peyronie's disease can also cause sexual dysfunction. Even though this medicine is not for use in women, it is not known whether this curing passes into breast milk.