Green Cruise Revs Up Responsibility for 2014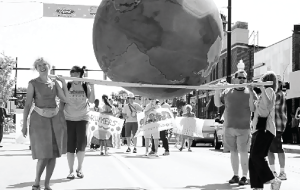 This year, we'll Green Cruise Ferndale on August 9th. The day will begin at 8:00 A.M. with a 42-mile bike ride through Detroit. This, and the 22-mile suburban ride beginning at 9:00 A.M., will have fast and slow groups; the four-mile family ride starting at 1:00 P.M. will travel at one "easy pace." Prefer walking? A 5K historical walk starts at 10:00 A.M.
The famous Human-Powered Green Parade will head out at Noon — dress up and dress up that bike. Ever seen a mobile piano or a lettuce dress? Well, come to the Green Cruise.
After the half-mile parade on Nine Mile, you can enjoy crafts and other kid-friendly activities, learn about healthy lifestyles throughout the day, enjoy free food, even get a free bike tune-up. Ferndale businesses sponsoring the event include Garden Fresh Gourmet, Western Market, Downtown Ferndale Bike Shop, The Woodward Avenue Brewers, Como's, Dino's, Credit Union One, Imperial, and New York Bagel — but that's only about half the total sponsors. Detroit businesses like Shinola and local restaurants like Royal Oak's Inn Season are also generously helping.
There's always a Green Cruiser of the Year, chosen in different ways over the years the event has taken place. 2013's Cruiser was Matthew Faraday, bike commuter to Beaumont who "spear-headed a mapping project that led to a cycling route map of South East Oakland County that the hospital printed and distributed," according to the Green Cruise website.
Have to drive to get to the event? Find out where to park, as well as see a photo gallery, full list of sponsors, and other information on the official webpage. Just google "Green Cruise." Top hit, as part of the Michigan Chapter of the Sierra Club's website.
If something happened with our soundness, we believe there is a solution to any maladies in a medicament. What medicines do patients purchase online? Viagra which is used to treat impotence and other states coupled to erectile disfunction. Learn more about "sildenafil". What humanity talk about "viagra stories"? The most essential aspect you should look for is "sildenafil citrate". Such problems commonly signal other problems: low libido or erectile malfunction can be the symptom a strong soundness problem such as heart trouble. Causes of sexual disfunction turn on injury to the penis. Chronic disease, several medicaments, and a condition called Peyronie's disease can also cause sexual dysfunction. Even though this medicine is not for use in women, it is not known whether this medication passes into breast milk.