Blowout Raises the Bar (And Local Spirit) Everywhere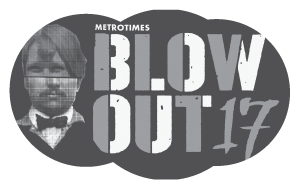 For 15 years, the Metro Times sponsored this expansive music festival in early March, aiming to encapsulate SE Michigan's music scene. It settled into a model: dozens of Hamtramck bars hosted three nights of live music (with a kickoff in downtown Detroit), showcasing up to 200 local bands; the largest all-local music festival in North America. For Blowout 16 last year, the festival expanded into Ferndale for three nights, hosted at local hot spots like The Loving Touch, New Way Bar, Rust Belt Artist Market, Como's Restaurant, and even the Library. Festival-goers gained all-access wristbands to each venue to hang-out, listen, and then move on to the next bar, to the next band…
And now, to the next Blowout, May 1 – May 3, hosted in Ferndale, Hamtramck, and Detroit. As we go to press, the final schedule is still being completed but the full schedule will be available soon at mtblowout.com.
"Blowout is larger than one band," says Anthony Morrow owner/operator of marketing company Pulp Detroit and a co-coordinator of Blowout with W.A.B. owner Chris Johnston.
"It's larger than one venue, one scene or one city. It's a live music experience. Blowout, really, is a Mecca for music lovers."
Morrow sees it as four nights of live musical "mayhem" where three cities (Detroit, Hamtramck and Ferndale) host thousands of people "scurrying" from place to place. Johnston and Morrow split festival programming, booking bands, and organizing venues. Pulp Detroit created the website and drove the social media marketing online.
Morrow: "Watching Ferndale flourish into a music scene has been exhilarating. A huge chunk of the praise really goes to Johnston, who had a strong vision for turning The Loving Touch into a venue. And, they're doing a great job down at the New Way as well. The Grasshopper has carved out a niche with electronic music, too. But, really, it's the bands and DJs who made the scene what it is…"
Johnston paints a poignant metaphor: "Blowout was born and raised in Hamtramck, and in its teenage years its parents separated; one moved to Ferndale.
"Now, as it gets older, Blowout's finding it has ties to more and more places. I'm always disappointed to read one parent say something bad about the other and then have other relatives take sides. This kid (Blowout,) still needs support from everybody. I feel the same way about the music scene. I'm excited that Ferndale's making a stand as a great live music town, but the goal isn't to do it at the expense of other cities. I'd like to believe that the bar is being raised everywhere."
Johnston helped foster the W.A.B./Emory and Loving Touch into Ferndale's live music nerve-center over 15+ years, overseeing the pool hall's transformation into a substantial live music spot for big name touring acts as well as hometown heroes. The Ferndale resident is strongly in favor of a vital music scene in the Detroit area. And he says he continues to work hard promoting good shows and great bands "in far more places than Ferndale."
Lauren Deming, singer/songwriter/keyboardist of classy-jazz-pop revivalists El Dee: "Ferndale has its own thing going for it and I can vibe with that. I think there's lots of people from the suburbs who don't mind making the drive for those kinds of things because it's closer (or less threatening?) than Detroit. Besides close proximity, Ferndale and Detroit are apples and oranges thriving in their own unique way. The exciting thing about Blowout is all the wacky foot traffic you can count on and all the amazing music you can discover in such unassuming places. All sorts of people, not your typical show-goers, are wandering that weekend, so it's fun."
Jason Stollsteimer, singer/songwriter/guitarist of pop/rock quartet The Hounds Below: "Metro Times' Blowout is and always will be a showcase for all the stylings Michigan music has to offer. It was never intended to be a Hamtramck festival or a Detroit festival. It was never about bars paying their rent or as a dependable source of income for local businesses.
It was a music experience for Michigan citizens to see bands that they otherwise might not have known about. It's the Metro Times throwing a great party with Michigan bands being the centerpiece."
Jeff Howitt, singer/songwriter/guitarist of Ferndale-based psychedelic-roots quartet Duende: "The first couple Blowouts I'd go into any bar. There wasn't a sense of who you had to see, but who you could see. To see the streets flooded with so many people. We'll have to see how it works, keeping it one weekend yet still spanning three cities, with time and transportation. It's still solidly representative of how many people around here love music as well as play/write/perform it. People will always beat up the 'burbs, funny though, that most of the loudest voices were born in them. Where is Detroit? We should see all these neighborhoods and smaller cities as boroughs of the larger Myth of Detroit, it's Spirit; and, then, move the tradition forward."
Metro Times Blowout is Wednesday Apr 30 through Sat May 2. Log on to mtblowout.com to find info about purchasing wristbands, for full line-ups at each designated venue, in- cluding when and where to see/hear live music in Ferndale.
If something happened with our health, we believe there is a solution to any maladies in a preparation. What medicines do patients purchase online? Viagra which is used to treat impotency and other states coupled to erectile disfunction. Learn more about "sildenafil". What men talk about "viagra stories"? The most essential aspect you should look for is "sildenafil citrate". Such problems commonly signal other problems: low libido or erectile dysfunction can be the symptom a strong soundness problem such as core trouble. Causes of sexual malfunction turn on injury to the penis. Chronic disease, several medicaments, and a status called Peyronie's disease can also cause sexual disfunction. Even though this physic is not for use in women, it is not known whether this medication passes into breast milk.