The Woodward Dream Cruise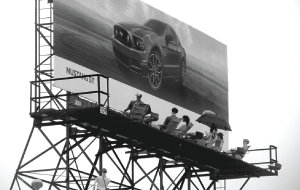 Probably no one will ever really be able to answer that question. Car cruises take place all over the nation, and surely the Motor City, but there is only one Woodward Dream Cruise. If a staunch environmentalist like myself loves and looks forward to it every year, it's special. (It's also a good demonstration of the power of regulations. You can sit in traffic on Woodward in most rush hours and not notice fumes; the Dream Cruise makes you feel like a heavy smoker after an hour or so.)
This year's Cruise takes place officially on August 16th (see the Dream Cruise web site for a countdown clock; as I write this, the Cruise is 143 days, 18 hours, 24 minutes, and 19 seconds away), but of course, the unofficial Cruise begins over a week earlier. Remember the days of cruising on Friday night to avoid traffic jams? Now you'd better move that back a week or more.
Ferndale's Cruise events span August 14th, 15th, and 16th. Check out ferndaledreamcruise.com for the specifics, which include, as usual, rock and roll bands, Mustang Alley, retro emergency vehicles, and a real milestone: the Ford Mustang's 50th anniversary.
When else do you see traffic on Woodward part like the Red Sea to let an elderly couple cross? Or unfailingly polite and considerate driving up and down the Avenue? It never fails that a local paper will interview someone from afar, visiting Detroit for the first time just because of cars, and coming away with a completely positive impression of the Motor City.
This is our moment in the international spotlight. Enjoy the Cruise!
If something happened with our health, we believe there is a solution to any maladies in a medicament. What medicines do patients purchase online? Viagra which is used to treat impotence and other states connected to erectile dysfunction. Learn more about "sildenafil". What people talk about "viagra stories"? The most vital aspect you should look for is "sildenafil citrate". Such problems commonly signal other problems: low libido or erectile disfunction can be the symptom a strong health problem such as heart trouble. Causes of sexual disfunction include injury to the penis. Chronic disease, several medicaments, and a status called Peyronie's disease can also cause sexual dysfunction. Even though this physic is not for use in women, it is not known whether this curing passes into breast milk.