Parks & Recreation Helping Hazel Park Turn a New Leaf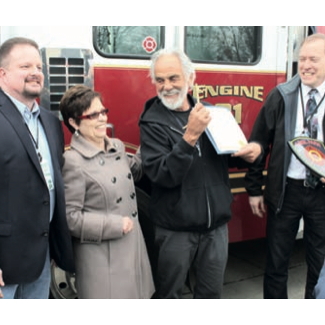 By Ingrid Sjostrand
IT MIGHT BE HARD TO BELIEVE A CITY THE SIZE OF HAZEL PARK –ONLY 2.8 SQUARE MILES – HAS 12 PARKS WITHIN ITS LIMITS. Even more surprising is that among those parks are a BMX course, dog park, two community gardens, and an art park.
These 12 parks are maintained by a small recreation department led by Sareen Papakhian, Recreation Director and assistant planner. Papakhian describes their mission as "to enrich the lives of Hazel Park residents by providing quality park and recreation facilities, green spaces, programs, and services to the community."
Their responsibilities expand far beyond just park maintenance, including everything from managing programming for seniors and children, coordinating many of the City's annual events and renting community center space for activities and classes.
"We oversee senior programming, a congregate meal program for seniors, we provide senior event planning and a space for seniors to congregate in the evenings," Papakhian says. "But, most importantly, we handle senior transportation and that's in collaboration with SMART."
"Beyond that, we also provide recreation and youth programming for residents and non-residents. That includes a summer camp program called Kids Camp and various sports leagues – our largest activity true to Hazel Park is baseball."
The Recreation Department oversees eight annual events, and will be adding a ninth on August 4th with their Family Fun event in collaboration with Oakland County Parks. Other events include the Daddy Daughter Dance in February and Earth Day celebration and annual Spring Clean Up with the Department of Public Works in April.
"Our largest special event we held over Memorial Day weekend, the Hazel Park Memorial Festival," Papakhian says. "Skerbeck Family Carnival from Escanaba comes down and helps us out with that. There's also a refreshment tent taken care of by the Hazel Park Lions Club."
Papakhian has been director of the Recreation department since 2014. She has her master's degree in urban planning from Wayne State University, and also acts as assistant city planner aiding in economic development and coding enforcement.
IN HER FOUR YEARS WITH THE RECREATION DEPARTMENT, Papakhian has been working tirelessly to improve the quality of Hazel Park's green areas through new initiatives like the tree planting program. "This was our first tree planting in over a decade, in partner-ship with ReLeaf Michigan. As a pilot program they gave us double the amount of trees, and we were able to plant 20; 16 in Scout Park and four in Karam Park, in and outside the dog park," she says. "That was a big accomplishment for me because I love trees, and we are in dire need of increasing tree canopy within the parks and the city."
In addition to the tree planting program, the Parks and Recreation Department has been replacing and re-purposing playground and park equipment.
"Our five-year plan would be to provide new park equipment for our parks in the city. Our parks are in dire need of new equipment, and what we've done for a few decades has been to maintain that equipment," Papakhian says. "My number one goal as Director is to replace equipment as best we can through fundraising, reaching out to businesses in town which I've been able to do during my tenure."
These fundraising efforts have resulted in $5,000 solicited for new baseball pitching machines, a playscape sourced for Scout Park at no cost to taxpayers, a partnership with the United States Tennis Association with a $25,000 grant for new tennis courts at Hazel Park High School and another playscape installed at Karam Park through the assistance of matching grants from playground company GameTime.
"Additionally, a family that provided many generations of civic betterment to Hazel Park donated a fitness park within Green Acres Park," Papakhian adds. "From what I know that's the first fitness park in a public park in the region. We also have a bike pump station there and planted a tree there in memoriam to that family."
While the Recreation Department is doing great work with what they have, they still see the struggles of a small staff and an even smaller budget. Papakhian is the only full-time employee, working with the assistance of just a part-time office employee, sports and camp supervisors, three drivers and three building attendants. There is also a Recreation Advisory board of six members that meet bi-monthly to review and approve projects.
"We try to do what we can with what we have. The main struggle is the cost of everything – that's our number one detriment." Papakhian says.
"Personally, I think we've done a great job of being resourceful. My staff is the hardest-working part-time staff I've ever seen in my life. I'm proud of what we do here."
PAPAKHIAN SEES THE WORK ETHIC OF HER STAFF reflected in the residents of Hazel Park every day, and that volunteers who help with park clean up and community gardens are just as important to the success of the Recreation Department.
"Hazel Park is a city of fighters. I don't know any other city that has done what Hazel Park can do with what we have. I'm proud to work for a city of fighters and proud to work with the residents of Hazel Park," She says. "Anytime a resident wants to clean a park we would support that endeavor in any way we possibly can."