Nonprofit Changes the Lives of Prisoners Through Music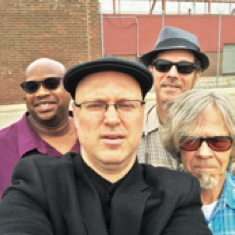 By Ingrid Sjostrand
PRISON POPULATION IN AMERICA KEEPS RISING BECAUSE OF EARLIER FAILED PROGRAMS, SUCH AS THE 'WAR ON DRUGS,' AND THE CURRENT, 'MAKE AMERICA GREAT AGAIN.' The U.S.A. simply warehouses people without any real rehabilitation. These people become part of a cycle of incarceration and punishment, usually returning to society very angry, and with even better criminal skills," musician Tino Gross says.
Gross is working to change the stigma that prisoners cannot be rehabilitated by providing them with new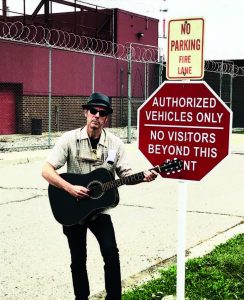 skills through a 501c3 program called Jail Guitar Doors (JGD). The nationwide program run by Michigan rock icon Wayne Kramer provides prisoners with musical instruments and instruction in songwriting and playing to reduce prison violence and reoffending. JGD is in over 120 U.S. prisons, and just expanded to the Ryan ReEntry Facility in Detroit the summer of 2018.
"JGD is a program that reaches out and rehabilitates convicts through music, helping them to work on themselves and return to society as contributors, instead of dangerous ex-cons," Gross explains. "The social aspects of playing guitar and singing give the inmates a pathway to self-improvement, and prevents future violence."
As a musician, Gross has seen how music can tap into people's emotions and touch on topics that might not otherwise be discussed or explored. Through JGD, he teaches guitar to inmates and helps them explore songwriting. They meet once a week for a ten-week period.
"We focus on their life experiences, presenting song topics like freedom, anger, and forgiveness; The process never fails to produce incredible lyrics which are then put to music," he says.
"GUITAR-PLAYING CAN TAKE A WHILE TO LEARN, SO WE START SIMPLE, with blues and gospel material so that everyone can join in. The first day I went in to teach at the Detroit prison, I was moved by how hard these guys worked in their orange jumpsuits. In a few hours we were all laughing and singing together, and these are some tough guys!"
This reaffirmed to Gross that this program was worthwhile and meaningful. "Music has a power that is mystical, defies science, it really does work," he says.
Jail Guitar Doors would never have started without the power of music. It all began in 1977 when The Clash wrote a song by the same name about an imprisoned fellow musician – none other than Wayne Kramer — who helped bring JGD to the US. Musician Billy Bragg launched JGD in the UK in 2007, and collaborated with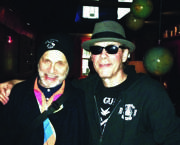 with Kramer to bring the program to the United States in 2009.
Kramer, a Metro-Detroit native, has been building the program across the country for over ten years and funding it through benefit concerts, TV appearances, CDs and even concerts within the prison system. He and Bragg have even received brand-new guitars donated for JGD from manufacturers like Fender.
Gross got involved through his friendship with Kramer, and he urges people to donate or, if they have an interest in music, to volunteer. Those interested can learn more at jailguitardoors.org.
"The purpose of this program is to lend a helping hand to your brothers and sisters that have made bad choices, but are salvageable as productive human-beings. We are all in this life together," he says.