Police Investigate Hate Flyers Left At First United Methodist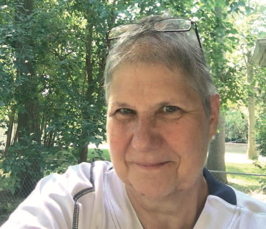 By Sara E. Teller
Jill Warren and her husband, Rev. Robert Schoenhals, arrived at First United Methodist Church (at the corner of Leroy and Woodward) early the Sunday before Labor Day, and were met with a very unwelcome surprise.
As they approached the church's main entrance, the couple noticed a derogatory flyer taped to the door. It featured an image of conspiracy theorist Alex Jones with a Star of David taped over his mouth as if to silence him. On either side were crude and offensive caricatures of Jewish men.
"My husband and I arrived at about 8:30 in the morning and noticed the flyer taped to the door. It contained hate speech, completely anti-Semitic, aggressive, just horrible," Warren said. "My stomach just clenched up, and I had a gut feeling to walk the parameter of the church. Sure enough, I found one on each of the entrances."
She immediately notified Ferndale police, as Rev. Schoenhals proceeded with his morning routine before members of the congregation arrived. "I took charge, so my husband could get ready, and they said they'd send an officer before my Sunday school class," Warren explained. "We learned there had been other incidents. Flyers were also posted at Arts Beats and Eats and in downtown Detroit."
Responding officers told her that taping the flyer to the door could be protected by free speech, and thus, may not necessarily constitute a crime. However, the Department would open an investigation to see if they could identify the perpetrator and bring charges for destruction of property or trespassing.
WARREN AND REV. SCHOENHALS SPREAD THE WORD to the congregation hat day, and Warren posted the following to social media, "Friends and neighbors – these [flyers] were taped to our church doors this morning. Be aware that hate groups do exist locally. #LoveIsBigger — at First United Methodist Church of Ferndale, MI."
She said, "My husband informed the leadership team. We share a space with another congregation and he shared it with their leadership team. I shared it during Sunday school. We informed everyone internally first, then reached out to local pastors. We didn't hear back, so we assumed they hadn't noticed anything."
Warren added, "The terrible thing is that we were right in the midst of a meet-your-neighbor event we had planned to host in Ferndale. The event is all about socializing and understanding different cultures. We had to push it back."
CURRENTLY, THE POLICE HAVE A VIDEO of a Caucasian man in khakis, a white polo and a black hat with sunglasses posting the flyers outside the church. They are asking for help in identifying the man.
"That's all we know at this point," said Warren. "There was no property damage, but what this is, really, is a desecration of a sacred place of peace and safety."
The couple have been with First United Methodist in Ferndale for five years. The church was established in 1922 and will soon be celebrating its century anniversary. Rev. Schoenhals has been in ministry since 1975 and is set to retire in five years.
"We love Ferndale – just love living here," Warren said. "It's progressive politically, diverse, and is small enough to enact policies and practices that get implemented. Ferndale is very community minded and there's good leadership. We have yard signs stating, 'Black Lives Matter,' and 'Love is Love.' These show our values. On top of that, we're a sanctuary congregation, so I think that could be why we were targeted."
Warren speaks fondly of fellow church members, sharing the reaction of one member in particular to the incident. "After learning what had happened, this person said, 'This is horrible, this is hate. Pray for that person."