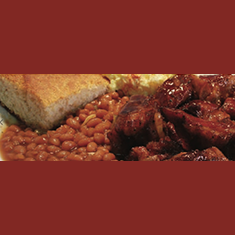 By Ingrid Sjostrand
SOUL FOOD HAS GROWN TO BE A FOUNDATION IN AFRICAN-AMERICAN COOKING and a staple of Southern meals. After moving to Michigan, George and Martha Clay saw a need – especially when friends urged Martha to cook for them – so they opened carryout-only Motor City Soul Food in March of 2001 on 7 Mile Rd. in Detroit.
 "My wife is a native of Mississippi and I was born in Alabama. Soul food was our everyday way of living. It is what we were raised on and what we prepared every day," George Clay says. "Soul food has a generational, multi- cultural bond – it transcends age, ethnicity, race, socio- economic background, education, gender and time."
 The couple had years of experience as entrepreneurs, running businesses ranging from custom casual clothing and real estate to an ice-cream shop and it was quickly obvious that Motor City Soul Food was going to be anoth- er successful venture. Everyone from Andrew Zimmern of the Travel Channel – who featured the restaurant on his show Bizarre Foods America in 2012 – to comedian DL Hughley have raved about Motor City Soul Food.
 "We were voted #1 fried chicken by Thrillist magazine earlier this year," Clay says. "We were the only restaurant that represented the great state of Michigan on this list."
 After more than ten years of success in Detroit and help running the business from their son Scott, Motor City Soul Food expanded in 2013 to a second location in Oak Park, located at 24790 Greenfield Rd. It is also cafeteria- style ordering and carryout-only.
 "One of the biggest reasons we chose Oak Park is because of the great location. We are near the I-696 freeway which brings customers from Eastside Detroit and Detroit suburbs as well as customers that live further west." Clay says. "One of our favorite things about Oak Park are the diverse customers we encounter. We serve people from all walks of life and are inclusive of everyone."
 On top of their nationwide-famous chicken wings, dinner options include turkey wings and pork chops. But the real soul food experience – and the items you aren't going to find anywhere else – are in the food like Neck Bone, Ham Hocks and Ox tail. You couldn't call Motor City a soul food restaurant without the side item choices of tender collard greens, okra, sweet black-eyed peas, candied yams and macaroni and cheese – which has a crisp, golden top coat and seasoned kick of paprika. Of course each dinner comes with a cornbread muffin too.
 "Our menu is literally anything that you could want for any holiday, any social event, when you need comforting or just want something delicious and homemade," Clay says. "Soul food is a comfort, down home, good tast- ing meal – it includes a deliciously-seasoned meat and always includes a starch. Often, my wife will prepare items that aren't on the menu because she has a taste for it. My wife is an awesome cook!"
 Other menu options include fish, like their crunchy, cornmeal-coated catfish, and hot sandwiches, including a meatloaf one. It may be hard to fathom eating more after such hearty dinners, but the dessert is worth it. In addition to banana pudding, Motor City Soul Food makes sweet potato pie, peach cobbler and 7-Up pound cake, a moist, delicious treat that brings back memories of childhood.
 Both locations are open seven days a week from 11:00 A.M. to 7:00 P.M. and offer in-store and off- site catering available through their website, www.officialmotorcitysoulfood.com.
 "Our customers should expect to be served a quality-made product prepared fresh daily and served hot for their enjoyment," Clay says. "We are a family owned-and-operated restaurant. We do our best to provide quality products and service to our custom- ers because we are all family."