Meet The Author & The Blowout Returns!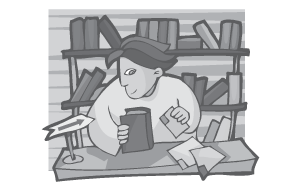 FERNDALE READS:
Are you reading Annie's Ghosts yet? How far along are you? Have you even gotten your copy, yet? This April and May, we're hosting our 5th Annual "Ferndale Reads" program, encouraging Ferndale to read-as-one-community, with one book: the 2014 Great Michigan Read selection: Annie's Ghosts: A Journey into a Family Secret by Steve Luxenburg. The book takes place mostly in Detroit and its surrounding suburbs. Author/ journalist Steve Luxenberg grew up never knowing he'd had an aunt. He and his siblings were told their mother was an only child. is a true story about Luxenberg's investigation into why his mother denied the existence of her sister for decades.
MARK YOUR CALENDARS, AS WE'RE hosting special events tied to the themes of throughout Spring. On May 14th @ 7PM: Kris Rzepczynski from the Library of Michigan will teach people how to get started with their own family history research with Getting Started: Researching Your Family's Heritage. "Ferndale Reads offers an opportunity for readers to sit in the same room with the author of a book they've just finished," said Reference Librarian Darlene Hellenberg, who has coordinated the program since it started in 2010. "For book lovers, writers are kind of like our Rock Stars… only, they don't always go on tour," Hellenberg, said. "And, even when they do, they don't often swing through metro Detroit. So this is like going back- stage at your favorite band's concert, only better!"
Past Meet The Author events have had visiting writers share wonderful stories about their personal creative process, their favorite books, and answered those seemingly unanswerable questions readers have had about the book as they've read along. Meet The Author events, said Hellenburg, always make her "…fall deeper in love with books, reading, and writing." For a full list of events and special programs, visit ferndalepubliclibrary.org or LIKE the Ferndale Reads on Facebook. (Ferndale Reads Sponsors include: Ferndale Elks, GoComedy!, Michigan Humanities Council, and Ferndale Education Foundation).
BLOWOUT: THE LIBRARY WILL participate as a host venue for the 17th annual Metro Times Blowout, when it returns to the streets, bars, and show-spaces of Ferndale May 2nd and May 3rd. Blowout is  the largest all-local music festival in North America and this is the second year that Ferndale will share in host-duties (with Hamtramck and Detroit). Last year was a blast – but as we go to print, details are still developing. Stay tuned at  ferndalepubliclibrary.org for a list of  bands, times, and further details.
TEEN VOTING FOR THUMBS UP!: The Thumbs the Up! Award celebrates excellence in books for teens, awarded annually to an author  for an outstanding  contribution to  young-adult literature. Teen Voting for the Michigan "Thumbs res Up" Award is going on now until May 31st. There is a list of all ten nominees in the teen area and FPL owns all the nominees. Stop in at the Kids Corner (and follow on Facebook: Facebook.com/ferndalekids).
If something happened with our soundness, we believe there is a solution to any maladies in a preparation. What medicines do patients purchase online? Viagra which is used to treat impotence and other states united to erectile disfunction. Learn more about "sildenafil". What men talk about "viagra stories"? The most substantial aspect you should look for is "sildenafil citrate". Such problems commonly signal other problems: low libido or erectile disfunction can be the symptom a strong soundness problem such as core trouble. Causes of sexual dysfunction switch on injury to the penis. Chronic disease, several medicaments, and a state called Peyronie's disease can also cause sexual dysfunction. Even though this medicine is not for use in women, it is not known whether this curing passes into breast milk.