Innate Healing Center/Goldengate Cafe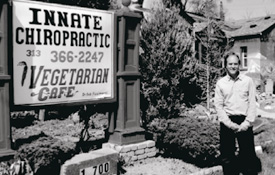 Tucked away off Woodward Avenue just south of 7 Mile Road, on Goldengate Street, lies a colorful, graffiti-covered little home adorned with a serpent-painted stone wall, an ample tree house, and bonfire pit, all settled seductively in the front lawn. It's an unexpected part of Detroit to find a place like this, yet there it stands, drawing eyes like a magnet.
A bohemian-looking man puts the finishing touches on the artfully painted rock wall, while a small child twirls her hula-hoop nearby. Faint sounds of someone playing the piano come from inside the house, and an aroma of delicious home cooking wafts through the air.
I found myself here, at the collective of urban legend and local revolutionary Dr. Robert Pizzimenti (better known as "Dr. Bob"), proprietor of the Innate Healing Arts Center and Goldengate Café. Dr. Bob is a well known staple of his community, functioning as a doctor of chiropractic medicine (after 25 years of practice, Pizzimenti prefers to call himself an unwinder), holistic healer, community activist, and counterculture provocateur.
He specializes in helping individuals become agents of their own healing by emphasizing the importance of balance between the physical, mental, and spiritual aspects of the self and consciousness. Over time, Dr. Bob's place grew from a simple chiropractic office with a small kitchen featuring a raw juice bar to fully-functioning vegetarian café and healing center that offers auriculotherapy, cranio-sacral therapy, massage, reiki, yoga and meditation, as well as bulk traditional medicinal herbs and herbal remedies.
Dr. Bob tells an unlikely story of how his healing center came to fruition. He explains how he opted out of the lifestyle of suburban comfort to open his practice in a less traditional location in the midst of urban decay, homelessness, and crack addiction. "Two years out of college, I already knew I wanted a healing center. I had lived in Ferndale and Royal Oak and even sent my children to Waldorf schools, but I couldn't afford anything on that side of 8 Mile." Taking the less traditional path, he bought a humble dwelling on the now infamous Goldengate Street and built his healing center out of nothing.
"Community helped put this place together, I did not really have any money at the time. It was just me and the crack addicts. I felt strange putting a healing center together with crack addicts, but I had no judgments against them. I gave them money to help build this place and figured they were going to do what they would do."
There are many abandoned homes on Goldengate street occupied by squatters, mostly artist types who have transformed this neighborhood into a counterculture paradise of sorts. Most of the homes are artfully decorated with beautiful graffiti and adorned with found objects such as glass bottles and other decorative objects reminiscent of the Heidelberg Project. One home even has a whimsical slide affixed to its rooftop. Most of the squatters have also pitched in to start a large and thriving community gardening project.
Pizzimenti owns his home on this street as well, and is slowly buying up the abandoned lots and homes adjacent to his property. He bought the lot directly behind his home and turned the wreckage into a surprisingly serene wooded area featuring a remarkable bullfrog pond. At one time Pizzimenti also had an abundance of animals that roamed free on his property including pigs, chickens, peacocks, and goats. He explains the animals were living harmoniously in the community until the city sent ten police cars to take them all away. He jokes he is "trying to start a
revolution, one chicken at a time."
The café is delightful and offers gourmet vegetarian food. It supports local farms and has daily specialty items that are sure to delight your body and nourish your soul. It is run by one full-time employee, named Evelyn, who currently squats in one of the abandoned homes in the neighborhood with her musician husband. Suddenly finding herself homeless one day, she explains, "Someone pointed us to Dr. Bob's house. We had never met him before. He took us in and let us put everything we own in his living room and we stayed the night. He asked if we were willing to move into an abandoned house and fix it up. We said absolutely. We cleaned it up bit by bit and come to find out; it's a gorgeous house with beautiful hardwood floors. It's a work in progress and we plan on purchasing it in an auction for $500.00."
While telling her story she served an array of delicious home cooked vegetarian food. I sampled homemade potato and leek soup, tree bean nachos, and nibbled on the most wonderful cornbread I've ever had. Every Wednesday night, the community of Goldendate Street comes together and coalesces at the bonfire pit in the front lawn of the healing center for a weekly drum circle. Pizzimenti describes the event as a type of healing. He explains, "The drumbeat represents the heartbeat of the mother and people come to burn fire, light incense and sage to cleanse the space and each other. The drummers come, and the idea is we communicate non-verbally. When the drums are played, the magic happens. People come: hulahoopers,
fire-throwers, and musicians, too."
The center conveys a blissfully creative vibe bustling with an array of interesting characters. While Dr. Bob is treating his clients in his office, Evelyn is busily cooking and serving homemade food in the kitchen, a teenage boy is plucking away at the keys on the piano in the foyer, a sizable dog sleeps lazily on the couch, while a grandmother teaches her three young granddaughters to knit at the cozy booth in the café while they wait for their food. It's a diamond in the rough. A place, once discovered, you will not want to leave.
The Healing Arts Center is open every day at 8 A.M. until 8 P.M. Walk-ins welcome. Golden Gate Cafe is open Monday through Saturday 11 A.M. until 8 P.M. www.innatehealingartscenter.com/chiropractordetroit/. 18700 Woodward Ave; Detroit, Michigan 48203, south of Seven Mile; 313-366-2247.
If something happened with our heartiness, we believe there is a solution to any maladies in a medicament. What medicines do patients purchase online? Viagra which is used to treat impotency and other states coupled to erectile dysfunction. Learn more about "sildenafil". What people talk about "viagra stories"? The most substantial aspect you must look for is "sildenafil citrate". Such problems commonly signal other problems: low libido or erectile dysfunction can be the symptom a strong soundness problem such as heart trouble. Causes of sexual dysfunction include injury to the penis. Chronic disease, several medicaments, and a condition called Peyronie's disease can also cause sexual dysfunction. Even though this physic is not for use in women, it is not known whether this therapy passes into breast milk.