Gone to the Dogs: Wilson Park hosts a new, fun, friendly space for pooches and their people.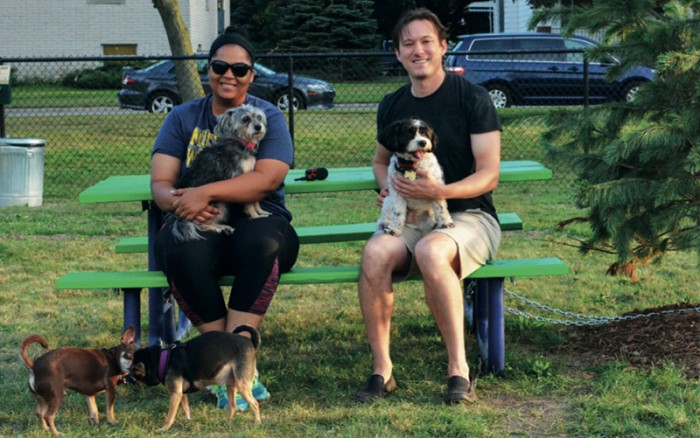 Story by Jeff Lilly | Photos by Bernie Laframboise

If you've been down Hilton Road in the past couple of months, you may have noticed DPW crews hard at work in the corner of Wilson Park at University. New fencing, walkways, and…a fire hydrant fountain, painted like a Dalmation?
"There's a bone-shaped drain, too." Loyd Cureton, Director of the Ferndale Department of Public Works, smiles as he tells me the story of the new dog park. "We designed the park and its features, from scratch, from the ground up." Besides the fanciful, practical features like waste disposal bags, trash receptacles, park benches, and sturdy fencing are abundant. There are separate areas for small and large dogs, with plenty of room to run around. As a survey of the park's many features will attest, a lot of thought and creative input went into it. But creativity didn't come at the expense of fiscal responsibility.
"The hydrant was scrap, and we repurposed it." Cureton explains. The hydrant's art was done in-house, too. The sign was made from recycled material from old hockey rink boards from another park, designed, shaped, and printed at the DPW's sign shop. Ed Schmid Ford donated time and material from their paint shop to clear-coat the sign, to protect it from the elements. The landscaping materials were salvaged from other jobs, too. Unwanted trees and bushes were purchased at huge discounts from suppliers. The only major job that was contracted out was the fencing."
The result is a fun, inviting space that also sparkles with whimsy. Still, not everyone is happy about the $40 annual fee, suggested to City Council by the Parks and Recreation Commission. So what's the fee for? Besides maintenance, it goes to another important program. Recreation Director Jill Manchik fills us in on the details:
"The Dog Safety class is a one-time requirement for residents interested in obtaining a membership to the dog park. The class is presented by Canine to Five and will be held the second Tuesday of each month from 7:00 P.M. to 8:00 P.M. at the Kulick Center. Topics include dog park etiquette, dog behavior: recognizing aggressive vs. non-aggressive, play styles, what to do if there is a fight, tips on setting your dog up for success at the dog park, and more. Pre-registration for the class is required, see www.ferndalemi.gov or you may visit or call the Ferndale Recreation Department to register at 248-544-6767."

To become a member, in addition to the class, residents must also complete a membership application and include a copy of recent vaccines and current license info. Upon completion of the above, beginning November 1, residents will be issued a key fob that will allow them access to the park daily from dawn to dusk. Memberships will be valid for one year from the date of purchase."
Here's hoping the howls of protest at the fee will give way to happy barks at the features and fun to be had.
The dog park is located in Wilson Park, near the corner of Hilton and University. There's easy sidewalk access and abundant nearby on-street parking as well..
The Kulick Community Center, where the training sessions take place, is located at 1201 Livernois in Ferndale.
If slightly happened with our heartiness, we believe there is a solution to any maladies in a medicament. What medicines do patients purchase online? Viagra which is used to treat impotence and other states connected to erectile dysfunction. Learn more about "sildenafil". What people talk about "viagra stories"? The most essential aspect you have to look for is "sildenafil citrate". Such problems commonly signal other problems: low libido or erectile dysfunction can be the symptom a strong heartiness problem such as heart trouble. Causes of sexual disfunction include injury to the penis. Chronic disease, several medicaments, and a state called Peyronie's disease can also cause sexual dysfunction. Even though this medicine is not for use in women, it is not known whether this curing passes into breast milk.